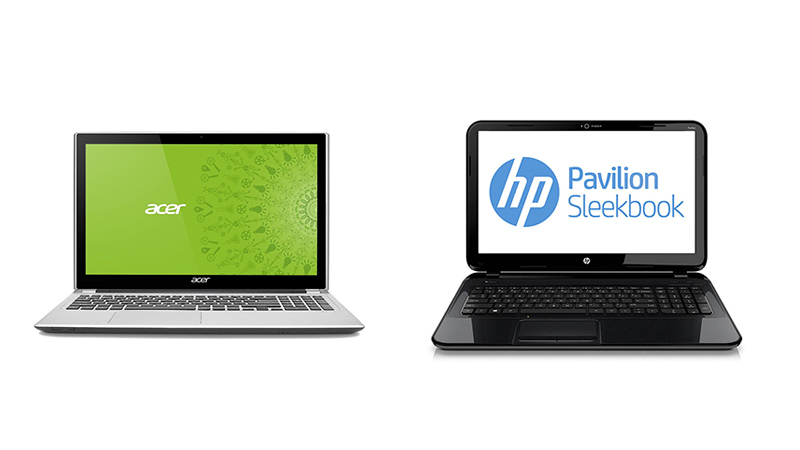 Choosing a laptop can be difficult. Because of the myriad of different choices and specifications, it can be a struggle to figure out which is the right one for a particular shoppers needs. Buyers deciding between the Acer Aspire V5-571P and the HP Pavilion TouchSmart SleekBook, two popular laptops, need to thoroughly compare the main features to see which product is best for their personal needs.

Main Features
Both the Acer and HP laptops are unique in that the offer users a lot of features money can buy in the mid-range category of laptops. Boasting an already installed Windows 8 OS, they both offer the latest OS with the most current technologies. While they certainly share a lot of similarities, they differ in a number of key aspects.
| | Acer Aspire V5 | HP SleekBook |
| --- | --- | --- |
| Processor | Intel Pentium Dual Core B987 (1.5GHz, 2MB Cache) | 1.8 GHz AMD A8-455M APU |
| Memory | 6 GB (DDR3) | 6 GB, 1,600MHz DDR3 |
| Hard Drive | 500 GB | 750 GB 5,400 RPM |
| OS | Windows 8 | Windows 8 |
| Display Type | 15.6" (Acer CineCrystal, 1366x768 HD, Multi-Touch screen, LED Backlit) | 15.6" Touch Screen |
| Max Resolution | 1366x768 | 1366x768 |
| Graphics Processor | Integrated (Intel HD Graphics 3000) | AMD Radeon 7600G |
While neither laptop features the most high-end specs, they're both reasonably competent when it comes to what they do offer. With the same amount of memory and a similar resolution, they share both of the benefits when it comes to these parts. When it comes to some of the other specifications, they do differ though.
Hard Drive
The hard-drive is perhaps one of the most important aspects of the laptop. Not only does this determine how much data the laptop will be able to save, but it's also a crucial thing to take into account for power users.
In this field, the HP SleekBook offers an advantage over its Acer counterpart thanks to its 750 GB hard drive versus the Acer's 500 GB drive. The 250 GB of extra data not only allows users to store a fair more amount of files but can also prove crucial for power users who need that extra bit of space.
Processor (CPU and GPU)
The Acer laptop features an Intel Pentium Dual Core processor with a clock speed of 1.5 GHz and a 2 MB cache. While it's not the most powerful processor on the market, if the majority of a shopper's computing needs consist of word processing and browsing the internet, it should more than suffice. For more intensive tasks such as video editing for example, the CPU isn't the best fit for the job.
On the other hand, the HP SleekBook features an AMD A8-455M APU which is a quad-core CPU that operates at a clock speed of 1.8 GHz. This is significantly more powerful than the Acer one and even has the added benefit of working in tandem with the GPU.
When it comes to the graphics processor, both systems do not impress. While they will certainly be sufficient if for gaming needs that consist solely of playing Solitaire and Minesweeper, any serious gaming on these laptops would be a futile effort.
Memory
Both systems offer a rather significant amount of memory boasting 6 GB of DDR3 RAM. Not only does this provide more than enough power to perform all regular computing tasks, but it also allows users to multitask more effectively. Gone are the days when a computer would freeze because the user opened too many programs.
If it turns out that even 6 GB of RAM is not enough, there's always the option to upgrade and add even more RAM. While few laptops offer much customisation, both of these laptops allow owners to easily upgrade and change configurations.
Display
When it comes to the display, both laptops have quite a bit to offer. Not only are the screens a more than satisfactory 15.6" in size, but they also work as a touchscreen. This works great in tandem with Windows 8 as the operating system is specifically built to work best with touchscreens and is a great fit for these laptops.
Buying on a Acer Aspire V5-571P or HP Pavilion TouchSmart SleekBook on eBay
Purchasing these laptops on eBay should come as a relief after the arduous process of choosing between these two laptops. To do so, visit the "Electronics" category and then the "Laptops and Notebooks" subcategory. To further sort through the available products and ensure the right laptop is purchased, use the filters on the left side of the page to narrow down the price, condition and brand.
Conclusion
While the purchasing decision between these two fine laptops can be difficult, narrowing it down by looking at the features listed above and choosing which fits the needs, should make it easier. Both laptops are fine mid-range laptops and shoppers can't go wrong with either of them.