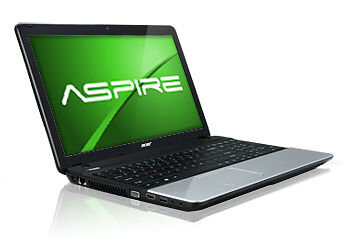 The Acer E1-571 is an affordable laptop which is ideal for day to day use, and designed to offer the best experience for users who are planning on using their laptop to surf the web, read emails and watch movies. The Acer E1-571 is also capable of multitasking, and is small enough to be relatively easily portable. The Acer E1-571, as well as a range of other Acer laptops, can be found on eBay.
Acer E1-571 15.6 Core i3 Key Specifications
There are a number of important specifications which should be considered when purchasing a laptop. Specifications such as the RAM, processor speed and kind of graphics processor are all major factors in determining the power of a laptop or desktop computer, and their suitability to certain tasks.
| | |
| --- | --- |
| Screen | The Acer E1-571 features a 15.6" screen, which offers a balance between size and portability. The resolution of the screen is 1366 x 768, which offers a clear and sharp image, though is not as high definition as more expensive, higher end devices. |
| Processor | Acer E1-571 laptops feature Intel i3 processors. These dual core processors run at 2.4GHz, and enable the laptop to smoothly open and run applications, surf the web and play media, though are not suited to the most intense uses, such as high end gaming and video editing. |
| RAM | More RAM in a laptop enables smoother use, faster multitasking and other benefits. The E1-571 generally features 4GB or RAM, which will keep the device running smoothly, though more powerful 8GB models are also available. |
| Graphics Processor | E1-571 laptops do not feature a dedicated graphics processor, and instead use an integrated Intel HD Graphics 3000 chip. The laptop will comfortably run all kinds of media playback and web browsing, but will be unable to run the latest games. |
| Hard Drive | The built in hard drive of the Acer E1-571 offers 500GB of space. Though some of this space is taken up by the operating system, this leaves plenty of room for music, movie and HD video storage. |
| Optical Drive | The optical drive featured by the E1-571 can play and rewrite DVDs, though cannot play blu-rays. |
| Operating System | The operating system is the software which enables the basic functions of the device. The E1-571 makes use of the widely used Windows 8, which means the laptop can run most applications and software. Some models may also be available featuring the also popular Windows 7. |
Acer E1-571 Connectivity
Laptops can feature a variety of connectivity options built in, for example an Ethernet ports for wired internet connection, or VGA or HDMI ports to enable connection to a larger display such as a television.
| | |
| --- | --- |
| USB | USB ports enable the laptop to be connected to peripherals such as mice, as well as USB drive storage devices which can be useful for storing and transferring files. The Acer E1-571 has 3 USB ports. |
| Wireless | The E1-571 includes a 802.11n wireless network card, enabling it to easily connect to home wifi networks. |
| Wired Network | The laptop also has a wired network port, enabling it to connect to wired local area networks, or LAN. This can provide a faster and more secure method of network connection, though wireless networks are now more commonly used. |
| Audio | Like most laptops, the E1-571 has an audio jack which can be used to connect headphones or a microphone, as well as connect the laptop to any compatible external speakers. |
| Display | Both VGA and HDMI ports are featured on the E1-571, enabling the laptop to use other monitors or televisions as a display. |
| Memory Card Reader | E1-571 laptops include an all in one media card reader, enabling them to transfer data to and from SD, SDHC and MMC memory cards. |
Accessories for the E1-571 Laptop
A wide range of useful accessories are available for use with laptops, including the Acer E1-571 15.6 Core i3.
Laptop cases and bags are a good choice for those who will be regularly travelling with their laptop, enabling them to easily transport their device, while keeping it safe and secure.
Anti theft kits and locks are also available, which can help to prevent theft and keep the laptop secure. These can include key or combination locks.
· Other useful accessories can include extra cables, batteries and other spare parts to serve as spares or replacements.
How to Buy an Acer E1-571 15.6 Core i3 Laptop on eBay
A wide range of Acer laptops, including the E1-571, as well as parts and accessories, can be found on eBay.
· The Acer E571 15.6 Core i3 Laptop can be found in theAcer section of theLaptops, Notebooks category, under Computers.
· Laptops can be arranged by categories such as available RAM, processor type, hard drive capacity and operating system.
· Key information about a laptop, such as important specifications and any included accessories, is often clearly displayed in the item listing, making it easy to quickly see if an item meets any specific requirements.
· More detailed information about a laptop can be found on the item page, along with information about the seller including item review and feedback ratings. This helps to ensure that a purchase can be made with confidence.
· When looking for a specific laptop, it may be easier and more effective to make use of the eBay search function, which can be found at the top of every page.
· Don't forget to look out for any deals which may be available on laptops under the Computers section.
Conclusion
The Acer E1-571 15.6 Core i3 is an affordable laptop, and an ideal choice for basic, day to day use. The E1-571 is great for browsing the web, playing media and using simple apps such as word processers, though it does not have the graphics capabilities for high end gaming and video editing. A wide range of Acer laptops and accessories can be found on eBay.