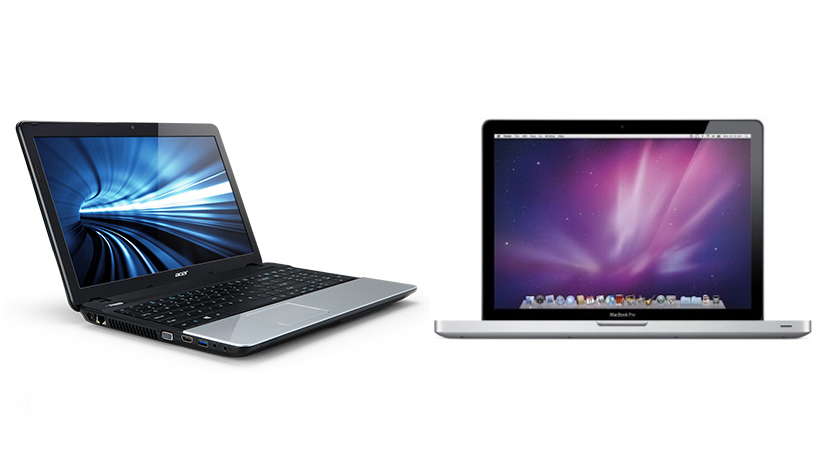 Whether looking for a powerful family laptop or a high-performance laptop for individual use, it can be difficult to decide which laptop will deliver the best results at the best price. Having all the information about both laptops in a categorised and organised format can go a long way when choosing between laptops. This eBay guide will compare the 15.6 inch Acer E1-571 equipped with an Intel Core i3 processor with the 15.4 inch Apple MacBook Pro.
Technical Specifications
The technical specifications of a laptop include everything that gives the laptop its unique performance and functionality. The following table compares the specifications of the Acer E1-571 and the Apple MacBook Pro:
| | | |
| --- | --- | --- |
| Feature | Acer E1-571 | Apple MacBook Pro |
| Processor | Intel Core i3 2328 at 2.5GHz (may also be available as Intel Core i3 3110M at 2.4GHz) | Intel Quad Core i7 at 2.4GHz (Turbo Boost up to 3.4GHz) (configurable to 2.7GHz quad-core Intel Core i7 (Turbo Boost up to 3.7GHz)) |
| RAM (Memory) | 4GB DDR3 SDRAM (configurable to 8GB) | 8GB 1600MHz DDR3L (configurable to 16GB). |
| Hard Drive | HDD 500GB (configurable to 750GB) | 256GB flash storage (configurable to 512GB or 768GB) |
| Chipset | Mobile Intel HM65 Express Chipset | Not Applicable |
| Operating System | Windows 8 (some models may have Linux Linpus) | OS X Mountain Lion |
| Graphics | Intel HD Graphics 3000 | Intel HD Graphics 4000 and NVIDIA GeForce GT 650M with 1GB of GDDR5 memory and automatic graphics switching |
| Connectivity Options | Three USB 2.0 ports; HDMI; RJ-45 (NIC); VGA out; multi-in-one card reader (SD, MMC, MS Pro, xD), Wireless-N network; gigabit Ethernet | Two Thunderbolt ports (adaptable for gigabit Ethernet, FireWire); 802.11n Wi-Fi; two USB 3.0 ports; HDMI; headphone port; SDXC card slot; Mini DisplayPort output (adaptable to DVI, VGA and dual-link DVI); Bluetooth 4.0; MagSafe 2 power port |
| Optical Drive | DVD Super Multi (includes DVD+/-RW +/-DL); DVD writer | None |
| Display | 15.6" (1366 x 768 native resolution) | 15.4" (2880 x 1800 native resolution) |
| Battery | Lithium-ion 6-cell 48WHr battery | Built-in 95WHr lithium-polymer battery |
| Warranty | 1 Year | 1 Year |
Design and Other Features
Whilst the Acer E1-571 and the Apple MacBook Pro are both designed for everyday use, they differ in terms of the user experience. The table below compares factors on this regard including appearance, display screen, keyboard, mouse, webcam and sound:
| | | |
| --- | --- | --- |
| Feature | Acer E1-571 | Apple MacBook Pro |
| Design | Glossy-finish in black and silver combination. Colour of lid matches screen bezel to give unified feel. | Smooth, matte unibody silver design in aluminium with Apple logo on front |
| Battery Power | Last up to approximately 6 hours | Lasts up to approximately 7 hours. Lasts 30 days in standby. |
| Weight | 2.4kg (5.2lbs) | 2.02kg (4.46lbs) |
| Size | 3.3cm H x38.2 W x 25.3 D cm | 1.8 H x 35.89 W x 24.71 D cm |
| Display and Screen Format | CineCrystal HD LED-backlit LCD in HDTV 16:9 aspect ratio | LED-backlit Retina display with IPS technology in 16:10 aspect ratio |
| Track Pad | Large, multi-gesture track pad uses natural gestures such as two-finger vertical scroll, pinch to zoom, two-finger horizontal back-and-forth flip, and two-finger pivot to rotate. | Large, glass-on-metal, multi-touch track pad uses natural gestures such as inertial scroll, pinch, rotate, swipe, three-finger swipe, four-finger swipe, tap, double-tap and drag. |
| Keyboard | Mid-sized keyboard with numeric keypad, silver wrist rest directly below space bar, | Mid-sized keyboard with slightly shallow keys and separate power button in upper-right corner. |
| Webcam | Crystal Eye HD Webcam with Built-in Microphone | 720p FaceTime HD camera |
| Speakers and Headphones | Built-in Stereo speakers with HD support; 3.5mm headphone port; | Stereo speakers; dual microphones; headphone/optical digital audio output (mini-jack). Supports Apple iPhone headset with microphone. |
Notable Extra Features
The following are a few of the notable features available in the Acer E1-571 and the Apple MacBook Pro laptops:
· The Acer Clear-fi Home Media Solution system lets users easily share music, photos and movies between multiple devices. The iCloud feature on the Apple MacBook Pro lets users store, share and access music, photos, calendars, contacts and documents from multiple devices.
· Acer Backup Manager's easy-to-use and flexible backup and restore functions ensures personal files and applications are backed-up without gaps.
· The Apple MacBook Pro is equipped with a built-in sensor that detects changes in ambient light and automatically adjusts the brightness of the keyboard and display.
· Apple's flash storage gives up to four times the performance of a traditional hard drive –allowing the laptop to go from standby mode to on in less than one second. It lacks moving parts making it more durable and quiet.
· OS X Mountain Lion's Power Nap mode means the laptop continues to receive new notifications and emails in sleep mode. It also downloads software updates and makes updates with Time Machine when connected to a power source.
How to Buy the Acer E1-571 Core i3 and Apple MacBook Pro Laptops on eBay
Buying either the Acer E1-571 or the Apple MacBook Pro laptops on eBay is simple with these steps:
· Type in the chosen laptop brand name and associated numbers and/or model information into the search bar at the top of the screen. Narrow down search results using the left navigation panel for more refined listings.
· Alternatively, search for the laptops by category. First choose the Electronics category using the sidebar on the left hand side of the screen and then choose the Computers & Tablets sub-category. From there, choose Laptops & Notebooks and type in the laptop details into the search bar as before.
Alternatively, from Laptops & Notebooks, use the subcategories to narrow down the results. Choose from 'Format, 'Brand', 'Screen Size', 'Processor Brand', 'Memory (RAM)', 'Hard Drive Capacity', 'Processor Type', 'Processor Speed', 'Condition' and 'Price'.
· Closely read the seller's product description, shipping conditions and check their reputation to ensure the sale is genuine.
Conclusion
Searching for a laptop for everyday use is made easier with a comprehensive guide and the range of laptop listings on eBay. Whether opting for the 15.6 inch Acer E1-571 equipped with an Intel Core i3 processor or the 15.4 inch Apple MacBook Pro, buying on eBay can be a simple and efficient way of browsing for and purchasing a family or personal laptop.