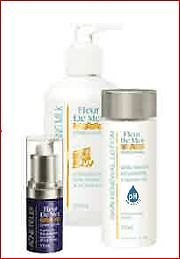 Add a caption
Acne relief ,Fruit acid cleansing milk & Skin renewal lotion.
Beautiful clear skin is the most important attribute of health, beauty & youth in men & women & most particularly in teenagers. That is why unsightly pimples & blackheads can be so devastating to our self image & consequently our well being.
There are a lot of products & treatments on the market that claim to treat acne. some work & some don't. Sadly some do more harm than good.
Quick & easy to follow
This prescription strength system very gently & safely fights everything from blackheads ,pimples & red inflamed skin.
It works deep within the skin to stop acne at its source.
1. Cleanse face
Morning & night with Fleur De Mer Fruit acid cleansing milk (item no 331459110963.) The fruit acids (also known as Alpha Hydroxy Acids) will away blockages which trap the oils & sebum that cause the blackheads which can become pimples.
2. Dab gently
Fleur De Mer Acne Relief (item no. 231392849017) directly onto affected areas up to every 2 hours during the day & last thing at night.. This helps to heal acne & prevent new breakouts & transforms bumpy skin to smooth skin by rapidly cleansing & peeling blackheads ,pimples ,blemishes & acne prone skins.
3.Wipe over face & neck
With Skin Renewal Lotion in the evenings after cleansing. DON'T RINSE OFF. (Discontinue if any irritation is experienced.
Laboratory testing shows that our Salicylic Acid is very effective against Staph. Aureus & P. acnes, the 2 main bacteria which cause acnes. This product works on both the surface of the skin as well as inside the follicle without any irritation.
Together with Fruit acids ,Lactic & Glycol it is therefore a seriously effective accompaniment to the Fruit acid Cleanser & Acne relief.
FURTHER TIPS:
It is not recommended to use oil based moisturisers on acne prone skins.
If skin has developed scaring it can be effectively treated with Algologie Centella Asiatica Gel (item no.231512853185) & or Algae maceration. When infection has settled use Algologie foaming gel cleanser Purifying Toner .mask & night fluid & or Fleur De Mer Oil free moisturiser (232012304593).
Change your pillow slip & bath towel daily until infection has cleared.
Use disposable swispers, cotton pads for application or removal of products.
Drink 2ltrs+ of water a day
Reduce dairy i.e. milk ,cheese ,butter ,yoghurt & cream.