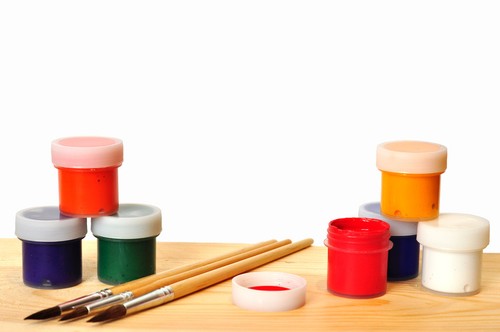 Acrylic painting is an excellent hobby for children and adults of all ages. A generous and forgiving medium, acrylic paints are easy to use, easy to blend and easy to clean up. They are also suitable for most surfaces that are oil and wax free, which makes it easy for beginner painters to use almost anything as practise canvases.

Choosing Acrylic Paints
New painting enthusiasts will want to make sure they are purchasing the correct style of paint when starting their first project. Unlike watercolour paints, acrylic paints are usually found in solid paint tubes or jars that allow painters to squeeze out just the amount needed. Acrylic paints come in a wide variety of colours and are easy to blend to achieve any colour of the rainbow. Beginners may be tempted to start off with cheaper acrylic paint, but experts agree that a few quality paints are much better than a huge selection of lower quality ones. Leading brand acrylic paints like Winsor & Newton and Golden Acrylic offer more pigmented colour, which results in less coats needed to cover the painting surface.

Basic Supplies Needed
In addition to the paints themselves, beginners will also need a few other items to round out their painting tool kit. As with the paints, leaning more towards quality products will result in a more successful project. Shopping online at stores like eBay is a great way to get more value for the money; they offer a wide selection of quality paints and painting tools at a fraction of the price.
Acrylic Paint Brushes
Many new painters feel intimidated when purchasing their first set of brushes. Instead of worrying about which paint brushes to purchase - such as rounded, angled, flat or pointed - try shopping for a variety pack of brushes instead. By starting off with a large selection of different types, new artists are able to play with each brush style and determine which ones they like best. It's important to remember that each type of brush will result in different patterns and are often used with different strokes and techniques. eBay offers a wide selection of both synthetic and boar-hair brushes for all skill levels and budgets, which allows shoppers to test out many different styles at a much lower cost.
Palettes
Since acrylic paints are fast-drying, new painters will need to be cautious of their paint drying out. This can be prevented by always replacing paint caps, as well as using a quality stay-wet palette. This type of specialty palette helps to keep mixed paints moist for longer periods of time; something that can be very helpful to many beginners. If covered with plastic wrap when not in use, these palettes can keep paint usable for a number of weeks.
Canvases & Painting Surfaces
As mentioned above, acrylic paints are extremely versatile and can be used on any service that is both oil-free and wax-free. This is perfect for beginners, as they can use anything from watercolour paper to cardboard boxes as practise canvases. These surfaces are also used by experienced painters, for practising a trial run of a new technique or sketching out a new design. Once they have decided on a direction - or built up enough confidence - for their idea, artists then graduate to a high quality stretched canvas for a more powerful end product. Canvas board and treated wood are also great surfaces for creating stunning pieces of art.

How to Buy Acrylic Paints on eBay
Starting a new hobby can get expensive, but shopping online with eBay can help make any artist's first supply purchase fun and affordable. Start by heading to the main eBay homepage, where the menu buttons are located underneath the search bar. Hover over "Collectibles" and select "Crafts." From here, select Art Supplies, Painting and then Acrylic Paints. This will yield a wide selection of acrylic paints which can be browsed from the main screen, or refined even further by using the menu on the right hand side. For those who have already decided exactly what they are looking for (perhaps a palette knife or specific brand of acrylic paint), they can use the search bar to narrow down their search results to only those items. The more specific the search, the better the results will be.

Conclusion
Artwork painted with acrylic paint is a beautiful way to bring colour and personality into any home or workplace. Perfect for art beginners, acrylic painting is very easy to learn and is also a great stress reliever. Pick up a few basic supplies - along with a great tutorial book - and discover just how much fun it can be to play around with a few messy paints!