Selling on Ebay is a fantastic way to fill in your spare time, and to earn a few extra dollars along the way.
As a seller on Ebay, there is no greater pleasure than to watch a flurry of last minute bids on your item, and no greater displeasure, than to watch your item slip away into the "Unsold" item category. Some reason's why your item did not sell under the hammer, could be a result of a poor description, unclear photos, or the potential buyer not being able to understand or see the item in operation.
This guide, written from a personal point of view, aims to help you add short movies to your listing's to create dynamic auctions, and greatly enhance buyer appeal.........the fast and simple way, in just 5 easy steps!
.....Make your Video.....
Step 1.
To edit and make your Movie, I use 'Windows Movie Maker' which is under your Start menu - All programs - Windows Movie Maker in Windows XP.

Most Digital cameras these days (even the cheaper ones) have the ability to capture video. Try to make your video around 2 minutes maximum in length, and set up so you only have to shoot it once, so as to save time with minimal, to no editing. Once you have captured your video, load it onto your computer as you would with pictures.
Step 2.
Once you have opened up Windows Movie Maker, you need to click on Import video and go to where you loaded your AVI or MPEG file, and select the desired video.
Step 3.
Once the clip has loaded into the collection, you need to left click on it, and hold the button while you drag it down to the bottom onto the storyboard.
Hopefully there is no need to edit your clip, as you have made your video as compact and organized at the time of shooting. Learning how to edit your clip is fairly straight forward if you need to, just look in the help section.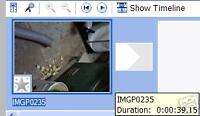 Step 4.
Once you have finished any editing (hopefully none, to make it quick), you need to finish your movie by clicking on Save to my computer under the heading Finish Movie in the column to the left of screen.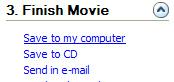 You need to save your video on Best quality for playback on my computer and to save the file as a .wmv (windows media video).

Step 5.
Now all you need to do, is upload vour video to your favourite photo hosting site that accommodates Video hosting, generate the image link, and copy and paste into you listing in the html mode when creating your listing.
Thank you for taking the time to read my guide, and hopefully it has helped open up a new dimension to Ebay sellers as well as buyers.
Please dont hesitate to contact me for any further help......