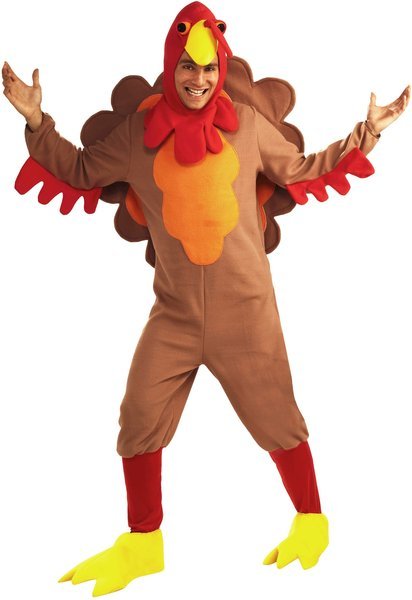 An adult fleece turkey costume works well for a variety of fancy dress occasions. Using fleece is great in cooler climates as it helps to keep the wearer warm. Ranging from turkey hats to full-body, head to toe turkey costumes, eBay sellers offer a huge range of turkey costumes in a range of sizes. Turkey costumes are available in new or used condition, catering to every style, size, and budget. A gently-used turkey costume can be washed before use to have it looking as good as new. Select the costume size based on height and standard sizing to ensure a good fit. Those who like a challenge or enjoy crafts can make their very own turkey costume for a unique and personalised look.
Considerations When Buying an Adult Fleece Turkey Costume
When buying an adult fleece turkey costume, shoppers need to consider a range of different factors to ensure they purchase the best possible costume. One of the most vital factors is the size of the costume. Aside from size, the available budget and condition of the costume should be carefully considered. The style of turkey costume is a crucial choice, as is deciding between a full-body costume or a fleece turkey hat.
Sizing
When buying an adult fleece turkey costume, getting the size right is crucial. While one-size-fits-all adult fleece turkey costumes are available, costumes that are too large have unsightly saggy bits and the overall effect is ruined. When a costume is too small, it is uncomfortable for the wearer and does not have the same visual impact.
Adult fleece turkey costumes are generally sized using standard sizing, based on height. Use the chart below and the height of the wearer to select the correct size.
| | | | | |
| --- | --- | --- | --- | --- |
| Size | Small | Medium | Large | X Large |
| | 150-160 | 160-170 | 170-180 | 180-190 |
| | 4'11"- 5'3" | 5'3"- 5'7" | 5'7"- 5'11" | 5'11"- 6'3" |
The chart above provides a simple method of selecting a fleece turkey costume of the right size. Shoppers can gauge the height of the wearer by using a tape measure and standing the wearer against a wall or door frame ensuring they stand fully erect. Measure from the feet to the top of the head, flattening the hair to get an accurate measurement.
Buy Used Costumes
For shoppers on a budget, buying a used adult fleece turkey costume is a great way to save money. Available is a range of sizes and styles, used turkey costumes are available in a nearly-new or gently used condition, many of them having only been worn a few times. If there are minor signs of wear and tear, these are easy to repair with a needle and thread. Costumes should be washed before they are worn to ensure there are no lingering odours or stains. To remove more stubborn stains use a pre-wash stain remover. Make sure the washing instructions are followed to prevent the fleece costume from shrinking. As when buying new costumes, be sure to select the correct size.
Choosing a Style of Fleece Turkey Costume
Adult fleece turkey costumes are available in a range of styles. Consumers can choose a traditional, live turkey costume, complete with wings and big, bold tail feathers. Another option for a live adult fleece turkey costume is a costume that completely covers the bottom half of the wearer but leaves the upper body free. The costume also has a hood attached that runs from the front of the costume, up the body, and sits over the head, imitating the head and neck of a turkey. Alternatively, shoppers can opt for a cooked turkey costume and dress as a beautifully basted, golden brown cooked turkey.
Another option when purchasing a fleece turkey costume is to simply purchase a turkey hat. Choose from a simple headband with a 2D fleece turkey on it, or a 3D turkey with legs tied together to keep the hat in place. Fleece cooked turkey hats are also available as well as fleece turkey head hats with eye holes.
Making a Fleece Turkey Costume
Making a fleece turkey costume is a fun and engaging project. Brown, yellow, and red fleece fabric is essential to this project. Use a sewing machine for simplicity and to save time. Stitch the brown fleece fabric into a conical shape, leaving space for the arms, legs, and head. Take red and yellow fleece and stick to cardboard strips, then attach to the back of the suit to act as tail feathers. Cut and stitch some wings. Use a brown beanie and stick on two large googly eyes and an orange beak. Attach a piece of red fleece to the neck of the costume to act as the gobbler. Wear a brown sweater and pants underneath the costume and stuff the costume with wadding or newspaper to give added shape. Alternatively purchase a brown all-in-one, attach some fleece tail feathers, a red gobbler beneath the chin, some wing feathers on each side, eyes, and a beak on the hood for a simple, cost effective turkey costume that looks great and is easy enough for a complete crafting novice to make.
How to Buy
Buying an adult fleece turkey costume on eBay or eBay Deals is simple and straightforward. Search for your turkey costume from any eBay page. You can refine your search results using the filters provided to narrow the listings by minimum and maximum price, item condition, and item location. Before confirming your purchase check the feedback score of the seller to ensure you purchase from a reputable seller offering fast, efficient service and a high quality product. Dress up as a live turkey and gobble at fellow party-goers or dress as a delicious roast turkey and add some mouth-watering trimmings with an adult fleece turkey costume from eBay.