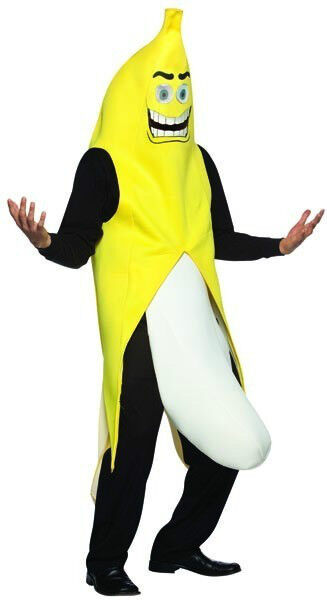 When planning a fruity costume, there is an array of fruits from which to choose. Using fruit as a costume idea even provides the option of a group costume in the form of a fruit bowl. Complete, ready-made costumes are readily available. For a more unique look, consumers can personalise their costumes or create their own with a few basic supplies quickly and easily. eBay sellers offer a huge range of complete adult fruit costumes. They also offer everything buyers need to make their own fruit costumes at home, all at very competitive prices. Whether shoppers want a group fruit costume or an individual one, eBay has a costume to suit their needs.
Types of Fruit
From apples to grapes, there are a wide range of fruit costumes from which to choose. Dress as an individual or get together with family and friends and create a bowl full of fruit. Dress as a bunch of grapes, an apple, an orange, or a banana, buying a complete costume, or simply making one. Consumers must consider the type of fruit they want to dress as and whether they want a ready-made costume or whether they want to get hands-on and make their own.
Bunch of Grapes
A bunch of grapes costume is simple and quick to make. Only a few common items from the home are required. The base of the costume is either a green or purple jumper and trousers or a green orpurple bodysuit. Blow up between 15 and 20 purple balloons and attach them to the purple top using a glue gun. Attach the artificial grape vines to the green felt and tie it onto the adult's head like a bandana. Alternatively, shoppers can purchase a ready-made grape costume in the appropriate size.
Apple or Orange
An apple or orange adult fruit Halloween costume is bound to make fellow partygoers giggle. Consumers can purchase a ready-made orange or apple costume that simply slips on. However, buyers must check whether the costume comes with an appropriately coloured bodysuit. For crafty individuals, these costumes are easy to make in a number of ways. The simplest method requires felt, craft scissors, fabric scissors, fabric glue, and a needle and thread. Simply cut out two large pieces of felt shaped like an apple or orange and stick or sew them together, leaving holes for arms and legs.
Banana
Consumers can purchase a banana costume in either a felt material or in a cooler cotton material. Either wear a yellow body suit underneath or black pants and a yellow T-shirt. Make sure that the banana costume fits comfortably and allows the wearer to move freely. It is possible to easily make a banana costume at home using yellow felt, brown felt, scissors, needle, and thread. Cut out two banana-shaped pieces of felt that measure 6 inches above the top of the head down to the knees. Sew the two pieces of material together leaving space for the arms to go through and stopping at the bottom so there is enough room to step into the costume. Cut a hole in the front of the costume for the face. Use yellow face paint on the face and arms to complete the banana look. Print out a banana sticker to make the banana look authentic.
Fruit Bowl
A fruit bowl costume provides an excellent group costume. Each member of the group dresses as a different fruit, and the whole group gets inside a large fruit bowl. Construct the fruit bowl from felt or brown fabric. When constructing the fruit bowl, be sure to leave leg holes in the bottom. Hold the bowl in place by straps over the shoulders. To give the bowl extra shape, place plastic poles, wire, or pipe cleaners around the edge. For an alternative fruit bowl, use chicken wire and paper mache to create a rigid fruit bowl that everybody can stand inside and paint it brown.
For an individual fruit bowl, simply place a selection of plastic, plush, or cardboard fruit into a brown body suit or brown clothing. For the bowl, make a smaller version of the multi-person bowl and secure with straps on the shoulders.
Summary
If shoppers decide to make or personalise an adult fruit costume, knowing the essential supplies beforehand results in a successful finished costume. The chart below contains all of the necessary supplies to create or personalise a unique fruit costume.
Type of Fruit

Supplies Required

Purple balloons

Purple leggings

Purple T-shirt

Glue gun

Green bandana or piece of felt

Artificial grape vines

Apple or orange

Red or orange bodysuit

Felt

Scissors

Fabric glue

Needle

Thread

Banana

Yellow bodysuit

Yellow felt

Brown felt

Needle and thread

Yellow face paint

Scissors

Fruit bowl

Selection of plastic fruits

Brown fabric

Selection of coloured fabrics for fruit

Chicken wire

Paper mache

Pipe cleaners
The chart above provides a list of all of the materials required to create each fruit costume. Using this chart allows shoppers to purchase everything they need to get the best possible results from their costume.
How to Buy an Adult Fruit Costume on eBay
Buying a fruit costume, or the supplies you need to make a fruit costume, on eBay is simple and straightforward, even if you are a novice when it comes to online shopping. eBay is user-friendly and provides you with a search bar on every page and a range of filters, such as price range, item location, and item condition. Shoppers on a budget can find good quality used fruit costumes that are like-new, having been worn only a few times, making significant savings over buying the same costume in brand new condition. To get even greater savings, you may even be able to find free postage, or you can visit eBay Deals for even greater discounted items.