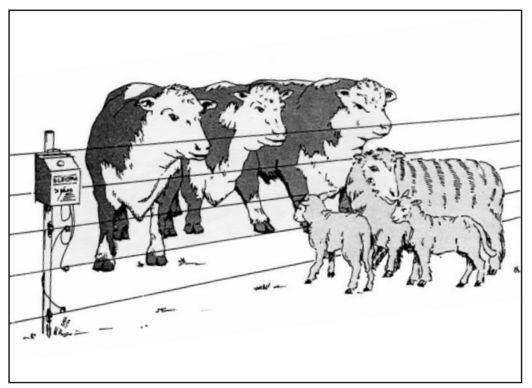 ELECTRIC FENCING is an alternative method of fencing which offers you the following benefits:

LOW COST
An electric fence can perform the same task as a conventional fence using much less material.

EASY TO BUILD
Lower wire strains and generally lighter construction make much quicker and easier construction, especially in difficult terrain.

EXTENDED LIFE
Electric fences are not subjected to the same physical pressure from animals, and can therefore be expected to have a greatly extended service life. The life of old fences can be considerably extended using electric fencing.

UNIVERSAL APPLICATION
Electric fencing will contain all types of animals and is positive deterrent to wild pigs and kangaroos. Educated stock develop greater respect for electric fencing than for any other type of fence.

FLEXIBILITY
There is no quicker or easier way to effectively subdivide a paddock for controlled grazing than with an electric fence.

LOW MAINTENANCE
Once your fence is properly installed and your stock are trained, the maintenance requirements of electric fencing are little different from conventional fences.

LESS STOCK DAMAGE
The shock from your electric fence causes no physical damage. If your stock is forced through the fence by bushfires or dogs, they are at less risk than with a conventional fence.