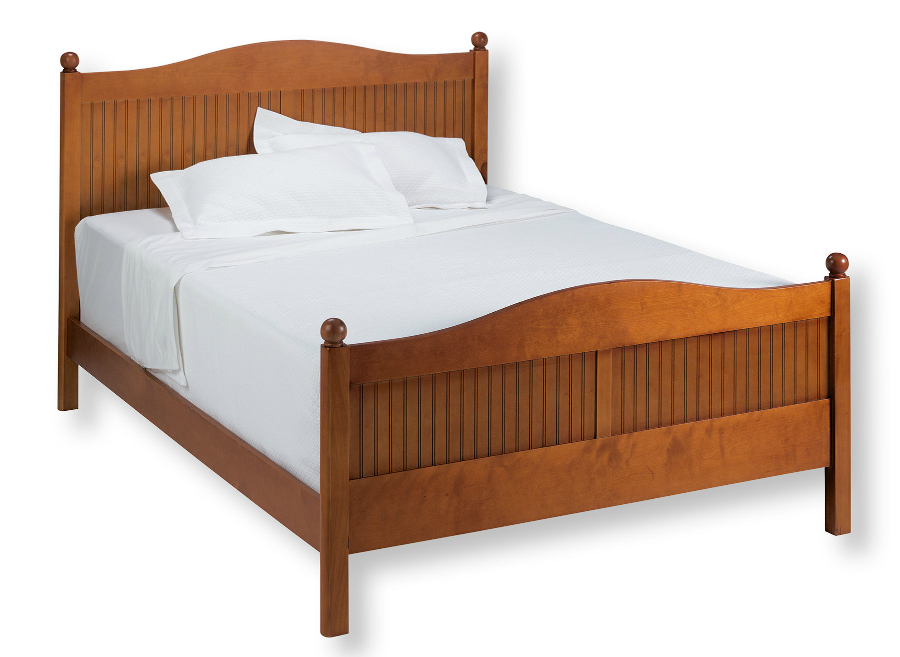 There is perhaps no more essential piece of furniture than a bed. If one sleeps for around eight hours a night, this means that one-third of one's life is spent in a bed. There are many different types of beds available for purchase, ranging from the most basic to highly ornate styles. Bed shoppers will also note that many differently-sized beds are available for purchase. Finding the right bed to meet each individual's wants and needs requires some background knowledge as well as information concerning the available sizes, types, and even styles of beds. Before embarking on a shopping excursion, the potential bed purchaser should take the time to decide which bed is most suited for each individual's needs.
The Components of Beds
While the earliest known beds were constructed of straw, leaves, and other such primitive materials for the purpose of avoiding dirt, pests, and drafts, modern beds are much more structured and are comprised of several parts that work together to provide the sleeper with a comfortable, supportive surface. Although in ancient times, these structured beds were only available to royalty and other wealthy members of society, at present there are many options for the average bed shopper. Modern beds have several basic parts and some optional ones as well. The most basic of bed structures have only a frame and a mattress, while others might have box springs, headboards, footboards, and storage components.
Bed Frame
Bed frames are most commonly constructed of wood or metal and serve to elevate the mattress from the floor. Head, foot, and side rails make up the four sides of a bed frame. For beds that are larger than full-sized, which includes queen and king beds, an additional support may be provided by way of a center rail and extra feet. Those bed frames made from metal are usually either brass or iron.
Wood Bed Frame
Wood bed frames can either be solid wood, such as oak, beech, or pine, or a thin wood veneer over panels of particle board or fibreboard. Generally solid wood frames are more expensive than veneered frames.
Brass Bed Frame
Brass bed frames are either fully made of brass or alternatively, from brass-plated metals. Previously, brass beds were plain, but in modern times, brass is used for highly decorative bed frames as well.
Iron Bed Frame
Although modern iron beds provide a purely aesthetic value, their original purpose was to deter bed bugs and other insects. Iron is a solid material for bed construction, and the human spine served as the inspiration for the first iron bed design. Iron bed frames can also be painted or finished to coordinate with the rest of the bedroom decor.
Mattress
The mattress is the main portion of the bed. Mattresses can be inflatable or even filled with water, but the majority of mattresses are constructed of a sturdy fabric and filled with some form of fiber, possibly reinforced with rubber or springs as well. Some mattresses also contain layers of various fibers and foundations meant to provide added support. The size of the mattress dictates the type and style of frame required. The following chart illustrates the available sizes of mattresses.
| | |
| --- | --- |
| Type of Mattress | Dimensions |
| Single | 92 centimeters by 187 centimeters |
| Double | 137 centimeters by 187 centimeters |
| Queen | 153 centimeters by 203 centimeters |
| King | 183 centimeters by 203 centimeters |
The names and dimensions of mattress types may vary in different parts of the world. Those listed in the above chart are the used in Australia, however be sure to check the dimensions if considering a purchase from an international seller.
Box Spring
Box springs are typically most popular in North America, although they are used in other parts of the world. The box spring raises the profile of the mattress, which makes getting in and out of the bed easier, it alleviates some of the wear on the mattress, especially as it absorbs shock that would otherwise be experienced by the mattress, and the boxspring creates a sturdy surface area for which to place the mattress. The name box spring is fairly descriptive, as it is usually a wooden frame that contains springs and is covered by cloth. Box springs are available in different heights to accommodate a wide variety of mattress heights. Mattresses and box springs are often sold together and marketed as a mattress set.
Headboard
Thanks to the modern conveniences of insulation and central heating, headboards are no longer so much a necessary component of beds as they are a decorative or convenient element. Previously, headboards were meant to provide a barrier between the wall and the sleeper as a means of blocking any cold air drafts. Today, headboards can be covered with fabric to provide a comfortable leaning surface or even contain shelving for books and other items.
Footboard
In some bed designs, footboards may also be included as a balance to the headboard. Footboards are purely aesthetic in nature.
Storage Components
Ottoman beds, Captain's beds, and Loft beds are all types of beds that provide added storage underneath the mattress in a variety of forms.
Ottoman Bed
In Ottoman beds, the storage component is located underneath the mattress. Storage space is accessed through a hinged door under the mattress that is usually equipped with springs or hydraulics.
Captain's Bed
The Captain's bed has a platform base for the mattress, and drawers or shelves are underneath the mattress and accessible from the sides of the bed.
Loft Bed
A loft bed resembles a bunk bed system, but unlike the bunks, there is no lower bed, just the elevated one. This open space becomes available for storage instead, whether in the form of shelves, drawers, or a combination of the two. Additionally, one may choose to put other furniture such as a seating area underneath the loft bed.
Regardless of which type of bed one seeks to purchase, finding one that fits into each individual's budget is essential.
How to Buy an Affordable Bed on eBay
To purchase a bed that fits your budget on eBay, use the general search bar found on most eBay pages and enter relevant keywords. General keywords, such as "bed" can produce thousands of choices to select between. You may narrow them down by selecting the Furniture category, or by adding keywords to the search bar. If you are only looking for a "queen bed", you would add this to the search bar. You can further limit the listings by entering your price range, so that the beds outside that range are not shown.
Since beds are larger items, you might wish to set distance parameters for your search as well and look for those available for pick-up. Once you have found a listing of interest, read the description carefully and examine any provided photos. You can also find daily deals on beds and bedroom furniture.
Conclusion
Given the fact that the average person spends one-third of one's life in bed, finding the best bed for each person's needs is highly important. Making sure that bed also fits in the individual's budget is essential as well. There are many different types of beds from which to choose in a wide variety of price points. Using the information provided about the various types, sizes, and styles of beds available for purchase will help the potential purchaser narrow down the possibilities to which specific need best meets one's needs within the possible price range. Armed with this background information and product knowledge, consumers can make an informed and confident bed purchase, regardless of each budget or needs.