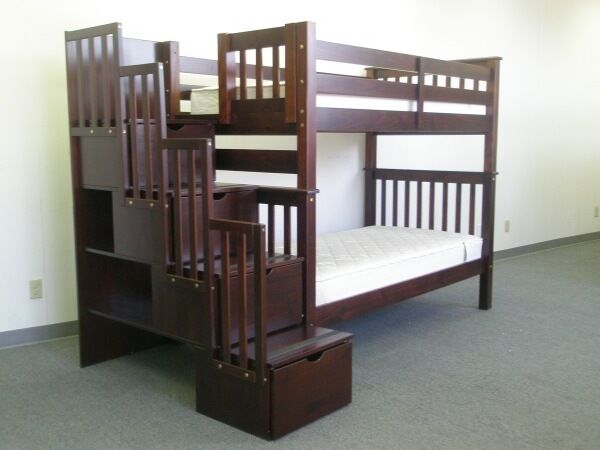 Bunk beds are space savers but more importantly, these types of beds are a fun way for kids to learn sharing while enjoying their personal space and independence. Whether the child shares the space with a sibling or hosts sleepovers, having bunk beds in the child's room is definitely worth considering. Some research on the types of bunk beds available, design features, and places to buy them, helps the shopper make an informed choice. Online stores such as eBay are a good place to start browsing through hundreds of listings that includes bunk beds of every type to suit a wide range of budgets. Keeping in mind some common designs and the conveniences these provide makes online shopping so much easier.
Common Bunk Bed Styles
Bunk beds are available in several common styles, each with its unique set of features that offer various conveniences. Parents would do well to take inputs from the child also when considering the purchase of a bunk bed. Shoppers must determine what style of bunk bed would be most suited to their requirements and select a size according to the space available as well as the earmarked budget. All bunk beds have stairs for access to the upper bed and safety rails of adequate height. Storage spaces on bunk beds depend on the various innovative designs, but most storage areas are placed under the stairs or beneath the lower bed.
Standard Bunk Beds
Basically a bunk bed design comprises two beds placed one on top of the other, ideal for two children. This standard design has size variations, which makes it possible to accommodate kids of all ages.
A twin over twin bed is a twin sized bed spacious enough for older kids but also ideal for a guest room. A full bed over a full bunk bed combines two full upper and lower beds and is ideal for teenagers and adults while the third style called twin over double combines a twin-size upper bed with a lower full bed to accommodate a small kid, and one older kid or teenager.
Loft Bunk Beds
The loft bunk bed is a clever idea whereby a twin or full bed is placed aloft with ample storage space beneath for a built-in study table, desks, chests, dressers, drawers, or even another bed placed perpendicular to the top bed. This perpendicular arrangement is called the L-shaped bunk bed. Some novelty loft bunk beds for smaller kids have the bed placed at a low height using the space to create a play area and may have a slide as well as stairs.
Trundle Bunk Beds
The trundle bunk bed design makes provisions for three beds but occupies the floor space of one. However, when a third person uses it, additional floor space is utilised as the third trundle is pulled out from the lower bunk.
Futon-Style Bunk Beds
A twin bunk bed atop a futon sofa is a great choice for kids who have plenty of sleepovers. Futon bunks in larger sizes are versatile additions to any bedroom, enhancing convenience and accommodating guests easily.
Materials Used to Construct Bunk Beds
Bunk bed frames are constructed from wood, metal, or a combination of both with designs ranging from the traditional ornate or country styles to simple and clean contemporary designs. Regardless of choice of material, bunk beds must be sturdy and durable.
| | | |
| --- | --- | --- |
| Material | | |
| Types | Maple, oak, cherry, pine, walnut, hard wood, composite wood | Stainless steel, wrought iron, aluminium |
| Pros | Sturdy and aesthetically pleasing; available in vintage designs and country styles, cozy and snug, offers ample storage | Available in numerous modern styles; almost maintenance free, affordable |
| Cons | Needs maintenance; some woods are expensive, larger and bulkier than metal frames | Fewer options for matching add-ons such as drawer, desks, dressers, and bookcases; does not offer much storage; may not blend with all types of decor |
With each material presenting advantages and disadvantages, it is up to the buyer to decide what type best meets their requirements as well as considering they may not use the bunk beds once the kids have outgrown them.
Measuring Bunk Beds
Bunk beds are as functional in large rooms as they are in smaller spaces. However, when considering a bunk bed for small rooms, though the bed may not require much space, this may not be the case if the bunk comes with add-ons and pull-outs, which needs to be considered as well. Ensure that the selected bunk bed allows kids easy movement across the room. As for ceiling height, there must be at least one metre of head space to avoid bumps to the head.
How to Buy
eBay offers a vast array of choices in both wooden and metal bunk beds, as well as bunk beds in every style, so shoppers can find one that fits their needs. Using 'bunk beds' as the keywords typed into the search bar, eBay shoppers are sure to find numerous listings. The number of listings are further reduced when shoppers apply relevant filters such as material, colour , brand, or condition to display a list of products that meets the shoppers requirements. Shoppers can also opt to buy from eBay's top rated sellers with high percentages of positive feedback and ratings or choose great offers from eBay deals. Given these parameters, shoppers are certain to find an affordable bunk bed that fits the bill perfectly.