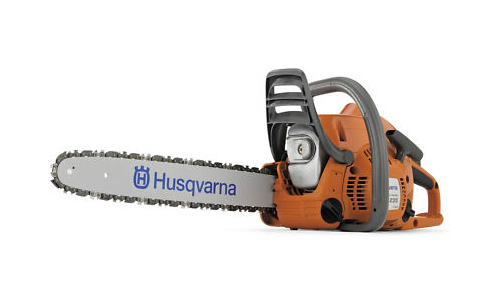 Buying a chainsaw signifies serious dedication to outdoor work. After all, a chainsaw is a powerful and dangerous tool and one that is used for significant jobs. However, for many people, a chainsaw is also a significant investment. Chainsaws are expensive, and it may be difficult to justify the purchase of one without carefully cataloguing all of the things it might be used for. Thankfully, it is possible to buy an affordable chainsaw, either in a tool shop or online via websites like eBay.
In order to find an affordable chainsaw, it is helpful to look at the types of chainsaws available and the kinds of jobs they might be used for. It is also important to know how to find the best chainsaw for one's budget.
Using a Chainsaw
Before buying a chainsaw, it is helpful to know the size of chainsaw needed for a job. As a general rule of thumb, larger chainsaws are more powerful. This means that, if the chainsaw is to be used for minor tasks, a smaller one should do. The best way to start evaluating size is to examine the trees and branches that might be cut using a chainsaw. Hardwoods like jarrah, teak, and eucalyptus are harder to cut and may require a more powerful chainsaw. Tree diameter is also important; larger trees require a longer blade. If the chainsaw is to be used frequently, it is important to find one with a reliable engine meant to last a long time. This can prove more costly than a chainsaw meant for occasional use.
Chainsaw Weight
It is also important to size a chainsaw to the user. Smaller people, or those without a lot of upper-body strength, may have difficulty handling a larger saw. It is important to note that chainsaws feel much heavier, even after a small amount of use.
Chainsaw Types
Three main types of chainsaws are available, although a number of variations exist in terms of size and power within each type. For the most part, these chainsaws are meant for different tasks, and some are more affordable than others.
Pole Saws
Pole saws are smaller chainsaws that are mounted on the end of a long, extendable pole. This type of saw is used for minor tasks, such as trimming branches that are too far away to get with any other method. Pole saws are also safer than other saws because the blade is farther away from the user's body and a ladder may not be needed.
Electric Saws
Electric saws are, in many cases, more affordable than other saws. However, these saws tend to have less power than a gasoline saw. Electric saws are meant to be plugged in to recharge them, and they can be used to complete small to medium-sized tasks. Electric saws usually have a lower sticker price than gasoline saws and save money by not requiring gasoline in order to function. It should be noted that electric saws usually cannot run as long as a gasoline saw, so extended cutting is not always an option.
Gasoline Saws
Gasoline saws are usually more expensive, but they are also more powerful. There is more variety within the category of gasoline saws than in any other category. Gasoline chainsaws are meant for difficult tasks and are meant to be used frequently. Again, it is helpful to evaluate the trees to be cut before purchasing a gasoline chainsaw. Gasoline chainsaws are also heavier and more difficult to wield, compared to many other types of chainsaws.
Buying a Used Chainsaw
In many situations, purchasing a used chainsaw is the best way to save money. Used chainsaws can be in good condition and can serve for many years, provided they have been taken care of properly. In some cases, this can be difficult to determine, so it is important to ask as many questions of the seller as possible in order to learn more about an item. This may be a good way to understand how well maintained a chainsaw actually has been.
Regular Maintenance
Chainsaws should be maintained regularly, and chainsaws that get regular use should be checked on a daily basis. This includes looking for wear and damage on the starter cord, tightening screws or bolts, and cleaning the blade. Clogs should be dealt with and the blade sharpened as needed. There are also maintenance routines that one should perform monthly, consisting of checking the spark plugs and fuel filter, repairing or replacing the chain, and anything else that can keep the chainsaw functioning properly.
Chainsaw Brands
In some cases, it can be helpful to examine a chainsaw in terms of the manufacturer. Some brands are known to be more affordable and reliable, while others are known for costly, high-end chainsaws meant for professional grade work.
| | |
| --- | --- |
| Chainsaw Brand | Profile |
| | High quality; highly productive; relatively affordable |
| | Advanced chainsaws; powerful engines; decent price relative to power output |
| | High performance; lower prices |
| | Good quality; good price |
There are, of course, other chainsaws, but these are some of the more well-known brands that offer quality chainsaws for good prices, relative to performance. Researching different brands and comparing customer reviews can be a helpful means of finding the right chainsaw.
Safety
Safety is an important consideration when buying any type of chainsaw. This is especially an important issue with a used chainsaw, as older models may not have some of the safety features found in the newer models. An important safety feature in a chainsaw is the chain brake. This is a handle in front of the saw that, when struck, brings the motor to an instant stop. This is made for moments when the chainsaw may become stuck or can jump, knocking it loose from the user's hands. It is also important to determine if a chainsaw has a vibration damper, which makes it less likely to jump or fly free.
How to Buy an Affordable Chainsaw on eBay
Chainsaws are a popular item on eBay, which makes it easier for potential buyers to find exactly what they need at prices they can afford. In some cases, buyers may find deals on tools, or even a chainsaw from eBay sellers located nearby, which can save on shipping costs. In order to find the right chainsaw for your money, one method is to use the search bar on eBay's web pages. Search terms can range from simple ones like 'chainsaw' to more complex terms that include references to manufacturers or safety features. If you cannot find the chainsaw you need, then repeated searches or searches after a few days may turn up exactly what you are looking for.
When buying a chainsaw on eBay, it is important to learn about each potential purchase as well as the seller. You can do this by carefully reading the product description, which should contain details about an item's history and whether or not the product has sustained damage, if it is in used condition.
Conclusion
Chainsaws are incredibly useful tools that can be used by anyone who has an outdoor space. For this reason, there are different kinds of chainsaws of varying power levels. The sheer variety of options when it comes to buying a chainsaw can be daunting. This is particularly an issue when a buyer is on a budget or simply does not want to spend a lot of money on a device that may not be used often.
When looking for an affordable chainsaw, it is important to be aware of how chainsaws are used, how they are sized, and the types of chainsaws available. When buying a used chainsaw, it is also helpful to know if it has been maintained carefully. With a clear understanding of what makes one chainsaw better than another, buying an affordable one can be a simple task.