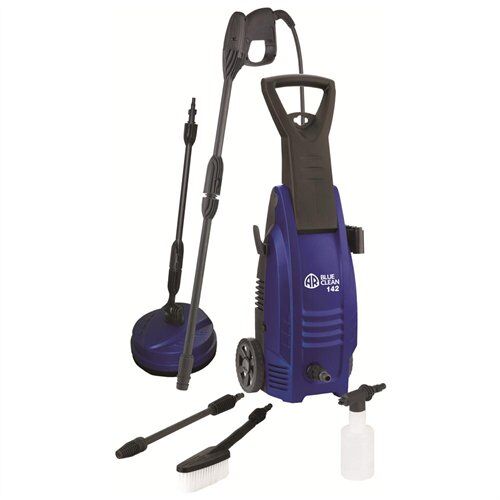 Pressure washers are used to clean a variety of things, and are excellent at removing tough dirt and grime. The more powerful of washers can also be used to remove paint, and using one is an environmentally friendly alternative to chemical cleaners and bleaches. Pressure washers are available in a number of different strengths, and this directly influences what the washer should be used to clean. This guide will explain how washers work, the different types available, and how to find an affordable model on eBay.
What Is a Pressure Washer?
Pressure washers are devices that use pumps to create extremely high levels of water pressure, and then use the resulting jet stream to loosen and remove dirt particles. This is a very effective form of cleaning and is used for commercial and industrial purposes around the world. Although pressure washers vary in strength and size, all washers contain the following basic components:
· A hose to connect the pump to the water source, and another to connect the pump to the nozzle. Hoses used with pressure washers are typically made from a durable hard plastic and are available to buy in a selection of sizes. The most common sizes are 10m, 20m, and 30m, but it's possible to buy longer hoses that reach up to 50m. The price of the hose will reflect the length and material used in manufacturing, but it's possible to buy long hoses at low prices.
· The hose is connected to a pump, and this is what creates the high pressure. Pumps are made to work with specific types of pressure washer, so if looking for a replacement pump check that it is the same size and strength as the one currently being used.
· The pump receives its power from an electric motor or a gas powered engine. Electric motors are prevalent in light duty pressure washers, and require connection to an electric main to work. The benefit of using an electric motor is it is very quiet and has much less of an impact on the environment.

However, electric motors cannot achieve the same strength as gas powered engines, making them unsuitable for use with medium and heavy-duty pressure washers. Gas powered engines use petrol or diesel, and can achieve very high levels of pressure, but produce fumes and noise as a result.
· The second hose connects to the nozzle, which is housed in either a gun or a lance. Guns are small and use a trigger lever system, and are more suited for use with light duty washers. The lances are long hollow poles, and offer the user better control over the stream. The nozzle is found at the very end of the housings, and twisting it will affect the power of the stream and the area it covers.
Types of Pressure Washer
Pressure washers are divided into three groups, and each group is suitable for cleaning different things. The strength of a washer has a direct influence on what it can clean, and it's important that buyers understand what each of the washer types are suitable for.
Light Duty Pressure Washer

Light duty pressure washers have a maximum pressure output of 100 bar. A bar is the unit used to measure pressure. These devices are small and lightweight, and can easily be carried around. As mentioned above, light duty pressure washers typically use an electric motor for a source of power, and these washers are made mainly for commercial use.

People use light duty pressure washers to clean gardening equipment, outdoor furniture, windows, bikes and small patios. Light duty pressure washers are the cheapest option available, and new washers are available to buy for as low as $40. Obviously what the washer will be used to clean will influence the type that is bought, but buyers looking for a small but efficient pressure washer for use in the back garden and around the house should search for these.

Medium Duty Pressure Washer

The medium duty washers can achieve strength of 110 bar, and buyers should express caution when using these devices. Medium duty pressure washers are slightly larger than the light duty models, and most are attached to wheels to allow for easy transport.

The majority of medium duty washers use a gas engine for power, although it is possible to buy some that use an electric motor. Medium duty pressure washers are suitable for use on cars and other small vehicles, gutters, fences, and medium sized patios. Prices for these range greatly, but new models can be bought for around $200.

Heavy Duty Pressure Washer

These are very large and extremely heavy, and should not be lifted without help from another person. Heavy-duty pressure washers can reach a maximum of 130 bar, and buyers need to exercise great caution when using these devices. Heavy-duty washers employ gas powered engines and these create fumes, requiring the washer to be kept in an open space when in use.

Heavy-duty pressure washers are used to clean large vehicles, farm equipment and stone and brickwork. Prices for new heavy-duty washers start at about $750, and go right up to $10,000.
Finding Affordable Pressure Washers
· Before beginning a search for a pressure washer, buyers should make a list of what the device will be used to clean. This will help decide which type of washer is most suitable.


· Pressure washers vary greatly in price, and some buyers may find that the model they need is too expensive to purchase. If this happens then try searching for a used version of the washer, as these are often sold at lower prices.
· Buyers should also check out the 'eBay Deals' section, as the washers sold there are on offer and are greatly reduced. To find the pressure washer section, simply click on Deals link at the top of the page and then the Gardening link found in the Tools heading. The pressure washers will be found about halfway down the following page.
· Buyers can also search the eBay Stores, as sellers often list items on this section of the site at less expensive prices than those on the main pages.
Searching for Pressure Washers on eBay
· Head to eBay.com.au, and click on the 'Shop By Category' tab, followed by the Gardening link found underneath the Home & Garden heading.
· On the following page, click on the Outdoor Power Equipment link found towards the bottom of the Categories table, and on the next page click on Pressure Washers.
· Buyers should use the adjustable price slider to remove listings that are not within their budget.
· Buyers can also use the 'Condition' filter to search for used pressure washers only.
· If looking for a specific washer or strength, enter this information into the search bar and press enter, e.g. 100 Bar Pressure Washer.
Conclusion
Pressure washers are excellent cleaning devices, but buyers need to be aware of the different types of washers and what they are suitable to use on. The strength of the washer influences its price, so the easiest way to work out which washer is needed is by making a list of what will be cleaned, and compare it to the three types above. Pressure washers can be very expensive to buy, but those sold on the Deals section of the site will have reduced prices, and buyers may find a suitable used model on the main site.