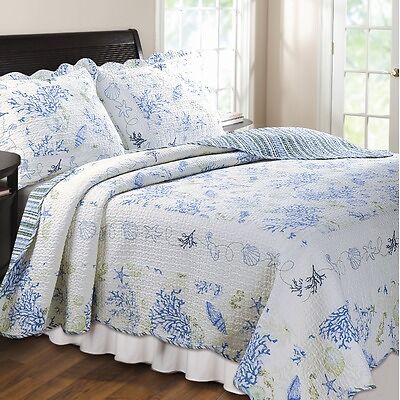 Nothing beats a warm, cosy quilt, and every good quilt deserves a good quilt cover. But good quilt covers are often expensive, and coming on top of the cost of the quilt and the rest of the bedding, all of which may also be expensive, the cost can just seem like too much. A lot of buyers are left wondering why quilt covers cost so much, and why it is important to buy a quilt cover to begin with. The short answer to that last question is that a quilt needs a cover for the same reason that a pillow needs a pillow case. Quilt covers are very much like giant pillow cases, both in their basic design and in their function. But a quilt cover does not have to cost a lot. It may take a bit of research, but there are ways to find affordable and enjoyable quilt covers.
About Quilt Covers
Quilt covers are like large pillow cases designed to hold quilts, or similar large, stuffed blankets. They are often called duvet covers. Somewhat confusingly, they are also sometimes called duvets. The important thing is to know why to buy a quilt cover, and what kinds of quilt cover options are out there.
Why Purchase Quilt Covers?
While a quilt cover may seem like just another added expense on top of all the other, more necessary bedding, they do actually save money in the long run. Basically, the cover gets dirty so the quilt does not have to. This means that the user washes the cover and not the quilt. Quilts are difficult to wash because they are heavy and easily damaged, and every time a quilt is washed it gets closer to wearing out. Quilt covers are as easy to wash as a sheet is, and they cost a lot less to replace than a quilt does.
Buying several different quilt covers, each in a different colour or style, is also a simple and affordable way to change the look of the bed often without having to buy a whole new quilt. Conversely, some people like having a consistent look to the room all year long, but want a warm, heavy quilt in the winter and a lightweight quilt in the summer. Rather than trying to find otherwise identical quilts of differing weights, the solution is to buy whatever quilts are warm enough for the season and then use the same quilt cover over each.
Quilt Cover Styles
The most obvious consideration for buying a quilt cover is colour and pattern. An almost infinite variety is available, from solid colours to stripes to fun prints. Choose a cover to either match the colour of the drapes and the other features in the room or to contrast against them in an interesting way. Quilt covers are often sold as part of bedding sets, along with a bed skirt and pillow shams, which of course simplifies matching.
Quilt Cover Sizes
Just as important as making sure the style of a quilt cover fits the style of the rest of the room is to make sure that the cover fits the quilt. Although both quilts and quilt covers are designed to roughly fit the standard bed sizes, so a q ueen size quilt cover fits a queen sized bed, quilts and quilt cover sizes are not themselves standardised. Quilt cover sizes vary somewhat between manufacturers, so a queen size cover from one company is not always the same size as the same size cover from another company. The buyer should therefore get the actual measurements of both quilt and cover before buying, to make sure they match.
Quilt Covers for Less
Buying a low-cost quilt cover begins with understanding what makes one cover expensive and another one low-cost. From there, buying an affordable one involves both finding a low-cost design and finding a discount seller or a good deal. Making a quilt cover is another option.
How Are Quilt Covers Priced?
A quilt cover is essentially a pair of sheets sewn together. This means that their price varies the same way the prices of sheets vary. A more expensive material, a higher thread count, better sewing, and a more prestigious brand all make for a more expensive cover. Silk and satin are both high quality, expensive materials. Cotton is much less expensive. Although well-made cotton fabric is by no means low quality, it does have a less luxurious look and feel. Chiffon is also a more affordable fabric.
A reliable way to find a low-cost quilt cover to buy is to look for a cotton cover from a discount seller. There are companies that offer bedding in this market. Quilt covers may also be available second hand and still in good condition. Remember to choose something that feels and looks good, since there is no point in buying something that is not enjoyable, no matter how good the price is.
Do-It-Yourself Quilt Covers
A simple way to get a low-cost quilt cover is not to buy it at all but to make it. Obviously, this sort of project does take some know-how, but it is not complicated as sewing projects go. Either start out with two sheets and sew them together or buy and cut new fabric. There are detailed instructions available online, but the basic idea is to sew together three sides and then use a zipper or a row of buttons to close the fourth side. The really ambitious can dye, print, or embroider the cover themselves as well. Making a quilt cover, provided one already has a sewing machine, costs a fraction of what it would cost to buy a quilt cover, and should not take an experienced hobbyist very long.
Buying Affordable Quilt Covers on eBay
A great place to find good deals on quilt covers is eBay. The site has great selection and is easy to search. You can even try your luck on eBay Deals, where the best prices in any given category are. If there is a great bargain on a quilt cover, that is where it is. To look for a quilt cover, just enter 'quilt cover' into the search box. Use the menu options to narrow down the results and then to filter the remaining results by colour, size category, brand, and other criteria. Alternatively, use the Advanced Search feature to focus in on something specific quickly. There is a contact link on the seller's profile page for any questions. The profile page also lists the seller's feedback score and various incentives and policies. Some offer free shipping, for example.
Conclusion
A quilt cover is a great way to make the most of a quilt. Under the protection of a cover, the quilt does not need to be washed as often, so it lasts much longer. Washing a quilt cover is also much easier and more convenient than washing a whole quilt. Quilt covers are much less expensive than quilts to replace. Buying multiple quilt covers is also a great way to vary the look of a bedroom without having to buy a new quilt. However, just because quilt covers cost less than quilts, it does not follow that they are always low cost. Some quilt covers are actually fairly expensive. Fortunately, by avoiding expensive fabrics and brands, and by going through a discount seller, it is possible to find a low-cost, quality cover. Making a quilt cover at home is a fun, low-cost option for some people, too.