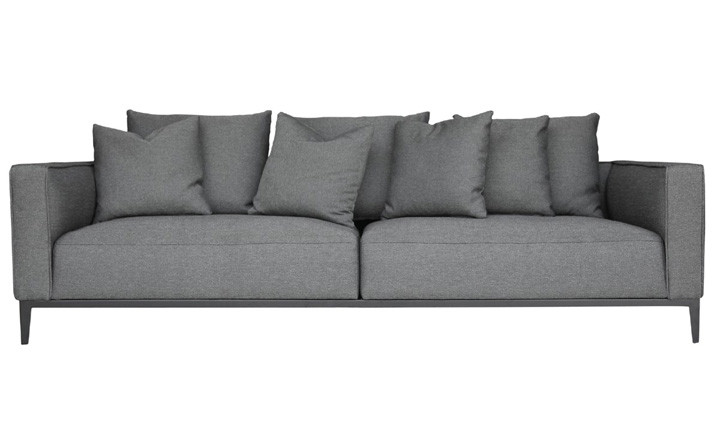 The sofa is often the centrepiece of the living space, and is the place where friends and family gather. Therefore, a comfortable, attractive sofa is essential. However, that does not mean consumers must spend a small fortune. Instead, buyers can find affordable sofas available at retail shops and online marketplaces like eBay. They can choose an end of line sofa, an ex-display model, or a factory seconds sofa with an inconspicuous flaw. Alternatively, shoppers can opt for a used sofa or one in need of care and repair. Considering all of the available options is the smartest way to purchase a high quality, affordable sofa.
Finding a Deal on an Affordable Sofa
Buying a new sofa does not have to break the bank. Shoppers have many options available, but making a budget prevents buyers from over-spending. Considering all options is vital to securing an affordable, comfortable sofa.
Sale or Clearance
Many sellers periodically have sales, and clearance sofas provide huge savings. Sellers discount sofa prices when they need more space, as old models are discontinued and new stock comes in. These sofas are often in immaculate condition, but sell for only a fraction of their previous price. Shoppers can save as much as 75 per cent when they purchase during a sale.
Factory Seconds
Factory seconds are brand new, but have slight imperfections, such as misaligned stitching, a small scratch or scuff, damaged packaging, or other inconspicuous flaws. Factory seconds are available at greatly reduced prices. Because most of the flaws are small and inconspicuous, and since they do not alter the look or robustness of the sofa, buying factory seconds is a great way to buy a high quality sofa at a low price.
Returns and Ex-Display
Returns sofas are those that have been returned to the original retailer. This happens for many reasons. Often, sofas are unpackaged then returned because the original buyer was unhappy with the size or style. Retailers then sell them to other dealers, who market them at greatly reduced prices. Generally, returned sofas have nothing wrong with them, although they may have some of the same small flaws as factory second sofas.
An ex-display sofa is a model that was formerly on display and so may not be immaculate. If the sofa was on display in a window, for example, it may be slightly faded. It may also show minor wear and tear from customer use. However, the sofa should still be in near-immaculate condition. Returns and ex-display sofas both offer a very affordable way to purchase a new sofa.
Used Sofas
Used sofas offer big savings. Buyers often purchase a new sofa when they redecorate, even when their original sofa has plenty of life left in it. Some used sofas come from house clearances or from people updating their furniture. Many sellers offer nearly-new or like-new used sofas at a fraction of the cost of a new one. Buying a used sofa is ideal for shoppers on a budget, those moving into their first home, and students.
Additionally, buyers can save even more on a used sofa by purchasing one in need of some maintenance. Over time, the sofa padding becomes compressed, and the fabric starts to wear. However, the frame is often in good condition. Shoppers who have the time and some basic skills can save a lot of money by purchasing a tatty or neglected sofa and refurbishing it themselves.
Refurbishing a Used Sofa
Refurbishing a used sofa is a great way to save money by taking on a simple and rewarding project. Sofas in need of refurbishment are usually very inexpensive. Aside from the sofa itself, the buyer needs only a few key tools and materials. First, they need some suitably durable and attractive upholstery fabric. They also need new foam padding to refill the sofa cushions for maximum comfort, and a staple gun to secure the fabric to the frame. Thick, good quality upholstery thread makes strong, neat seams and hems. When refurbishing a sofa for the first time, buyers should choose a simple sofa shape. If the filling is intact but the fabric is worn, consider purchasing a sofa cover or throw.
Considerations when Purchasing a Used Sofa
When buying a used sofa, shoppers must check the integrity of the frame. It should be strong and robust, and should not wobble, creak, or groan when bearing weight. Any visible joints should be strong, and should show no sign of weakening. Buyers should check older models for signs of woodworm. Tiny holes in the wood destroy the strength and integrity of the wood. While minor infestations can be treated, large infestations, even if treated, leave the wood weak and susceptible to further damage.
Make sure the sofa does not have any unpleasant odours, because it is difficult to rid used sofas of strong, offensive odours. Buyers who do not wish to refurbish their sofa should select one with only light signs of wear and tear on the fabric.
How to Buy an Affordable Sofa on eBay
Buyers can find lots of deals on affordable living room furniture on eBay. Shopping on a budget no longer means your choices are very limited. Instead, eBay sellers offer affordable sofas in an array of styles, sizes, and shapes. With new, used, and reconditioned sofas to choose from, you can easily find a comfortable, aesthetically pleasing sofa within your budget.
Search for sale or clearance items, by entering the proper terms in the box on every eBay page, and consider purchasing a factory second, ex-display, or returned sofa for big savings on a high quality, affordable sofa. Alternatively, you can choose a used sofa in good condition, or one that needs a little work. eBay offers a huge variety of affordable sofas from reputable sellers.