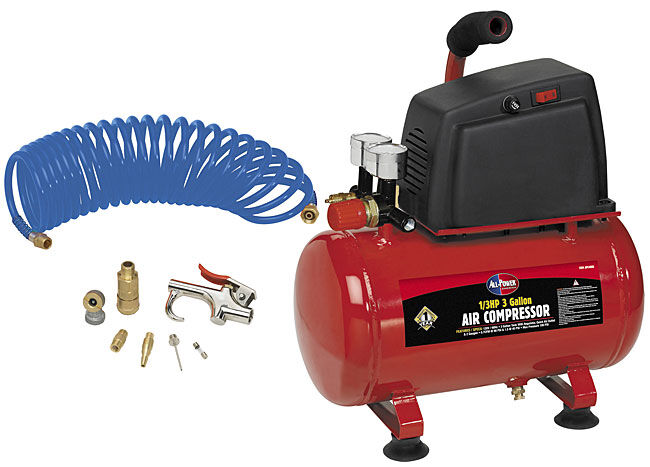 Buyers need an air compressor to make the pressure that pushes the coolant through the system to keep the vehicle cool. Air compressors, also referred to as AC compressors, are made specifically for the make and model of car they are installed in, so buyers should be aware of the types of AC compressors when browsing.
An air compressor may be to blame if the vehicle's air is no longer working, and the compressor is typically affordable and simple to replace. Consumers need to know the make and model of the car, along with the type of air compressor that is needed to ensure the correct one is purchased from a brick and mortar auto parts shop or for a low price on eBay.
About Air Compressors
An air compressor is a piece of equipment that sends the coolant to the vehicle's condenser, which in turn creates cold air that comes out of the air conditioning unit. Compressors are under a large amount of pressure, which creates the gas that is ultimately what provides satisfaction to the driver when the vehicle's air conditioning is turned on. The compressor works alongside all of the other intricate parts of the air conditioning system to cool the vehicle down quickly and efficiently.
Consumers may not know when to replace their compressors. Generally, if the air that is coming out is not cool, or the air conditioner is not working or performing normally, the first thing that most buyers do is check the compressor, which is the most likely culprit. The compressor also may have a leak, which could be causing issues with the car's air conditioner. Consumers may also hear noise when the compressor begins to go out, which is a common sign that it needs to be replaced.
Air Compressors by Vehicle Makes and Models
Since air compressors should be purchased by the type of car they will be installed in, this is the first step to finding the perfect air compressor. Buyers should shop for the correct air compressor for the particular make of car, including Chevrolet, Dodge, or Ford, as well as the car model such as a Ford Explorer.
It is also helpful to zero in on the right air compressor by using the model number of the existing compressor. In addition, knowing the year and model of the vehicle are all useful tools to aid the consumers in finding the right air compressor for their particular vehicle.
Air Compressor Types
If buyers do not know much about a car's air compressor, there are typically several general types of compressors available. Each compressor provides the same type of results, but achieves the goal differently. The type of compressor used essentially depends on what type of engine the vehicle has.
Scroll
Scroll compressors are very common. They are known for being reliable, durable, and compact, and they also run a bit smoother than other types of AC compressors, which have more moving parts. Scroll compressors are a bit more high volume, and they also make less noise than other compressors. Scroll air compressors are popular due to their efficiency and silence. They are also known for being long lasting.
Vane
Vane compressors are a bit noisier than scroll compressors. This is due to the fact that a rotor operates them, but vane compressors are also known for their high levels of efficiency. They do have more moving parts, which increases the chances for noise, but they work just as well as scroll compressors do. Vane compressors are sometimes referred to as rotary compressors. Vane compressors last for a long time, and they are durable, high-performance compressors.
They are also easy to install for consumers who are not generally comfortable with working on their air conditioner and installing new parts. Vane compressors have a long history with automobiles, and are still used widely today in air conditioning systems to create an efficient air conditioning system in vehicles.
Axial
Axial compressors are good options to improve the way the engines operate. Since the axial compressors work in a way that moves a high volume of fluid quickly and consistently, they are good for improving vehicle efficiency. The flow of gas makes them work hard to achieve results when used in air conditioners, and this is good for many types of vehicles. Axial compressors are driven by a piston, which pushes the gas through with a crank.
Used and Remanufactured Air Compressors
Consumers who are on a budget may want to purchase a used or remanufactured air compressor. The difference between these is that used compressors are of course, used, but if they are still in good shape, then purchasing a used model is a viable option.
Remanufactured means that the air compressor has been refurbished by the manufacturer to be as close to new as possible, but without the higher price tag of a brand new compressor. Air compressors are an important and expensive car part, so consumers may avoid the bulk of the expense by purchasing a used or remanufactured AC compressor.
Selecting the Right Air Compressor
The easiest way to find the correct air compressor for the vehicle is to shop by make and model of car. This ensures the buyers are purchasing the compressor that fits that particular car and works efficiently. There are other questions buyers may have when looking for an air compressor that must be considered before a purchase is made.-
Items Available

Features

Cost

Includes the compressor as well as the clutch

Some kits include an O-ring seal kit, desiccant, and expansion device

$$$ to $$$$

Remanufactured compressor

Refurbished, reconditioned to be like new

Quality is as high as new compressors in most cases

$ to $$
Once consumers know what they are looking for, it is simpler to make the correct purchase. Since kits come with more than the compressor, some buyers may not need the extra parts, but for buyers who do need the additional pieces, it is a more affordable option than purchasing the parts separately.
How to Buy Air Compressors on eBay
Air compressors need replacing from time to time, so head over to eBay for great deals on new, used, or remanufactured AC compressors. Use the search box on any internal page to type in "AC compressors" or "air compressors" to get immediate results. Then filter the results based on what your car make and model is and how much you want to spend on an air compressor.
Purchase air compressors from authorised merchants who are Top-rated sellers, and read the seller's listing carefully to ensure you are getting the right AC compressor to meet your exact needs. Check the seller's feedback before you buy so you know you are dealing with a reputable seller and will most likely have a satisfying shopping experience.
Conclusion
Air compressors are often described as the 'heart' of the air conditioner inside a car. This makes them a necessity, especially in the warmer months. Air compressors may come in several different types, but they all reach the same results, so it is really up to the buyers to select the right compressor for their needs.
A compressor generally lasts for years if the car is maintained properly and taken care of, and consumers often know immediately if there is a problem with the compressor. One of the first signs that a compressor may need to be replaced is that the air that is coming out of the vents is not cold, or seems less cold than it typically is. When this happens turn to eBay for great deals on air compressors.
Air Compressor|Air Compressor Kit|Refurbished Air Compressor|Used Air Compressor|AC Compressors