Alfa Romeo Giulietta 2.0 Ltr
The last of the Giulietta range to be imported to Australia was not only the most powerful due to the increase in engine capacity, but it was also the most luxuriously appointed in terms of standard features.
These included central locking, powered front and rear windows, a multi function control panel, air conditioning and new fabric for seats and door trim panels.
A wooden sports steering wheel and gear lever knob were also included, as well as a time delay function for the interior lights.
This car was known in Europe as the ED 83 and arrived here in Australia early 1984.
Exterior features included new one piece moulded bumper bars that had provision for mounting the front fog lights onto the lower spoiler.
These were coloured in a mid metallic grey along with the new side protection moulds which were much wider than previous 1.8 "L".
Rear tail lights remained as before but with the addition of a large plastic trim panel mounted below the lights, forming the number plate frame and incorporated a supplimentry brake light/reflector assembly.
Mechanically, the car was virtually identical to the Alfetta 2.0 Ltr GCL and Nuova GTV ED 83 upgrades, apart from the 2.0 Ltr engine included the same overdrive gearbox ratios, and 14" x 5.5" road wheels. 14" mag wheels were optional.
To be continued ........................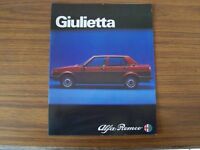 Ebay Clearance of Alfa Romeo Parts, more items coming to ebay soon.