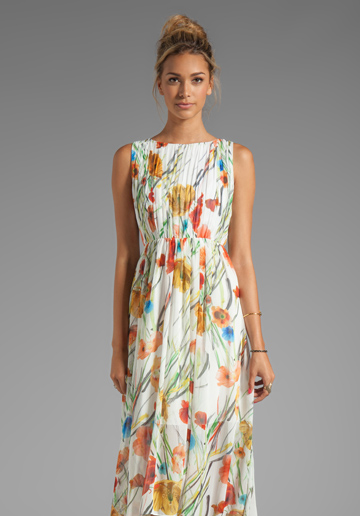 With the perfect dress, a woman can feel like she can conquer the world. For some people, perfect means timeless silhouettes, while others prefer the more playful designs of Alice + Olivia dresses. While the fashionably funky stacey pants made the Alice + Olivia brand famous, through the years, the brand has successfully branched out in dresses, shoes, handbags, fragrances, and more. Fashionistas who are thinking about buying an Alice + Olivia dress should know the different styles that are available to them. Whether purchasing from boutique stores or on eBay, those who want their next Alice + Olivia dress to be a fabulous fit should also learn to work with their body type.
Alice + Olivia Dress Types
When it comes to design, the Alice + Olivia brand is famous for the eclectic down-to-earth designs for fun-loving fashionistas. This brand offers many dress styles suitable for every occasion. Dress styles include party dresses, work dresses, and daytime dresses.
Party Dress
Alice + Olivia offers party dresses for a night out with the girls or a romantic date with the boyfriend. These dresses are typically knee-length or above-the-knee dresses, and their fabric is leather, embroidered lace, wool, silk, or polyester among others. Popular party dress styles from Alice + Olivia are peplum, tulip, ruched, and shift dresses. To edge it up, some of the brand's dresses have studded shoulders and three-dimensional patterns, while others have flirtier, floral designs.
Work Dress
Alice + Olivia also designs dresses for women to wear for work. Office dress codes vary based on the company, but they are generally conservative. The brand, however, caters to fashionistas who want to look stylish even while power dressing. Some of the popular Alice + Olivia work dress styles are the shift, mini, peplum, princess line, and pencil dresses. Most of them have a neutral colour palette such as blacks, greys, navy blues, whites, nudes, and browns. However, some of these dresses have unexpected details like a retro peter pan collar, leather fabric, and a drop waist.
Cocktail Dress
Apart from the work and party dresses, Alice + Olivia also has cocktail dresses ranging from above-the-knee to floor-length. They can be in the form of mini, tiered, fit and flare, tulip, ruched, peplum, and full skirt dresses. While the cocktail dress is for more formal occasions, it also has details like leather trims, studded cap sleeves, floral cut-outs, sheer puffs, and lace overlays. Colours consist of neutrals, brights, florals, and more.
Daytime Dress
Alice + Olivia daytime collection are dresses that women can use for weekends and events that happen in the day. Most of the time, women can wear these dresses while shopping at the mall or having brunch with friends. Among the popular styles are the flare, shirt, A-line, mini, bodice, tube, shift, button down, tunic, princess line, peplum, and tank dresses. These daytime dresses have a colour palette of blacks, blues, greys, oranges, creams, reds, and greens. Additionally, there are florals, plaids, embroidery, zebra, abstracts, geometric, and more.
Maxi Dress
For a decidedly bohemian look, Alice + Olivia also offers ankle-length and floor-grazing maxi dresses. The company features a wide variation of maxis ranging from pleated to A-line to structured bodice, and more. Colours are black, cream, blue, yellow, orange, and red, while the patterns are floral, solid, abstract, graduated, and more.
Shopping for an Alice + Olivia Dress
With the number of choices out there, choosing an Alice + Olivia dress can be overwhelming. While it is tempting to just choose a dress based on what is trendy, it is vital to choose the dress that best flatters the wearer. The first thing to do is determine the requirements and dress code. If the user plans to wear the dress to a cocktail, then it may not be appropriate to wear a casual shirt dress.
Fabric
The next step is to evaluate the fabric. Some types of fabric like denim or cotton, for instance, are often not suitable for cocktail parties. However, some Alice + Olivia dresses are versatile, so women can wear them as both cocktail and party dresses. The person just needs to style it with the right shoes, bag, and accessories.
Skin Tone
Another consideration is the wearer's skin complexion and the colour of dress. Women with blue or pink undertones should go for bright colours, while those with warm tones should stick with reds, oranges, and browns. Those with pale skin should go for blues, emerald greens, and other contrasting colours to avoid looking washed out. Fashionistas with tanned or olive skin should go for light blues, beiges, and creams. Dark-skinned fashionistas, on the other hand, can wear just about any colour.
Flattering Styles
Last but not the least, the shopper must like the Alice + Olivia dress that she is wearing. Sometimes, women get all caught up with being on trend at the expense of their personal style. When choosing the Alice + Olivia dress, buyers should go for something that is both flattering and comfortable. The truly fashion-forward women break all the style rules, but still manage to look beautiful.
How to Buy an Alice + Olivia Dress on eBay
Buying Alice + Olivia dresses on eBay is simple and easy. Locate the search bar on any eBay page and type ' Alice + Olivia dress'. When you see the results, you can filter out products that are not for you through the location, condition, and price options. Next, vet the seller by checking his or her seller feedback. Those who plan to buy pre-owned Alice + Olivia dresses should ask the seller as many questions as they can before purchasing the item. Those who are looking for affordable dresses should check out eBay deals on women's clothing.