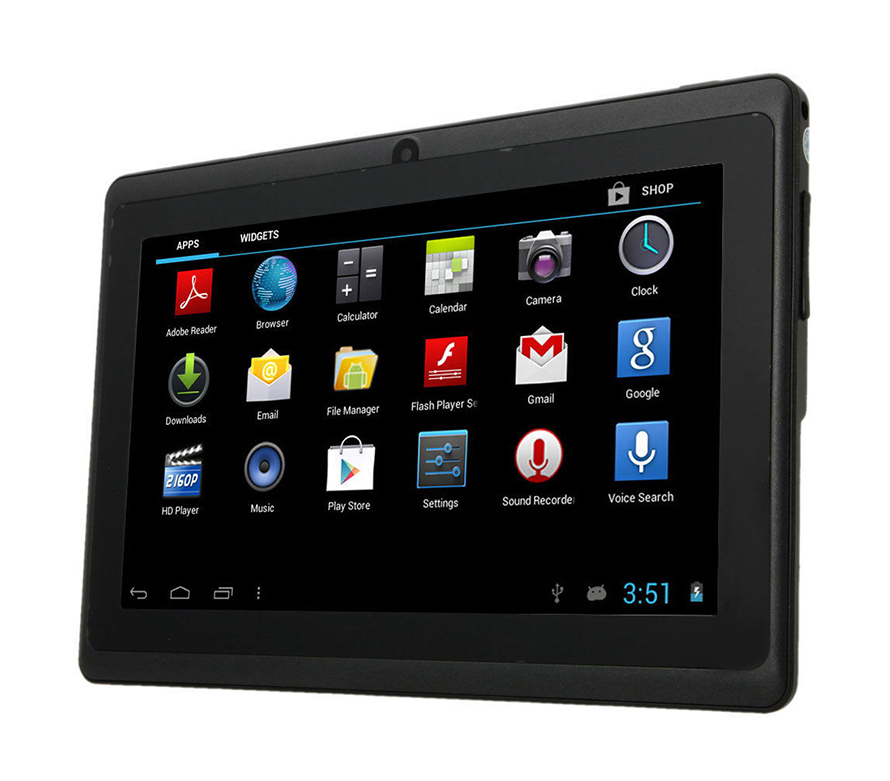 For those who need a portable computer device, tablets offer most of the features found on a desktop computer in portable sizes. Helpful tablet functions include accessing email, creating documents, and browsing the Internet. Device owners can also have some fun by listening to music, playing games, and watching movies while on the go. Shoppers can find popular tablet brands, includingApple,Google,Amazon,Samsung,Microsoft, and Asus, at local electronics or specialty shops or online at sites like eBay. Remember to research available product options and features, including tablet size, storage capabilities, display resolution, and screen size, as well as colour and weight, before choosing a tablet model.
What a Tablet Does
Tablets allow business professionals, students, and those seeking mobile entertainment or interactivity a way to increase their activity wirelessly, whether from the office, on the couch at home, or remotely while on the road. A tablet looks bigger than asmartphone but smaller than a laptop and sometimes comes with an attachable keyboard. Users can browse the Internet, play videos and games, listen to music, watch movies and videos, access email, create documents, and conduct other tasks on a tablet.
Tablet Brands
Before purchasing a tablet, shoppers should research the available brands and their features. Popular tablet models include:
Other available models include theBarnes & Noble Nook HD+,Google Nexus 7, and Asus Transformer Book T100. A side-by-side comparison can help device shoppers quickly determine which model best meets their needs.
Factors to Consider When Choosing a Tablet
When deciding which tablet to buy, consider overall tablet size, screen size, price, storage capacity, and screen resolution. Other factors to consider include operating system capabilities, available applications and accessible content, and if the tablet is 4G or Wi-Fi only.
Tablet Operating System Differences
Gadget shoppers can choose from several main operating systems (OS), including iOS, Android, and Windows, depending on the tablet maker. The OS, also known as the platform, provides the tablet's framework and interface. Learn about the benefits of each OS before choosing a tablet, including how the interface operates, the tablet's sturdiness, and which applications come with the OS.
Operating System

Features

Tablet-optimised applications

Easy-to-use interface

Sturdy

Includes App Store

More expensive than most other tablets

Google Android

Users can customise homepage

Each family member can set specific settings

Includes Google Play store

Cheaper than most other tablet models

Microsoft Windows

Windows RT tablets come with a free Microsoft Office version

Uses full Windows 8 or Windows RT for tablet applications only

Profile-specific settings for multiple users

Fewer features compared to most other tablet operating systems
Other tablet operating systems exist, including the BlackBerry Tablet OS and HP webOS. Remember to read all OS capabilities before making a decision.
How to Use a Tablet
The main difference between using a desktop computer and a tablet is how the user interacts with the device. Tablet users often must use a pen, stylus, or finger pad to operate the device. Sometimes tablets come with an attached or detachable keyboard. Also, find out if the tablet needs a data plan, how to tether it to other devices, and how carrier charges for tethering. Owners can also consider using a mobile hotspot instead of tethering the tablet.
Device owners can then use their tablet to browse the Internet, play games, watch videos, and create documents. Some tablets allow for homepage and setting customisation, while others do not. Devices come with certain applications ready to go, and users can download others by using interfaces on the tablet.
Popular Accessories
Tablet users can help protect their device and expand its use by purchasing certain popular accessories. These include tabletcases andstands,screen protectors, tabletpens,battery packs, accessorykeyboards, external hard drives, and speakers.
How to Buy Tablets on eBay
When searching for a tablet on eBay or in daily eBay deals on Electronics, search listings by manufacturer, tablet model, or using other keywords. Make sure to read each listing and even contact the seller via the Ask a Question link if you have questions. Finally, read over the seller's ratings from other shoppers before making a final buying decision.
When searching for
tablets
from
Apple
,
Google
,
Amazon
,
Samsung
,
Microsoft
,
Asus
, and others, make sure to consider operating system capabilities, size, storage capacity, and screen resolution. Also, assess available applications, accessible content, and other important device specifications to ensure the device does what you need. Remember to read user ratings to make sure the model gets excellent reviews.