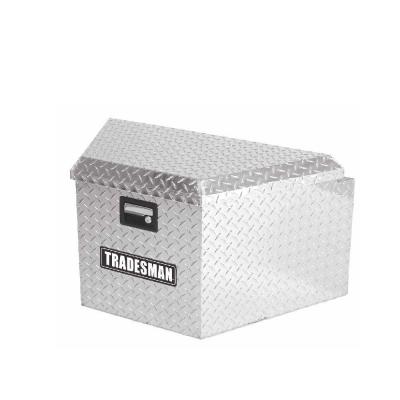 Trucks are designed to haul large objects in the back which means that there usually isn't a lot of storage space for smaller items like tools. Since a collection of tools usually costs a lot to put together, keeping them protected is essential. One way that owners can carry their tools with them on a road is by purchasing a tool box that installs onto their pickup or trailer. Tool boxes are almost always interchangeable between truck and trailers so long as there is available space.
There are many options available that range in size and installation method so it is easy to find one that is perfect for the driver's needs. Aluminium tool boxes are sturdy and versatile. Many of them aren't limited to tool storage and could be used to transport a variety of items. To find a tool box that is a good fit, shoppers have to figure out what size they need, select the location for the tool box, and choose the design.
Before shopping, owners must measure the area to determine how large or small the tool box needs to be. For a pickup, measure the width of the truck or trailer from rail to rail. Then measure from the back of the bed to the portion where the wheel wells cut into the space. Next, find out how tall the rails are. Trailers are a little easier to measure for because there are fewer obstacles in the way. Since tool boxes can be interchangeable between a pickup and trailer, it is a good idea to find a box which fits both.
If buyers are short on time, they can bypass the measuring and simply search for a tool box based on the make and model of their vehicle. Some companies make boxes specifically for certain trucks.
Shoppers are not limited to a standard tool box with a rectangular shape. There are many types of tool boxes that can be installed in different locations. What kind to choose depends on the size of the area, where it will be installed, the owner's preferences, and how large the tool box needs to be. Each configuration has its own advantages and things that should be considered before buying one.
The mounting style of a tool box determines where it can be installed on the trailer or truck. It is important to keep in mind that the larger boxes diminish the amount of space in pickup bed and that the location may be difficult to get to on a daily basis.
| | | |
| --- | --- | --- |
| Placement Area | Location Description | Considerations |
| Chest | Installed inside the bed and remains flush or under the truck rails; can be anywhere within in the bed except for where the wheel wells are | Best solution for those with a cover or topper over the pickup bed |
| Crossover | Installs behind the pickup cab and rests on top of the rails; may or may not reach the bottom of the pickup bed; can also go at the front of a trailer but must be bolted at the bottom | Has to be bolted into place but often comes with extra design features such as compartments and drawers; will not work with a bed cover or pickup topper |
| Hitch | Hooks up to the hitch on a pickup or trailer, but requires that a hitch be installed at the back of a trailer | Leaves more space available in the truck and trailer bed |
| Side | Mounted along a truck or trailer side rail | Requires extra measuring to make sure that the wheel wells will not be in the way |
| Tailgate | Attached directly to the tailgate and either swings out on a pickup or remains stationary on a trailer | Leaves more space on the bed and is easily accessible. |
| Trailer Tongue | Sits on top of the V-shaped trailer tongue that attaches to the hitch | Is easy to get to and leaves space on the bed |
When considering where to put a tool box, owners can make a list of all the things they usually have to put on the bed of a trailer or in their truck. If they typically haul large items, then a tool box that doesn't take up any bed space is idea, but those who tend to carry smaller things that can be arranged on the bed may not have difficulty working around a tool box.
In addition to choosing the size and shape of the tool box, owners must also select the lid design, surface pattern, and make sure that the tool box is capable of holding up to the weather. There are two different types of lids available. The first is a single lid that opens in one motion. The second is a double-sided lid which opens into two different compartments. Double-sided lids are convenient for accessing only one side of the box at a time.
The durability of the tool box makes a big difference. It should seal tightly to keep water out and the latch should be sturdy and secure. Looking for a latch that a lock can be placed onto is a good idea as well since the tool box can sometimes be accessed by other people. To make sure that the tool box is weather proof, check to see if all the parts are fully welded together and not just tacked in place. Some boxes also come with a gasket under the lid to help prevent water from getting inside.
Aluminium tool boxes have a smooth metal finish, or a diamond pattern. The style to choose is entirely up to the owner. However, the diamond pattern does help make any dirt and grime on the box less noticeable.
For those with a lot of smaller tools, a box with extra compartments or drawers may come in handy. If that is not an option, consider purchasing some smaller storage containers to put on the inside. These can help keep everything organised as well as offer extra protection from the elements.
Since tool boxes for trucks and trailers are fairly large items, local stores cannot carry a large variety of them in stock. Rather than limiting your options, consider shopping on eBay to find deals so you can view every kind of tool box available and select the best one for your needs. Simply visit any eBay web page and enter "aluminium trailer tool boxes" into the search bar. A list of all the products will appear and you can begin narrowing down your options. If you have a budget that you need to stay within, enter in your price range and eBay will instantly hide all of the listings that are not inside your budget. Since tool boxes can be large and heavy, be sure to include the price of postage in your costs.
Conclusion
Installing an aluminium trailer tool box is a great way to keep tools and other necessities safe from the elements, yet available for use at all times. With the ability to store everything in the tool box, owners can keep their vehicle more organised and user friendly. Finding a tool box that fits a person's needs is not difficult because they need only to determine what type to get, what design features to look for, and make sure that the build is high quality. Boxes come in all shapes and sizes and with different features such as drawers and separate compartments. After finding out what they want, owners can then shop online to select a tool box that meets all of their requirements and stays within their set budget.
tool box|trailer tool box|aluminium tool box|crossover tool box|chest tool box