It's often been said that with
eBay
, every day is like
Christmas
-- or, to be politically correct,
Christmas/Hannukah/Kwaanza/Festivus
or
"whatever it is you people celebrate"
. But why limit the analogy? Really, shopping on
eBay
is just one special occasion after another, all year long, and I've got the
eBayana
to prove it. You don't think so? Let's count down the
holiday calendar
together.
We'll start with
Labor Day Weekend
, which everyone knows is
eBay's birthday
(1995). You would think there'd be some
eBay chotchkes
to celebrate that fact, but I guess we'll have to make our own. However, there are some very festive items celebrating
eBay's anniversaries
.
First up is
Mr. Apple
, an endearing apple-shaped plush bean-bag toy carrying an
eBay
flag whose bean-shaped name tag states that he was born on September 5th, 1999 -- that's Labor Day weekend,
eBay
's 4th birthday. For official commemoratives, there's the
eBay 5th Anniversary Alarm Clock
, in a style that looks like something the Jetsons might own, with a confetti-bedecked cake on the dial bearing the
eBay
logo and a number 5-shaped candle on top. It was made in an edition of only 500, so it's pretty rare. There's also a white
eBay 5th Anniversary Coffee Mug
bearing the same icon and the words "Celebrating our global marketplace and five years of community!" It's even more rare, perhaps because mugs are breakable. I don't know how many were made.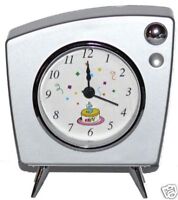 Then there's an
eBay 10th Anniversary Pin
and the rest of the
Incredible Journey limited edition pin set
from
eBay Live!
2005. It frequently can be found up for sale on
eBay
. There's a special
eBay 10th Anniversary.wmv
video message narrated by founder Pierre Omidyar himself on the official
eBay 128MB Flash Disk Jump Drives
given out as employee gifts for the holidays in 2005. There's also an
ebay 10 years! bear
from
The eBay Shop
and a
PowerSeller 10th Anniversary mouse pad
.
But there's even more and better
international eBayana
celebrating
eBay's birthday(s)
. I just won a really cute
eBay Italy
(
ebay.it
)
5th anniversary lanyard-cellphone case
with all the
eBay Italy
icons: the Vespa, the Leaning Tower of Pisa, and the espresso cup. And I have an
eBay 5 Anni (5 Years) T-Shirt
from
eBay Italy
that says "5 anni insieme!" ("5 years together!") plus an
eBay 2 T-Shirt
from eBay Taiwan (ebay.com.tw, now ruten.com.tw) with a birthday-cake icon celebrating their 2nd anniversary. I also have a lovely
chrome card case
from
eBay UK
that has the
ebay.co.uk
logo engraved on it along with the words "The first 5 years".
The best
eBay birthday items
come from
eBay Germany
(
ebay.de
). Their
eBayana
category is smaller than ours, but it has some awesome stuff. I have a fabulous
ebay.de
long-sleeved
rugby shirt with a big red 5
on the back celebrating the 5th anniversary of
eBay Germany
. And I was thrilled to win an
eBay 10th Anniversary Messenger Bag
-- the Seller had won it in a promotional contest at
ebay.de
-- in black and white vinyl. The outside main flap is white with a big orange
eBay
birthday cake icon, the
eBay
logo, and the number 10.
I also won a
10th Anniversary eBay Gumball Machine
(again from
ebay.de
) bearing the same birthday-cake 10 icon -- not to be confused with the regular
eBay Gumball Machines
, which come in red and black (although they're pretty hard to find). Unfortunately, it arrived broken. :(
The next major holiday on our annual
eBay
gift-bearing calendar is
Halloween.
I am the proud owner of the greatest item ever of
Halloween eBayana
. Remember when the
Pope's VW Golf Car
was sold on
eBay
? Well, a group of
eBay
employees dressed up as famous
eBay
auctions for the annual
HQ Halloween Contest
, and I won their prize-winning
eBay Auction Pope's Car Costume
. It's cleverly made from a cardboard box and construction paper with paper-plate wheels, and it sports the appropriate license-plate number along with a "Honk If You Love Jesus" bumper sticker that I'm guessing was not original to the actual car. It came with a Pope's mitre hat and a printout of the auction itself plus the wedding headdress worn by the employee who dressed up as the
Wedding Dress Guy
(the dress had to go back to the rental shop).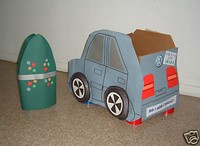 Also for
Halloween
, check out the
scary Griff pictures
@
http://www.angelfire.com/art/kat/griff.html
, where "Once upon a time on a Town Square on
eBay
, a group of insane 'Townies' got together and terrorized an innocent man. His name was: Griff…". Credit for this hilarity should go to
eBay
User ID danceswithcameras.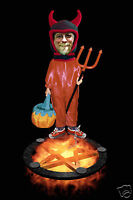 You can see pictures of other costumed
eBay
staff from
Halloween 2006
in the
eBay Chatter
@
http://www.ebaychatter.com/photos/halloween_2006/index.html
.
There are no
Thanksgiving eBay chotchkes (
not that I know of, anyway), but
eBay Radio
did have a news flash about an
eBay
auction wherein you could buy an
Authentically Dressed Pilgrim & Indian
to attend your
Thanksgiving
dinner and tell you all about their adventures at the
First Thanksgiving
. Hold the
eBay
turkey jokes, please, and pass the corn, which you call maize!
December
, of course, is the time of year when we garner the mother lode of all gifts, both given and received. So
eBay chotchkes
are plentiful, too. I'm not even going to tell you about the
Christmas tree light sets
(especially
bubble lights
!) and other
holiday items
that come in all 4 primary
eBay
colors; you'll have to find those on your own. Except for our miniature
aluminum Christmas tree
-- decorated with
9
white satin full-color eBay logo ribbon bows
from
eBay Germany
plus a black-
eBay
-logo'd tree-topper
4-colors bow set
from Seller usakat, all of which is illuminated by a genuine vintage
rotating fan-light
in red, blue, yellow, and green -- I'm going to limit myself to items that were officially licensed or commissioned by
eBay
.
Well, pretty much, anyway. We've got a giant
Christmas-lights eBay logo
that has been hanging from our front porch ever since last Christmas. My husband made it; the neighbors just love it. And the only item we've won that we never received was a tabletop version of the
eBay logo handmade in Christmas lights
poked through white styrofoam. But we also have an official set of
eBay Holiday Lights
from
eBay UK
: It features light-up letters in the appropriate colors and typeface spelling out "e-b-a-Y" interspersed with plastic holly, and it plugs into a USB port for your computer or laptop. So festive!
Santa Shops On eBay
by Marsha Collier, the bestselling author of
eBay For Dummies
, offers a bookful of tips on "How to find deals, get organized, and give yourself the gift of time". Or you can get some Great Ideas from a 50-pack (or even a sample 10-pack) of
Do It eBay for the Holidays Great Ideas Cards
. But wouldn't you rather just find out what
eBay holiday chotchkes
you can shop for on
eBay
?
The
eBay Light-Up Village
can be enjoyed all year long, but it's perfect for the holidays. It's a huge (almost 2 feet tall) ceramic sculpture encapsulating a monolithic village with portals to
eBay
, PayPal, and various
eBay
categories. It lights up with your choice of solid, twinkling, or chase lights, and it's a scintillating addition to any holiday tablescape. It was available from
The eBay Shop
and as a table prize at eBay Live! 2007 and 2008.

Then there are the
eBay Christmas Ornaments
, which no true-hearted eBayer should be without. There's a
white glass globe
from
The eBay Shop
that bears the full-color
eBay
logo with 1998 and the URL
www.ebay.com
.com in black. Then there's Pierre Omidyar's
1998 Limited Edition Crystal Snowflake
from eBay Foundation, engraved simply "ebay 1998", and a silver "spinner" ornament with an engraved
eBay
logo.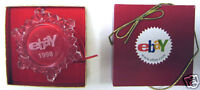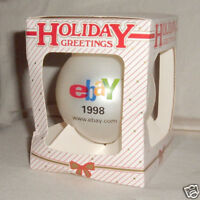 We have some lovely feedback-inspired
star ornaments
by artist Luis Pagan from Seller
littleredcart
, all with beautiful marbelized finishes in the appropriate colors, and a
Skiing Feedback Star
(wearing an
eBay
backpack) that came from
The eBay Shop
. There's also a 3D folding holiday card that looks lovely on the mantel.
Next there's an
eBay Holiday Blanket
in red fleece bearing an embroidered snowman wearing a black top hat with the
eBay
logo. Underneath the snowman are the embroidered words "Happy Holidays 1999". This item also came from
The eBay Shop
, and it's almost impossible to find.
Continuing that theme is the
eBay Snowman Pin
, a 2003 limited edition collectible from
The eBay Shop
featuring a snowman wearing a scarf striped in
eBay
colors and holding an
eBay
logo in his mittened hands with the words HAPPY HOLIDAYS 2003 on the ball making up his lowest third.
In the wearables department, there's a long-sleeved
green sweatshirt
with a square
eBay
logo on the front and "Whatever you wish for" on the back, along with the (now-defunct) URL
www.ebay.com/wish
and a design of holiday ornaments. That same design and sentiment reappear on a short-sleeved
red T-shirt
as well.
And don't forget the
eBay employee gifts
, which almost immediately seem to end up for sale on
eBay
: embroidered
eBay Belts
(in red, blue, white, black, and multi-color woven); an
eBay Scarf
(striped in
eBay
colors);
eBay Watches
; a black-leather
eBay Jump Drive Keychain
; an
eBay WebCam
; and a black-with-4-
eBay
-colors-lining
eBay Umbrella
. All of the above come in
eBay
-colorful gift boxes or holiday tins bearing a personal holiday message from Meg Whitman, and all of them make fun -- and useful -- additions to your
eBayana
collection.
Last year's gift,
The World of Good Box
, was the only one that seems to have been kept. (I only saw one, and I won it!) It's a cardboard box made to look like an old-fashioned trunk with travel stickers from El Salvador, Bangladesh, South Africa, and other Third World countries. Inside is a handmade terra-cotta lidded box, a handmade beaded keychain with a brass fish bangle, and a really nice handmade woven-straw picture frame plus a pad of Post-It Notes from
MicroPlace.com
, an
eBay company
which seeks to end poverty through very small investments that make a very big difference..
Also enclosed is a note from Meg explaining that these handmade, earth-friendly gifts represent
eBay
's
Global Citizenship
effort, which the company began to ramp up in 2007. They are typical of the eco-conscious, Fair Trade offerings @
WorldOfGood.com
, a new
eBay company
featuring items made by artisans in emerging countries who have found a way to provide for their families using traditional skills.
Then there's the the
eBay UK Christmas Treasure Hunt Forum
@
ebay.co.uk
, where the
eBayana
category has been known to yield marvelous finds. I was lucky enough to win one of their prizes from a UK eBayer who won it in the
Christmas 2004 Treasure Hunt
. It's a
mug with a eBay elf
on it that says, "After hours of searching I got the bug, and ended up with this Treasure Hunt Mug!" It also has the full-color
ebay.co.uk
logo and the words "Christmas 2004 Treasure Hunt/LIMITED EDITION FOR THE EBAY CHRISTMAS TREASURE HUNT FORUM".
Top-Kunden (Top Customers) @
eBay Germany
this year received a crown-shaped cookie cutter and a recipe book for Christmas.
But my most treasured item of
December eBayana
is something you'll probably never see again: a frosted
Gingerbread Cookie Star of Bethlehem
decorated with star-shaped sprinkles plus the full-color
ebay.at
logo and the words "Frohe Weihnachten" ("Merry Christmas") done in icing. I won it -- appropriately enough -- from
eBay
Seller boccasasso's People Are Good-Shop @
eBay Austria
. It came from an
eBay Austria
employee party, and it lives in our freezer.
eBay Austria
is also the site that gave us a holiday card showing
Santa crossing the heavens in his sleigh
and wishing the eBay World "Frohe Weihnachten und einen guten Rutsch ins neue Jahr!" -- literally, "Glad Christmas and a good Slide into the New Year!". Meanwhile,
eBay Australia
(
ebay.com.au
) gave us "
Spread The Joy!
" in your choice of red or green, featuring a Santa-hatted eBayer bursting through a wall of holiday gift wrap. From
eBay Belgium
I have a 2006 holiday card featuring a photograph of all the
ebay.be
employees (purchased from an employee @
eBay Belgium
).
In fact, most of the
eBay
sites do something special for the
December
holidays. You can find
virtual cards
,
virtual gift wrapping
,
present selecters
, and assorted
fun games/contests
such as
Reindeer Races
@
eBay Italy
and
Kidnapped Santa
@
eBay Spain
(
ebay.es
) just about all month long. For example, you can meet Rudi The Reindeer @
ebay.it
's
Preparati per un Buon Natale
(Preparing for a Good Christmas) 2007 page:
http://pages.ebay.it/natale/
. And my favorite
Seasons Greetings from eBay
animation (featuring the eBay Colourful Commerce Kids) can be seen @
eBay UK
:
http://pages.ebay.co.uk/christmas/card.html
.
There's no need for post-holiday let-down when you can ring in the
New Year
with a bottle of
eBay Champagne
. I've talked about it in every one of my
eBayana Guides
, and now you get to see it. It's a bottle of sparkling wine with a red star on its label containing the full-color
eBay
logo, and it was given out to German eBayers who achieved a red-star ranking of 1000 feedbacks. I've since seen some for sale @
ebay.de
's
eBayana
category that were available to be shipped worldwide, but I had to write to the Seller for special permission to bid on mine. And I am still thrilled to have won it! It goes nicely with the
2007 New Year's card
from
eBay Spain
that says "Happy New Year" in all different languages.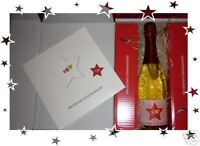 Valentine's Day
is just around the corner, and needless to say it's a big
eBay
occasion too.
Animated e-cards
can be sent from several of the
eBay
international sites -- usually
eBay France
(
ebay.fr
),
eBay Germany
, and
eBay Italy
, sometimes
eBay UK
and sometimes
ebay.com
. There usually is some kind of
gift-selection promotional game
(which seriously does suggest gifts for various parameters) too. Check it out in February 2009 to find out for sure!
And there's always
The One That Got Away
: in this case, a
Heart-Shaped Gingerbread Cookie
that said "Servus!" with the full-color
ebay.at
logo, meaning "Greetings! from
eBay Austria
". The auction ended before I could get permission to bid (since the Seller didn't specify that s/he would ship worldwide). They're big on gingerbread cookies at
eBay Austria
.
I haven't found any
eBay chotchkes
for
St. Patrick's Day
, although you would think there would be some @
eBay Ireland
(
ebay.ie
). You used to be able to send a variety of really wonderful
animated gift card
s from
http://usa.ebayholiday.net/stpatricks/index_flash.php
, but that link unfortunately no longer works. My favorite was the one where you could add the face of your choice to a male or female Irish dancing cartoon figure.
Next come's
April Fool's Day
. No
eBay chotchkes
(yet) -- at least none that I know of -- but check out the
April Fools! surprise
@
http://pages.ebay.com/promo/april2007/index.html
. Whoops -- the joke's on me! That page has disappeared just recently. But it was a big yellow splash screen that said "We couldn't resist…we had to do it…April Fool's" before dissolving to the
eBay
home page.
The
eBay chotchkes
for
Easter
are pretty basic:
eBay Silly Putty Eggs
in all 4
eBay
colors (extremely hard, if not impossible, to find) and the
eBay Eggs
from
The eBay Shop
at eBay Live! 2008 in Chicago. I'm not sure of the color availability on those.
But
eBay Germany
comes through again: In 2006,
ebay.de
offered the chance to send
Easter cards
featuring a music-playing band consisting of a drumming rabbit, a bass-strumming lamb, and a trumpet-tooting chick. You could click on each of the various animals to get them started -- or stopped -- thereby composing an infinite number of hilarious tunes.
eBay Germany
still offers 2
Easter PDFs/JPGs
, one of an
Easter Bunny
with one egg plus the full-color
eBay
logo @
http://pages.ebay.com/promo/april2007/index.html
and one of the
Bass-Playing Lamb
from the
Easter Animal Band
@
http://presse.ebay.de/news.exe?typ=SU&news_id=100440
that says "Frohe Ostern" ("Happy Easter").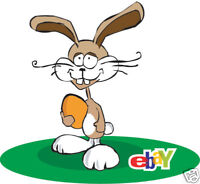 No matter what
holiday
you're celebrating, you'll want to wrap your gifts in official e
Bay Wrapping Paper
, striped in all 7
eBay
colors. (You do know that there are 7 colors altogether in the
eBay
logo, don't you? All 4 primary colors plus the 3 overlapping colors in between…) It comes in 2 lengths -- 30 inches wide by 30 feet long, and 30 inches wide by 100 feet long -- for your wrapping pleasure. It was sold by
The eBay Shop
and originally came with matching gift cards.
This concludes our tour of the
eBayana Holiday Calendar
. If there's anything I've missed, please let me know!
Thank you for reading my guide. If you found it helpful, please vote by clicking "Yes" below.