Everybody who eBays probably is familiar with Weird Al Yankovich's "What I Bought On eBay" parody of the Backstreet Boys' "I want It That Way" from his album "Poodle Hat". But do you know how many other musical odes there are to our online community? Neither did I, until I downloaded them from the iTunes Store!
But my top three favorite eBay songs of all didn't come from iTunes. I bought them -- where else -- on eBay. The first of these is by Chumbawamba (the fabulous musical anarchists who brought us "Tubthumping"). It's called "On eBay", and it is a tuneful lament for the historical and cultural artifacts lost in the looting of the Baghdad Museum:
"I got 25 dollars for a Persian vase…There's stuff you find along the way and stuff you leave behind/But it all ends up as stuff that you can find/On eBay…"
The original version is on Chumbawamba's album "Un", but there is a CD single version (the Out Of Site Remix) and also a Tower Of Babel Remix.
The next eBay song I found on eBay is by Vic Twenty, and the title expresses a recurring theme amongst eBaysian songwriters: "I Sold Your Heart On eBay". The 2:49 song itself is a bouncy little electro-pop number with a very catchy hook and an irresistible chorus:
"I never wanted you to end this way/I sold your heart on eBay/I pawned my world on eBay…What's your bid/We've got history…but I've got stars on eBay."
I wish I could remember how I even found my Vic Twenty CD; I think I might have been searching just via keyword "ebay", which is something that should be attempted only if you have a lot of time on your hands plus the patience to sift through large quantities of dreck with titles along the lines of "Cheapest on eBay!" and "Never Seen On eBay!" and (my personal favorite) "Banned On eBay!"
My newest favorite eBay song -- which I recently stumbled upon as one of the "Similar items from all eBay sellers" -- is an original number by Aussie eBayer Ron Garner (a.k.a. winner1950): "If I didn't have eBay, I think I'd die". I couldn't leave enough positive feedback for this A++ eBay anthem, which utilizes an acoustic guitar plus the voices of Garner and his wife, Emma, in singing hilarious lyrics including this final verse:
"I'm an eBay man and I sell all I can online/But I'm not sure if I sell more than I buy/I'm an eBay woman and I shop till I drop online/I'm in heaven 'cause I can shop both day or night/We love it, we want it, we need it to survive/If we didn't have eBay, we think we'd die."
You can find your own copy -- and read the rest of the lyrics -- @
http://cgi.ebay.com/ws/eBayISAPI.dll?ViewItem&rd=1&item=320309856723
All CDs are available with a signed autograph of the singer-songwriter, and they have a place on the label to dedicate each copy to that special someone.

But my favorite eBay song of all time is Jon Barker's "eBay Queen". The former cruise ship entertainer draws from his own real (well, semi-real) life for this classic composition, because his wife, Lisa, handles eBay duties for their family under the eBay ID theflyingfriar1.
I am particularly proud of having found this CD because I had to go to eBay UK to do so. I believe that I was once again searching via keyword "ebay" (which doesn't bring up quite so many results on the smaller national sites, but still dredges up a lot of "Never Seen On eBay!" dreck) but I might have been searching via "ebay cd" or even "ebay queen", which has subsequently become one of my standard searches. It brings up a lot of drag queen outfits, but at least it's never dull, doll!
You can listen to the preview of "eBay Queen" @
http://www.songstostrikeachord.com/songpreviews/ebayqueen.mp3
or buy the CD @
http://cgi.ebay.com/ws/eBayISAPI.dll?ViewItem&rd=1&item=310001848112
but meanwhile, I like the song so much I am going to quote its lyrics here in their entirety. Then I'll tell you about the rest of my musical eBay library.
eBay Queen
Music & lyrics by Jon Barker ©2006 Dotsandpix ltd.
If you wanna get rid of your wife I'll tell you exactly what to do,
Don't stick a knife in her back or send her packin' to Timbuktu,
A camera and a computer is all you gotta buy,

Then log her on to eBay, and kiss your woman goodbye.
She'll be an eBay Queen in an eBay store,
When she's an eBay Queen, you won't have any trouble any more.
My wife started off slow selling some coats the kids had outgrown,
She soon progressed to sellin' stuff that cluttered up our home,
She became obsessed with 'Buy it now,' and 'Paypal' and 'watchers' and 'bids'
She saw more of the mailman than she saw of me and the kids.
Now she's an eBay Queen in an eBay store,
Now she's an eBay Queen, I don't get nagged as much any more.
I realised that things had gone beyond a joke and a laugh,
When I woke up one morning to find she'd gone and sold my bath.

So I got dressed and went downstairs, cursin' her to hell,
I went to drive to work but she had sold my car as well.
Now she's an eBay Queen in an eBay store,
Now she's an eBay Queen, I stink and walk to work a lot more.
eBay...eBay's changed my life,

eBay, eBay's taken my wife,
eBay, eBay...She's the eBay Queen.
Brown paper packages arrived each day, which opened a can of worms,
'Cause my wife and the mailman were now on first name terms.
The final straw came when we looked at one another,
I said, "You're good at selling useless junk -- WHY DON'T YOU SELL YOUR MOTHER?"
And the eBay Queen went and walked out that door,

Now she's shacked up with the mailman,
I don't see my wife any more. 
(Now that's what I call positive feedback.)
Now that's what I call an eBay song!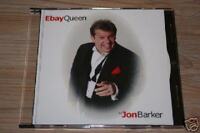 There are three more eBay music CDs that I bought on eBay. All three are from eBay Germany (ebay.de). The first one features "Star" by Crash, an elegiac little number that was used as theme music for an eBay Germany ad campaign. The second one is called "Lausch Rausch", which translates according to Babelfish as "Listen To Intoxication"; it's a compilation CD with some pretty good stuff on it. So is "Sommer Krachen" ("Summer Crashing"), which evidently came out the following year. Why don't we have any eBay music compilation CDs from ebay.com? You can probably find these CDs on either ebay.com or, more probably, at eBay Germany, if you just keep looking long enough. However, be forewarned that they're quite rare, so I guess eBayers in Germany like them enough to keep them.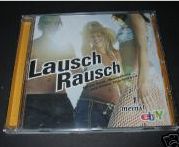 Moving along to the catalog of what I bought from the iTunes store, let's take it in (almost) alphabetical order. I can't leave the topic of eBay Queens without mentioning Marcheaux's album of that name, but misspelled: "e-Bay Queen". (Searching on keyword "e bay" a.k.a. "e-bay" has netted me some great finds over the years, but you have to be prepared to wade through a lot of listings for Red Sliders -- some kind of faux bait? -- and sometimes penny candy listings too…) The title is "e-Bay Queen", but none of the songs on this poppy electronic girl-group album seem to actually mention eBay.
Going back to the top of the alphabet, "Arnie Gets Sold On eBay" is a nine-minute purportedly hilarious spoken-word episode by Nick Hildred and Rikard Bell from "Whack My Bush". It's a semi- incomprehensible (because of the strong UK accents) sketch wherein British politician Tony Blair has posted the group of our heroes on eBay and various world leaders are bidding for them.
Arnie is eventually sold to a billionaire, but the group is rescued (with commentary by Connie Chung) at the last minute so Arnie is reprieved. Then Arnie gets sold again, this time to a millionaire who turns out not to be (exit sobbing). I didn't laugh at the supposed humour of this piece so much as I cackled over the absurdity (and the accents) of it all. There is supposedly a ringtone available, possibly of the punchline (a whipcrack and the words "Whack my bush!" That'll get your attention, all right!
Next on the list is "E-Bay Ghetto" by Quit Your Dayjob. The regular version is from the "Coconuts" EP, and the explicit version is from the album "Sweden We Got A Problem". (Maybe it's a Swedish group?) This is a classic 1:45 rocker fueled by hard, driving guitar and almost shouted lyrics with a surprisingly singable chorus: "Congratulations, you are the winner of this auction!"
The rest of the song, oddly (and amusingly) enough, is all about the weird stuff you can buy on eBay:
"Here's a nun/She's a naked nun/Place your bid/Let's Have some fun…We've got pets [actually, those aren't legal on eBay, unless they're stuffed]/We've got jewels/We've got a million kinds of tools/Place your bid/Take your pick/Place your bid/Don't be a fool…Congratulations, you are the winner of this auction!"
Personally, I couldn't tell the difference between the regular version and the explicit version. Both celebrate the joys of bidding on naked nuns and naked girls -- which is only a little bit of an exaggeration, especially if you've ever shopped eBay's "Mature" categories -- but all of the lyrics are perfectly family friendly. And you can get a ringtone from either version, too!
In a refreshing change of pace, we now have "eBay" by Alec Haavik, a jazzy, sax-heavy 9:25 number from his "Rocks" album. Again, a ringtone is available. This instrumental drove my husband up the wall, but I kind of liked it.
In fact, it reminded me of a fourth CD that I purchased @ eBay Poland from a Seller whose name escapes me, which is a shame because he was the actual author of the jazz-influenced acoustic guitar piece featured on the CD and titled (imaginatively) "eBay".
Next on the list is the 3:37 pop "eBay" by Anna (another girl group) from "Wir gehen schon mal vor" which roughly translates as "We're going already". This song is in German, but the singer's voice is husky and lilting. I found myself happily singing along with the chorus of "auf eBay!" And yes, a ringtone is available.
The last of the songs merely titled "eBay" is a 1:24 soft rocker by Danny Rhymez and Matty B from their album "Lifeblood". This is another tragic story of a broken heart being sold on eBay: "Take my heart/And sell it on eBay/No more lovin'…". If you like the song, you'll love the ringtone.
I'm not sure how you derive a ringtone from a spoken-word piece, but Jonathan Winters' version of "eBay" from his album "Outpatients" is drily hilarious. It's all about "a gentleman who has bought one of everything for sale on the eBay. That's quite a job!" including "a portrait of the Mona Lisa from the waist down." There is some explicit language, but my favorite part was the 1893 Whoopee Cushion, complete with sound effects. (Sophomoric humour, I know, but it works for me!) If you get the ringtone, let me know how it sounds. I wonder if it's the 1893 Whoopee Cushion sound effect?
One of my top-rated pieces, not only for the tune but for the title, is "eBay 'eck" by The Lancashire Hotpots from the album "Never Mind The Hotpots". It's a 2:40 country-rock ditty with a Celtic flair, and it's all about the efforts of a jilted husband to sell his ex-wife's possessions on eBay.
The lyrics are well worth quoting: "Around the house I still see dearie's face/In the knickknacks that she left around the place/And my heart's in disarray/So I'm flogging her stuff on eBay/Yes eBay 'eck eBay is really ace/There's a starting bid of a quid on the bull's-eye tea towel/And I've two bids in on the Roland Keating hat/And there's two hours to go on the Grant Dimenfour pole/Yes eBay's great for selling all your tat…
"Oh yes sir, the postage it is free/on me dearie's Patrick Swayze DVD/I feel like auctioning my heart [so do a lot of other folks who sing about eBay, but this guy is obviously more practical]/But until then I'll start/By selling all her Right Said Fred CDs/Believe you me, I'm auctioning the lot/Please check out all the feedback that I've got/I'm selling Chesney All-Star posters and Backstreet Boys drink coasters/And a Bon Jovi mug that changes color when it's hot -- hot -- hot…Hey, look at my PayPal account!" Sorry, no ringtone.
Here's a title to which anybody who's ever lost an auction can really relate: "eBay Blues" by Sons of the Delta from the "Made In Mississippi" album. It's 3:56 of -- well -- the blues. My husband thought they sounded like the Grateful Dead, which they do, and that's a good thing. In this case, the singer's wife has left him, and that's not the only surprise the poor guy is in for:
"I came home last Monday/She was standing in the hall/With 27 suitcases/Stacked up against the wall/Well I knew that was leaving/But I never knew she had so many clothes/She took half out to the taxi/She said, 'Honey, you can carry those…'/
"Friday night I decided to go downtown/I looked for my best shirt and pants but they were nowhere to be found [you know where this is going now, don't you?]/I met my buddies later and they were looking mighty fine/Suddenly I realized, I realized that all the clothes they were wearing were mine -- oh no!/When I asked where they had got them/They said they bought them fair and square/From a lady on eBay/Who had plenty more pairs/Sure enough, there they were, from my hat down to my shoes/She sold everything I had and left me with the eBay blues…"
Now there's a guy who wishes his ex had settled for selling his heart on eBay! Truly a classic, haunting number with some great down-and-dirty blues jamming. And he gets revenge, too:
"I found a box of goodies/That my wife had forgot/So I logged onto eBay/And sold the whole damn lot/You can see 'em if you want to/You and all the eBay boys/I'm even selling naked photos/Of my ex-wife playing with her toys…" And did I mention that there's a ringtone?
"eBay Splitting Manager" by Snork from "Scuba Diving Tycoon" is 5:38 of danceable club-type electronica with an industrial edge. I'm not quite sure how the title relates to the content because there are no real vocals (just a couple of dubby voiceovers) but the trippy beat is infectious. Darn it, no ringtone!
Next is "eBay Tiger", a spoken-word piece -- with ringtone -- by Buck P Creacy from "And That's Nearly The Truth":
"Mother won't let me go to the auctions no more…She says that I got all the coffee cans and screwdrivers and old nails that I need, and she's probably right. But what she don't know is that I found out about eBay. You seen it on the Internet? Oh man, it's something else! It's an auction! You just think of a, a word or something, and you type it in there, and somebody's tryin' to sell it…".
He then proceeds to try to buy a 15-foot Bengal tiger, because "my mother-in-law moved to Florida, and I miss her." You might find all this funnier than I did, but it was at least amusing enough that it didn't get irritating to listen to it enough times to quote from it.
"I'll bring the sunshine and you bring the wine" is the first line of a song used in eBay Germany's ads. I have it in my iTunes library as ebay_mp3, which is what it downloaded as. It's not really an eBay song, except by virture of having been used in the eBay commercials, but it does have a fabulous saxy jazz break and is very pretty overall.
Then there's the deathless "F**k eBay" by Bludge from the album "You Probably S**k". The asterisks are original to those titles. It's hideous, but luckily it's only 31 seconds long. The only lyrics I could decipher quoted the title -- in a harsh scream over death speed-metal beats -- but without the asterisks, adding "I want to buy s**t [no asterisks] that I would never buy in person…" Imagine how fabulous the ringtone must be!
Also in the short but sweeter category is the :40 country pop "Getting Drunk, Shopping On eBay" by Jen from "Look At My Boots": "Gonna make a bunch of stupid decisions, gonna get drunk and shop on eBay…" Hmm, so maybe that's the problem with some of these deadbeat bidders. I've often suspected as much. This is my husband's least favorite eBay song. He says she should be shot and put out of our misery. Oh, and there's a ringtone, too.
"Hiroshi's eBay Bike" by The Snaketrap from "At Home In A Hostile World" opens with a lovely, contemplative acoustic guitar and then adds an electric rock guitar. But for all of its 6:32, they never sing, so I don't quite understand how the title relates to the content. It's pretty though, and there is a ringtone.
Moving into a country state of mind, there is the pickin-but-not-grinning 5:16 classic "I Can't Sell My Broken Heart On eBay" by Nate Gibson from his album "Nate Gibson and the Gashouse Gang":
"Two weeks ago, my baby walked out that door/Well she said said she couldn't takethis anymore/After three years of marriage, well she was through/So I sat alone and wondered what to do/Well I decided to sell her stuff on eBay/I was curious to see what people they might pay/So I registered and sold everything she had/But I still can't help feelin' sad/'Cause I can't sell my broken heart on eBay/No I can't sell my wasted memories…I can't find a bidder for my shattered dreams."
Then he goes into more detail about exactly what he sold and back into the chorus. Then there's the next verse: "Well I sold so much/That eBay gave me a plaque/And I got thousands of positive feedback/Well next to my name they placed a shooting star/But that still can't pay for my broken heart."
This guy really knows his eBay stuff! Kinda grabs you by the heart, doesn't it? You would think there would be a ringtone.
While we're on the subject of selling stuff on eBay (and aren't we always on that subject?) there's "I Sold My Son On eBay" by Brad Montague from "Listen To This". It's 2:49 of acoustic guitar and slightly off-key vocals:
"I sold my first-born son on eBay/The auction ended late last night/My wife got mad, and she left me/The winner paid with PayPal using Visa/eBay ruined my life but I made a little money/eBay ruined my life but I won a rare collectable [something or other]/It's an addiction that I just can't seem to beat/I seem to have caught some weird eBay disease…".
Can you relate, or what? To the addiction part, that is, not to selling the firstborn part, which we all know is illegal anyway. If fact, don't even joke about it, as one German couple found out the hard way. My husband says we won't be getting the ringtone for this one, either.
Then there's the 5:57 Middle-East-influenced instrumental "Rare B Side On eBay" by Temporary-Power-Animal.com from "March 10 2007". I have no idea what it has to do with eBay, but there is a ringtone. And the drum beat and sitar with cymbals combination had a certain something, but it wasn't something my husband liked.
Shorter and sweeter is the 1:59 acoustic guitar piece titled "Sitting On The Dock Of The eBay" by Billy Jenkins from "When The Crowds Have Gone" (with ringtone). I would love to ask the people who write these instrumentals what the story is behind their titles. But this guy actually does sing, right at the very end, the words "sitting on the dock of the eBay."
"Today I Put My Heart On eBay" is a 4:06 ringtoned piece by The Doyles from their album "4 A.M." It's a classic rocker about love gone wrong that asks the musical question:
"What am I supposed to do, roll over and die?/Today I put my heart on eBay/Put it right up there for the whole world to see/Yes, my heart's for sale today on eBay/Put in a bid, put in a bid, put in a bid for my heart today…"
Then there's the 3:05 explicit "Turkey On eBay" by O Titus! from their Silver Streak EP, a tuneful seasonal number about assorted fanciful scenarios punctuated by the chorus "Send my mother to save me/Win a turkey on eBay…" The lyrics are too lengthy to go into here, but the pop melody and harmonies are wonderful. I'm not sure what was so explicit about it, but there is -- you guessed it -- a ringtone.

And last but not least, this just in from YouTube: I suppose that with all this talk about selling hearts on eBay, it was inevitable that someone would take it one step further. Growing Ears On Mice (great band name) presents "I Sold My Soul On eBay", played live at Gigaroo (whatever and wherever that is) on July 16, 2005. I could only pick out a few individual words from the more-screamed-than-sung lyrics, but the eponymous chorus came through loud and clear: "I sold my soul…on eBay!" The special effects in the video were in eBay colors and kinda cool, and the song was evidently quite popular with the small crowd that heard it live. You can hear it, too, at http://www.youtube.com/watch?v=sODiAYZeg3k.

As you may have gathered by now, not all of the eBay songs are as memorable -- or as singable -- or even as likeable -- as Weird Al's eBay Live! 2003 performance mindblower, "What I Bought On eBay". But tracking them down and listening to them has certainly expanded my musical horizons, and I hope that reading about them (and listening to eBay Queen) has expanded yours.
Thank you for reading my guide. If you found it helpful, please vote by clicking "yes" below.