You might not recognize
eBay tape
as being a particularly hot
eBayana
collector's item. But at
eBay Live!
2005 in San José, co-branded
eBay
-USPS Priority Mail tape was the most coveted freebie at the USPS Booth. In fact, they would only hand it out at the stingy rate of one roll per eBayer.
When the Postmaster General — who appeared at the keynote address because USPS was the title sponsor for the event — said he wanted to do whatever he could to give us what we wanted and needed, he was quite startled by the instant response of 10,000 crazed eBayers shouting, "Tape! Tape! Tape!" and stomping their feet in unison with their chant.
There are seven kinds of
eBay
tape and one kind of PayPal tape that I know of, six of which plus the PayPal tape I have collected (and even occasionally use). This is not including the packing tape that I bought in all four
eBay
colors. I've also included two
eBay
tape dispensers plus my one
eBay
VHS tape because I couldn't think what other
eBayana
guide it might fit into. The
eBay
logo is always assumed to be in full color unless otherwise specified.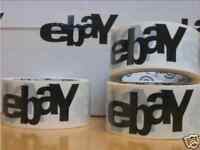 eBay Tape
won from the
eBayana
category @
eBay Germany
in 2006-2007 — I needed an ongoing supply — but it doesn't say
ebay.de
, just
bears the
eBay
logo in black
ebay.ie tape
with the
ebay.ie
logo in black on clear; I only have one URL's worth of swathe of this tape, as it came being used to hold bubble wrap around an eBay University pen, which was won from a Seller @
eBay Ireland
.
ebay.co.uk Tape
won from the
eBayana
category @
eBay UK
in 2005 and and bearing the
ebay.co.uk
logo; at "only" £2.99 ($5.30) per roll and $7.50 for shipping three rolls, it was quite the bargain — sort of
ebay.co.uk Urgent Order/Handle With Care Tap
e from the
eBayana
category @
eBay UK
bearing the
ebay.co.uk
logo alternating with the words URGENT ORDER and HANDLE WITH CARE; I don't know where or how the Seller obtained this, but after winning some, I know why they wanted to get rid of it; it sticks to itself and frays when you try to use it
eBay Official PowerSeller Tape
complete with the
eBay
and
PowerSeller
logos; evidently another
PowerSeller
freebie or
PowerSeller
's
eBay Shop
item. We've only seen it on a few of the packages that have come to us over the years, and we don't have any :(
eBay PowerSeller Tape
that says **Power Seller **/~~~Thanks You~~~; won in 2006 and 2007 from two different Sellers. We have attained
PowerSeller
status (under my husband's and my joint User ID of
monjott
) so I feel like we've finally earned the right to use it
eBay-USPS Co-Branded Priority Mail Tape
from
eBay Live!
2005 that has the
eBay
and Priority Mail logos along with the words "a preferred shipping service on
ebay
"; you pretty much had to get this at the event or not at all, because I never saw any for sale on
eBay
so evidently nobody was willing to part with theirs. (After reading the anecdote above, I'm sure you're not surprised.) I myself have one full and two partial rolls left, and I am definitely hoarding it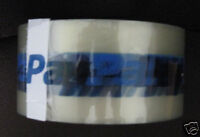 PayPal Tape
won from
syzzlyn
@
eBay Singapore (ebay.com.sg)
; issued in honor of PayPal's 10th anniversary in 2008 and obtained at an anniversary party held at a club in Singapore, headquarters of PayPal Asia Pacific. Griff says that eBayers in Singapore are especially enthusiastic — and I would have to agree, since my
eBayana
guides get more votes there than anywhere else, even with less views per guide — and it would appear that this extends to PayPal as well. I never saw any PayPal 10th anniversary celebration chotchkes offered by U.S. sellers, whereas
syzzlyn
had a whole bagful up for sale (and has offered some other fabulous
eBayana
over the years as well)
e
eBay Hong Kong Tape Dispenser
: No
eBay
tape fits in it — it just holds regular-sized cellophane tape — but this cool white plastic tape dispenser bears the
ebay.com.hk
logo in black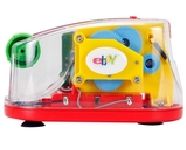 eBay Electric Tape Dispenser
from
The eBay Shop
with a clear plastic shell covering red, blue, yellow, and green moving parts and the
eBay
logo; cool, but a bit pricey at $25.95 for what's essentially an office toy (batteries not included)
VHS Tape Featuring 1999 eBay Media Highlights
: No, it's not the same kind of tape, but in what other
eBayana
Guide would this item fit so well? And it's definitely worth mentioning. Very cool and rare! Won from
tfenrich
, from whom we won a lot of our most fabulous
eBayana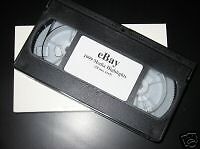 Thank you for reading my guide. If you found it helpful, please vote by clicking "Yes" below.