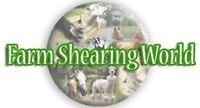 Animal Welfare When Shearing
by
Farm Shearing World Store
You spend a whole year caring for your animals through good animal husbandry techniques so it is good if shearing can be as stress free for your animals (and of course you the shearer) as possible.
No matter how hard you try, you will not be able to stop your animals from feeling some amount of stress during the shearing process, but there are ways you can minimize it.
My father and father-in-law would not mind me saying that neither of them are the calmest of people when moving sheep! It seems to be something which raises the blood pressure in the calmest of people! When moving or handling livestock, try to keep calm with the animals and each other!
Obviously hitting an animal is not an acceptable way to treat them even when they are stubbornly not going where you want them to go.
It is very important to keep your animals off food and water overnight prior to shearing. When a big animal is tipped over for shearing on a full stomach, they can feel very uncomfortable.
In some extreme cases, they can die from fluid rising up the oesaphagus and going back down their windpipe suffocating them (usually big British breeds of sheep).
Think about yourself and how you would feel being bent into a position you are not used to when you are full of food and drink!
Keep your animals together. Animals will feel calmer around their own. When isolated they can panic and get stressed. From an animal's viewpoint, there is safety in numbers!
Do not drag your animals too far when you have caught them to shear. Pen them close to where you are going to actually shear them. This is also good welfare for your body dragging heavy animals around.
Always have an assistant to calm the animal if they become too stressed while you are shearing.
A blunt comb and cutter will pull the fleece off the animal rather than cutting it smoothly off and quite understandably the animal you are shearing will struggle and kick. Make sure your gear (combs and cutters, blades) are properly ground (sharpened) and ready to go.
Correct shearing technique will cause less stress.
Do not over-tighten your cutter tension, this will make the blade heat up causing the animal you are shearing discomfort.
When finished shearing, let your animals go out and graze as soon as you have finished their haircut!
Remember to check our our amazing quality bargain shearing and fencing gear in our eBay store, Farmshearingworld.
Simply click on the link to take you there....
Farm Shearing World Store
We hope you found this a useful review. Please click the 'Yes' button below to help others know.
Kind regards, Farmshearingworld.