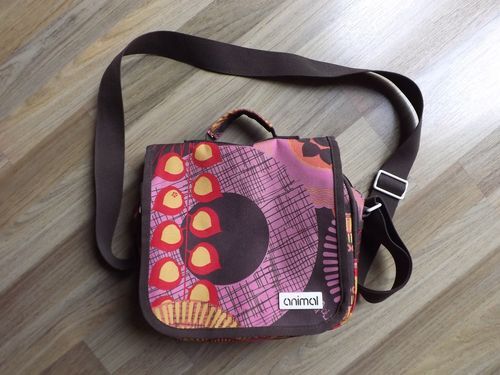 Animal is an athletic brand which makes clothing, swimwear, bags, and accessories for consumers on the go. Its products are outdoor friendly, and the company began with surfers in mind. It includes rugged yet stylish watches, apparel, and eyewear made to resist all types of weather and outdoor conditions.
Made in many shapes and created from various materials, Animal bags are versatile and perfect for toting just about anything. Consumers find great prices on Animal bags when they shop eBay or retail sports and outdoor stores. When shopping, buyers look at the many styles, sizes, and materials available from Animal.
Bag Style
Animal makes bags in many shapes and styles, from small to oversize and satchels to totes. Consumers select the right bag for their needs by deciding which shape is most aesthetically pleasing as well as functional.
Cross Body
Cross-body bags fit over and across the body so consumers have their hands free when using their bags. These bags are stylish and inexpensive. Animal cross-body bags come in various styles such as round bags, rectangular styles, or square-shaped bags. There are many designs, colours, and styles to choose from including stripes, floral prints, solid colours, and embroidered embellishments. Some cross-body Animal bags have drawstring closures.
Backpack
Backpacks are sturdy, durable, and made to carry much more than cross-body bags. Animal backpacks have front zippered pockets as well as larger spaces that zip closed to carry more items. Padded straps add comfort, and most of the backpacks hold up to 20 litres. Backpacks vary in style and design from graphic prints to solid shades. Some designs have side pockets that hold water bottles in place.
Tote Bag/Shopper
Each tote bag or shopper has an open top and a longer handle for holding on to. These large open bags hold as much as backpacks do, but they look different. Many do not have zipper closures. Animal tote bags and shopper bags come in many of the same prints as its other bags, including small floral prints that are feminine as well as funky tribal designs and dark tones with the Animal logo across the bags.
Satchel
Satchels typically have two buckles which close over the tops of the bags to secure the items. They are medium sized, and each Animal satchel has a small handle as well as a long strap so consumers wear the bag like a cross body, or carry it by the top of the bag. Satchels are roomy and secure, and some Animal satchels have a hook style closure to secure the items in the bag. Adjustable straps make customising the way the bag fits easy. Satchels come in a wide range of designs such as animal prints and solid colours.
Bag Materials
Animal bags stand the test of time. Created from sturdy materials, each bag has a different look. Consumers should choose the bag material that is most desirable and complements their existing fashion sense.
Leather
Leather Animal bags are sleek and stylish. Made of supple leather , the durable bags come in the satchel and cross-body designs. Branded with the Animal logo, the leather bags hold up for the long haul no matter what the weather. A printed inner lining adds a touch of whimsy to these stylish yet practical bags.
Canvas
Most Animal bags are made of rugged canvas. The backpacks, totes, shoppers, and cross-body styles all come in canvas styles, and there are many designs available in canvas, such as a zebra pattern. Leather bags often have canvas accents as well. Canvas is soft, weather resistant, and sturdy, and canvas bags hold many items comfortably.
Bag Designs and Colours
Animal bags offer a wide range of designs and colours for every consumer. From fun animal prints like colourful peacocks, to more subtle solid tones, there are many styles unique to this brand. One of the most popular Animal bag styles is small floral print. These prints come on almost every type of bag from the smallest cross body to the largest backpack. Embroidery is also common on Animal bags, including embroidered flowers and designs. Colours vary from earth tones like dark green and brown, to bright shades like hot pink and pastel peach.
Choosing a Bag
Made in several styles and sizes, Animal bags are functional, trendy, and versatile. The roomy bags are perfect for work, school, or for handbag use. Consumers choose the right bag based on style, features, material, and colour.
Style

Features

Materials

Colours

Small

Versatile

Hands-free use

Leather

Canvas

Suede

Solid colours

Embroidered designs

Graphic patterns

Backpack

Water bottle holder

Two roomy compartments

Padded straps

ID pocket

Canvas

Solid colours

Logo embroidery

Graphic patterns

Floral patterns

Tote Bag

Long handles

Roomy

Internal pockets

Canvas

Solid colours

Graphic prints

Floral prints

Satchel

Messenger type design

Adjustable strap

Zipper compartments

Additional pockets on outside of bag

Coated canvas

Canvas

Floral prints

Solid colours

Graphic prints and patterns
Animal bags stand the test of time. The durable materials along with thick, adjustable straps make carrying the bags comfortable and easy. The wide range of styles appeal to all types of consumers, and the bags complement all clothing styles and blend seamlessly with any wardrobe.
How to Buy an Animal Bag on eBay
Get a great deal on an Animal brand bag when you shop for bags on eBay. Key in your search terms, such as "bags", and filter your results according to brand, which is Animal, and the style, price range, or colour of the bag you wish to find. Look for authentic Animal brand bags from authorised merchants who are Top-rated sellers, and comparison-shop to get the best prices on bags. Buy from sellers who have excellent feedback from previous buyers.
Animal bags are the perfect combination of form and function, bringing surf style to a whole new level. The heavy-duty bags offer many designs, styles, and materials as well as bag sizes for every need you may have. These long-lasting bags are worth the investment.