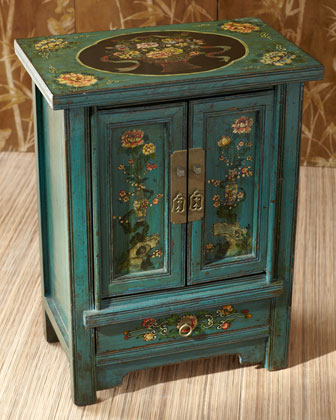 A variety of antique cabinets exist, enough to match almost any decor style. eBay offers a number of second-hand cabinets for sale. Because of the range of units available for purchase, buyers must arm themselves with the knowledge they need to ensure that the antique cabinets they purchase are legitimate and will fit seamlessly into their homes.
Definition of an Antique Cabinet
An antique is an item that is more than a century old, whereas an antique cabinet is a cabinet that was made in either the 19th or the 20th century. The trait that makes a cabinet antique is not its appearance, nor the technique used to design it; rather, it's the era from which the cabinet comes.
Factors to Consider
A person looking to purchase an antique cabinet should consider the following factors.
Time Period
A buyer should investigate the era in which the cabinet he or she desires was built. Marks made during that time period by specific designers, or by the manufacturer, can help verify a cabinet's authenticity.
Materials
Buyers should acquaint themselves with the materials that artisans used to make antique cabinets. The following types of wood were commonly used to make cabinets more than a century ago.
| Type of Wood | Typical Colouring |
| --- | --- |
| Elm | Light brown with a dark grain running through |
| Walnut | Golden brown |
| Oak | Light colour that turns darker with time; typically glazed to produce a glossy result |
| Maple | Light colour with a dappled effect |
| Mahogany | Distinct red/brown shade |
Style
Antique cabinet styles vary in terms of their functionality, application, and size. The following table describes some of the styles available for purchase.
| | |
| --- | --- |
| Traditional Cabinet | Contains glass front doors that are used to cover elaborate items; rests on the ground. |
| | Made to stand snugly in a corner. |
| Wall Cabinet | Made to either float or stand against a wall. |
| Drinks Cabinet | Made to store glasses, as well as non-alcoholic and alcoholic beverages. |
Other Factors
When looking to purchase an antique cabinet, a buyer should also consider the following factors:
Authenticity. The buyer should verify the legitimacy of an antique by looking for marks on the item's surface, as well as by examining original documents from the manufacturer.
Condition. An antique's condition determines its value. Consequently, a buyer should inspect the item's condition, especially if it has has seen many buyers. The buyer should verify that components like the knobs and holders are in good condition, and should search for unwanted marks and fading.
Cost. If an antique cabinet is rare, it will fetch a higher price than will a cabinet that is easy to acquire. Consequently, a buyer should develop a reasonable budget that takes into account factors like rarity and shipping costs.
How to Buy Antique Cabinets on eBay
When searching eBay for antique cabinets, buyers should keep several tips in mind.
Locating Items
A potential buyer can local antique cabinets on eBay by using a keyword search. Entering the desired item in the homepage's search bar will display relevant items on the results page. The buyer can also use the the category search function to find the antique cabinet that he or she wants.
Inspecting the Product
When a buyer has found the type of item that he or she wants, the buyer should verify that the item is in good shape, and that it maintains appropriate markings. Before bidding, the buyer should ask the seller any queries about the product.
Refunds and Exchanges
A buyer should make sure that he or she understands the seller's repayment and exchange guidelines. eBay provides a buyer protection policy in case a problem rises.
Payment
A debit or credit card is used to make payments. PayPal has also partnered with eBay to make secure payments.
eBay Deals
The eBay deals section can be a resource for discounts, free postage, and similar types of savings.