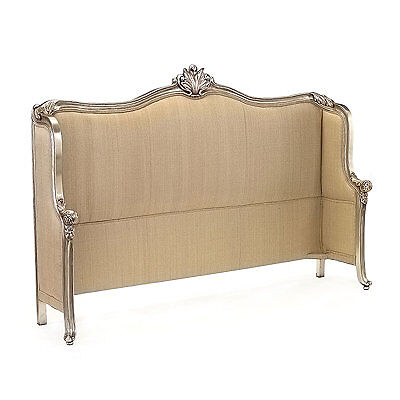 Although a number of beds come with headboards, or bed heads, many do not, and this is why people look for headboards. The good news is that buyers have plenty of options to search through when looking for a headboard, which include contemporary as well as antique bed heads. In addition, buyers can even find new headboards that come with antique finishes.
While buyers have the option of visiting antique shops and furniture shops to buy antique headboards, buying one is simple owing on the Internet, where websites, like eBay, give buyers multiple options in a single place. In any case, narrowing down on a suitable type of hardboard is a starting point and aspects like size, comfort, and utility also need buyers' attention.
Why Buy an Antique Headboard?
Paying attention to a room's decor along with the bed in question is important when buying an antique headboard because an antique headboard tends to look out of place when used with a modern bed or in a room that contains contemporary furniture. On the other hand, with a room that is minimalistic, an antique headboard can help add an old world charm, and in case the room already has a rustic feel, an antique headboard only helps add to the overall appeal.
When looking for antique headboards or antique-styled headboards, buyers can choose from different types of headboards, which include those made with metal or wood and even upholstered headboards. In addition, buyers can also find antique headboards that come with storage space in different forms. Some buyers also look for footboards to go with their new bed heads.
Types of Antique Headboards
Buyers can find different types of antique headboards and antique-styled headboards. For instance, buyers can find headboards made with wood that come with elaborate carvings, and they can also find antique headboards made with metal that incorporate no more than simple straight lines. Buyers, in essence, get to choose between metal, wood, and upholstered headboards.
Antique Metal Headboards
Buyers looking for antique metal headboards can find a number of alternatives made with wrought iron, and they can also find antique headboards and antique-styled headboards made with other metals, like brass and bronze. Metal headboards, although traditionally minimalistic, can incorporate intricate designs.
Antique Wood Headboards
Antique wood headboards, traditionally made with woods that offer durability, like mahogany, pine, timber, and walnut, are not hard to find. Some antique wood bed heads come with complex hand carvings, and while these are good to look at, they tend to be on the expensive side. Buyers, however, also have the option to look for simple antique wood headboards that veer towards simplistic, as well as exceptionally well-crafted new antique-styled wood headboards that are not as expensive. Buyers can also find antique-styled headboards made with bamboo, and these, in addition to adding touches of the old, can also add hints of wilderness to rooms.
Antique Upholstered Headboards
Antique upholstered headboards, in their original form, are not easy to find, given that upholstery does not last for prolonged periods. Finding new antique-styled upholstered headboards, on the other hand, is considerably simpler. These bed heads are favoured by people looking for comfort over all else, and can be padded using different materials. Upholstered headboards come in different fabrics, in an assortment of patterns and colours, and some come in leather and faux leather options.
Antique Headboard Sizes
Buying an antique headboard requires paying attention to size because headboards come in different sizes. For instance, the size of a queen headboard is not the same as that of a king headboard. Buyers should also remember that it is not just the width of a headboard that requires attention, but the height as well. While the height and the width of headboards tend to vary in proportion, this is not always the case, and some headboards can be exceptionally tall. The table below helps indicate common headboard sizes in terms of width.
| | |
| --- | --- |
| Headboard Size | Dimensions (cm) |
| | 91 |
| | 137 |
| Queen | 152 |
| King | 182 |
Buyers need to bear in mind that there is no set parameter when it comes to the sizes of antique headboards. For instance, in a number of cases, antique headboards on sale now have been parts of beds in the past, and in some cases, they have been custom made. As a result, paying attention to size becomes particularly important when buying an antique bed head.
Comfort and Utility
Buyers should not overlook the comfort factor when buying an antique headboard. People who tend to use their beds for sitting and reading or watching television, for example, benefit by buying upholstered headboards that come with comfortable padding. Antique headboards that come with metal frames or wooden carvings, on the other hand, are not very comfortable to lean against. Some headboards also include storage space, which can come in the form of open shelves or drawers. Buyers also need to remember that while some headboards attach to beds, some others require mounting on walls.
How to Buy an Antique Headboard
Home to a number of furniture deals, eBay gives its users who are looking for antique headboards numerous options. When shopping top-rated sellers on eBay, buyers can expect to find all kinds of antique headboards that include metal, wood, and upholstered headboards. In addition, buyers can also find a number of new and used antique-styled headboards as well.
Given that headboards can be rather heavy, buyers should pay attention to postage costs, although some eBay sellers offer deals with free delivery. Lastly, since buying an antique can involve spending a fair bit of money, it is imperative that a buyer pays attention to a headboard's condition before making a purchase.