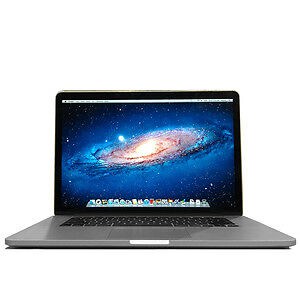 The MacBook Pro 15.4" laptop is a widely popular laptop with all kinds of uses. The MacBook Pro is a powerful device which can be used for media playback, photo and video editing as well as a wide range of other tasks. The Retina display offers a vibrant, clear picture while the thin aluminium chassis offers sturdy design and a compact form factor for portability. A variety of Apple laptops can be found on eBay.
Apple MacBook Pro 15.4" Specifications
A laptops key hardware specification includes aspects such as the hard drive capacity, screen resolution and processer type and speed. These specifications define the capabilities of the laptop, and are important to consider when making a purchase.
| | |
| --- | --- |
| Screen | The Macbook Pro ME665X/A features a 15.4" screen, which offers portability while still maintaining a good amount of work space on the screen. This laptop also features the Apple Retina display , which offers one of the highest resolutions available at 2880 x 1800, and a vibrant and crisp array of colours. |
| Processor | The MacBook Pro ME665X/A includes a high speed 2.7GHz quad core Intel i7 processor, enabling it to operate smoothly and multitask efficiently. The MacBook Pro ME665X/A is well suited to running processor intensive applications. |
| RAM | Included with the ME665X/A is 16GB of RAM, which enables the laptop to run faster and operate more smoothly. This is among the highest amount of RAM generally found in laptops. This also makes the laptop ideal for video editing. |
| Hard Drive | This model of MacBook includes 512GB of hard drive capacity. While this is a smaller capacity than that found in other machines, the hard drive is a solid state flash drive, which means that data can be more easily accessed, rapidly improving the speed of the machine. |
| Graphics Processor | The MacBook Pro ME665X/A features two graphics processors. The integrated Intel HD Graphics 4000 is less powerful, but also uses less power, and can be used to conserve battery life when the laptop is not plugged in. For more intensive uses, an NVIDIA GeForce GT 650M is also featured. This graphics card is capable of running most modern games. |
| Operating System | The MacBook Pro features the OS X Mountain Lion, which enables the laptop to run a wide variety of Mac compatible applications and games. |
MacBook Pro 15.4" ME665X/A Connectivity
The MacBook Pro ME665X/A offers a wide variety of options when it comes to connecting it to other devices, including both wired and wireless options.
| | |
| --- | --- |
| USB | The MacBook Pro 15.4" laptop includes 2 USB 3.0 ports, which can be used to connect to external devices such as computer mice, cameras and mobile phones, and can transfer data at a rate of 5GB per second. |
| HDMI | The HDMI port featured by the MacBook Pro ME665X/A enables the device to use any compatible HDTV or monitor as a display. |
| Wireless Network | Included with this laptop is a 802.11n wireless network card, enabling it to connect easily and simply to any wifi networks, at home or in public hotspots. |
| Bluetooth | Bluetooth 4.0 is included with the laptop, which gives it the capacity to pair with other Bluetooth devices, such as mobile phones, headsets or mice. |
| Thunderbolt | 2 Thunderbolt 2 ports are included with the MacBook Pro 15.4". These ports can connect to a variety of devices, and are designed for both high definition display and high capacity data transfer, reaching rates of 10GB per second. |
| Media Card Slot | Also included is a SDXC memory card slot, which enables the laptop to transfer data to and from this kind of memory card. |
| Audio | A standard audio jack is also included, enabling headphones, microphones and speakers to be used with the laptop. |
Additional MacBook Pro 15.4" ME665X/A Features
The MacBook Pro laptop includes a number of additional features which can enhance the user experience of the machine.
· A 720p FaceTime webcam built into the laptop offers high resolution recording, ideal for web chats and video calls. This feature combines well with the dual microphones for improved audio.
· A backlit keyboard makes it easier to use the keyboard in low light.
· The built in battery can last for up to 7 hours of use, and much longer in standby.
How to Buy the Apple MacBook Pro 15.4 Laptop with Retina Display ME665X/A on eBay
A wide variety of Apple products, including laptops and accessories, are available on eBay.
· The MacBook Pro ME665X/A can be found under the MacBook Pro section of the Apple Laptops category, under Computers.
· MacBook Pro laptops can be arranged by categories such as screen size, RAM, hard drive capacity and operating system, making it easy to sort through the listings.
· Key information about the laptop, including the model number and any included accessories, will generally be displayed in the item listing, making it easy to quickly establish if an item meets any specific requirements.
· Further information about an item can be found on the item page, including information about the seller such as item reviews and feedback ratings. This helps to ensure that a purchase can be made with confidence.
· If looking for a specific laptop, it may be easier to use the search function, which can be found at the top of every page. Entering a keyword, for example, ME665X/A, will return any relevant results.
· Don't forget to look for any deals which may be available in the Computers category.
Conclusion
The MacBook Pro 15.4" ME665X/A laptop is a high end laptop featuring a wide range of connectivity options and features as well as powerful hardware components. This laptop is capable of running all kinds of applications, as well as modern games and some video editing. There are also a variety of accessories and external hardware available for use with the Macbook Pro. A wide range of laptops can be found on eBay.