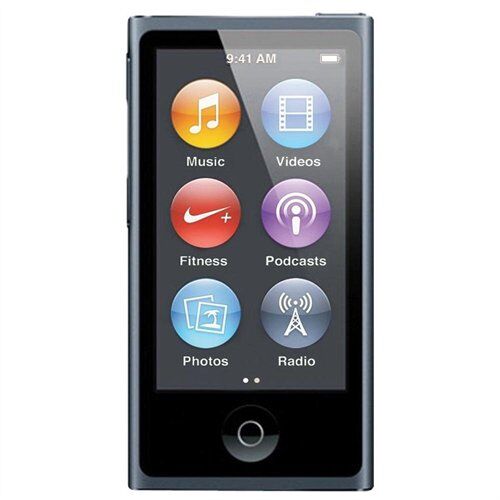 Every few years, Apple changes the size and shape of their iPod Nano, but it has always remained an affordable device with a fair amount of features and digital storage capabilities. They are ideal for those who want to keep their tunes with them at all times while they drive, exercise, or participate in other activities. In order to buy an iPod Nano, shoppers need to first be sure that it is the best MP3 player for them. They can do this by learning more about it to see if it would be a good fit for their lifestyle. Next, shoppers have to decide which generation is best for them. The current generation can be found brand new, but the older generations have different features and shapes, and can be found used or refurbished.
About the 7th Generation iPod Nano
The 7th generation iPod Nano is the thinnest one built yet and features a larger screen than the previous ones. It also comes with the ability to watch movies, sort music and photos, and connect to devices through Bluetooth technology. The Bluetooth feature is very convenient because it not only makes it easier to download music from a computer, but it allows the iPod to connect to speakers, headphones, and even vehicles, without all the wires and plugins.
Like the previous models, the 7th generation Nano has headphone jacks, comes in multiple colours, and is very lightweight. This particular model weighs a mere 1.1 ounces, yet it still feels solid and well-built. Although this Nano can be operated with the touch screen, it also comes with buttons on the front and side that allow people to navigate in that way.
The iPod Nano 7th Generation Colours
Almost all of the Nano generations have come with a generous colour selection, and the 7th generation is no different. There are eight to choose from which include dark grey, silver, purple, pink, yellow, green, blue, and red. Each one has a white front and a coloured back except for the dark grey one, which has a black front panel instead of a white one. Since the recent trend for electronics is to be white, their front panel makes them look sleek and stylish.
The Screen iPod Nano 7th Generation Screen
The 7th Generation Nano features a 2.5 inch touch screen with 432 x 240 pixel resolution. It is bright, colourful, and clear. It is not as high quality as the screen that the more expensive iPod Touch has, but it is still pretty impressive for such a small device. The expanded size of the screen makes it much easier to use and navigate than the older, smaller versions. Another nice feature is that the background colours of the screen can be changed to make it more user friendly in low-light situations.
Although the 7th generation along with the previous versions had touch screens, one issue that users have with the setup is that it can get complicated trying to get back to the home screen. The 7th generation model took care of this problem by adding a convenient "home button" just below the screen that people can simply click on to get to their destination.
The iPod Nano 7th Generation Audio Performance
All of the iPods are well known for their excellent audio quality. They come with the standard white EarPods that are made out of moulded plastic. Although they are not the most comfortable headphones to use, they actually have a decent bass response which is rare for such small earbuds. If the plastic earbuds cause too much discomfort, there are plenty of other headphones that people can shop for.
Other Features of the 7th Generation iPod Nano
The Nano comes with several built-in apps that people may find fun or useful. The pedometer in particular is highly popular because it calculates the user's height and weight and then uses those figures to measure how far people are walking or running. The app also talks to people as they are exercising to tell them how far they have gone and how much time has passed. For those who do not want to listen to their playlist, there is also an FM tuner app with a live pause feature. The device can record up to 15 minutes of radio broadcast time.
The device has an impressive 30 hours of battery life which is more than any other Nano models have had in the past. When tested, some people have actually gotten up to 33 hours of music playback.
Its price varies depending on the amount of storage that people choose, but when compared with the other larger models, the Nano is much more affordable, comes with plenty of features, and is easier to carry around.
Choosing Which iPod Nano to Purchase
Although the 7th generation is more advanced than the earlier models, the other generations are still quality audio devices and they cost less. The following chart compares the specifications and features.
| | | | | | | |
| --- | --- | --- | --- | --- | --- | --- |
| Nano Generation | Battery Life (hrs) | Capacity (GB) | Connection | Release Date | Screen (pixels) | Weight (oz) |
| | 14 | 1, 2, 4 | USB | 2005 | 176 x 132 | 1.5 |
| | 24 | 2, 4, 8 | USB | 2006 | 176 x 132 | 1.41 |
| | 24 | 4, 8 | USB | 2007 | 320 x 240 | 1.74 |
| | 24 | 8, 16 | USB | 2008 | 240 x 320 | 1.3 |
| | 24 | 8, 16 | USB | 2009 | 240 x 376 | 1.28 |
| | 24 | 8, 16 | USB | 2010 | 240 x 240 | 0.74 |
| | 30 | 16, 32 | USB, Bluetooth | 2012 | 240 x 432 | 1.1 |
The Apple iPods are well known for their durability and reliability. Even the older generations are a good investment because they are likely to continue working for years to come. When shopping for used or refurbished Nanos, take extra care to make sure they have been well maintained and are in good working order. There should be plenty of pictures of the device available so that buyers can examine it for blemishes. If the seller has posted unclear photos, avoid purchasing from them. Lastly, when purchasing the device online, verify that the seller accepts returns and pays for return postage on non-working units.
How to Shop for Apple iPod Nanos on eBay
eBay is one of the best places to locate a new, used, or refurbished Apple iPod Nano. Thousands of private and corporate sellers list their products for sale on the website which gives buyers one central location to shop and still be able to sort through a large amount of items. To see what is available, type "iPod Nano" into the eBay search bar. If you want something specific, enter the generation name as well. For example, you can search for "6th generation iPod Nano". You can also check eBay's daily deals for great bargains on all kinds of audio equipment.
After you have completed the search, begin comparing the products between sellers to see who has the best deals. Some sellers offer bonuses such as accessories or free postage. However, before ordering be sure to see if the particular seller has received good reviews from their past customers.
Conclusion
The iPod Nano is one of the most popular MP3 players on the market. In fact, Apple was the first company to successfully event a digital music player. Ever since the introduction of the iPods in 2001 they have grown more popular and are a huge part of the music industry. Like most electronic devices, new editions of the Nanos are released every one to two years. They continually get better with each release and buyers have the option to go with the latest technology, or save money and select a previous model. Regardless of what choice people make, iPods are so common that they are very easy to find at local stores or online. The Nano is more than up to the task of keeping a user's music readily accessible no matter where they are.
iPod Nano|Apple|iPod|Used iPod Nano|Consumer Electronics