From the outset – there's is no such thing as a Diamond that is perfectly black due to nature (despite me being able to find several sites saying they have 'untreated' pure black Diamond; this is clearly not true & these sellers probably don't know the process by which diamonds have their colours changed to be permanently pure black)
Really true Untreated Natural Black Diamonds are very irregular in colour & look something like this :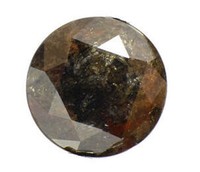 All of the beautifully pure black coloured diamonds you see with a nice fine lusture are natural stones that have subsequentially been treated with either heating or irradiation
The process for changing any diamond to pure black colour is as follows :
1) Stones termed 'Natural Black Diamonds' started as natural diamonds created by nature, dug from the ground.
2) Then they are sent for cutting (more than 90% of the world's diamonds - even the large majority of the high end stones too) are cut in India
3) Stones that are very cloudy are of little value – these are candidates to be treated & made into back diamonds
4) These Stones can be treated in one of two ways:
--- Heating – the stones are placed in a vacume chamber & heated past 600 degrees. This intense heat causes some of the atoms in the outer surface of the Diamond to change to Graphite & cause the colour to become pure black
--- Irradtion – a much more complex process – please refer to our article on this :
http://reviews.ebay.com.au/What-is-the-Process-for-Diamond-Irradiation_W0QQugidZ10000000011194516
Once the stones are treated the effect is permanent & can never be reversed
In both cases only the top layer of the diamond is coloured but the only way to tell this is to physically destroy the stone by breaking it open
Note also that the Irradiated Black Diamonds are not really black. If you take them into the sunlight & look carefully they're actually very, very dark Green, while the heated stones are pure black
At NRS Gems & Diamonds our supplier supplies us with heated stones only. We & our supplier don't have the facilities for irradiated stones
So – the black diamond stone itself is a 100% natural real genuine diamond, but the black colour only is Lab Created
Hope that all makes sense ?
We have a range of items at NRS-Diamonds & are constantly updating our stocks (http://stores.ebay.com.au/NRS-GEMS-and-DIAMONDS)
And just in case you're not happy with your purchase we offer refunds as detailed in our eBay advertising & we're always happy to provide advise.
We want happy customers who think so much of us that they come back time & time again!
If you found this guide helpful please let us know by clicking on 'yes' below