The Term Art Deco is applied to a particular approach to design which was popular in the 1920s and 1930s. There was an emphasis on clean spare lines, distinct angles and the use of clear colours, often pastels or bright secondary colours. The design approach is found in architecture, furniture, fabrics, pottery and glassware as well as in painting and sculpture. The style developed as a dramatic change from the elaborate and often over-decorated Victorian mode. It was a time in which Europeans believed that the old regime- the way of life which had not much altered for centuries- had been destroyed by the Great War, and the survivors of that disaster were looking for a distinctive presentation of a "brave new world" ( Huxley).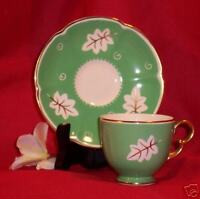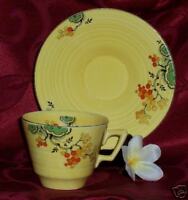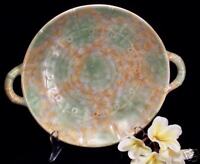 These three different pieces illustrate some of the art deco approach. There is a playfulness which is in contrast to the highly decorated Victorian pieces.Art Deco items usually will have clean crisp lines, slim figures and often a spirit of whimsy.
Clarice Cliff's Bizarre workshop pottery is generally a significant example of Art Deco in objects, although some of her designs, such as the Harvest series do not fit the general rules. Some of Shorter and Sons works also show the art deco approach.