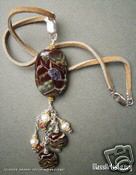 For uniqueness and individuality, designer/artisan/artist handcrafted jewellery provides you with something far different from the mass-produced jewellery genre. Here on Ebay, you can pick up boutique, classy and fashionable designer pieces at a fraction of the cost that reek quality and style.
Unfortuneately, to look in the designer jewellery section, lots of items here ARE mass produced, vintage and / or imported. This guide deals specifically with jewellery that has been handcrafted by artisans and craftspeople who view their work as enduring, wearable art. It may make a statement, or celebrate beauty and individuality.
I first started on Ebay buying and making jewellery. This guide draws on several years experience and I hope it makes your shopping experience on Ebay more enjoyable.
To start, to refine the mass-produced items from the unique pieces,
jewellery handmade
is a good search term. You can alternate this, with less results, but you might just find that special something, with
jewellery handcrafted designer
Another option is to include the materials you want in the search, such as
jewellery handcrafted pearls
or
jewellery handcrafted hematite
If you like beading, or chain, add these words in your search string. These searches will refine your options, if you are after something specific.
Other things to consider are:
Components:
Gold-plated and silver-plated will wear off, and may trigger allergies for those with sensitive skin. For more durable components, sterling silver and gold-fill is preferable. Or be out-of-the-box, and go for titanium or niobium! You get what you pay for here!
Jewellery may also be made from a variety of other mediums - silk thread (as in pearl knotting), waxed linen. These items need to be treated gently and if pulled on (for example, a toddler in arms wanting to chew) will break.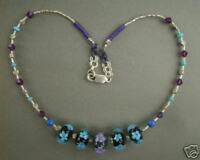 Tigertail (or any other kind of beading wire.)
Some of these wires, especially tigertail, have a tendency to, if they get bent, retain that kink. This isn't obvious if the weight of the item is such it pulls it down or straight. The newer kinds of wire (beadalon, as one example) is more forgiving. Also, with these threading materials, unless the necklace is crimped along it (highly unlikely) if the wire breaks, the whole thread of beads falls off.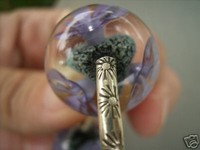 Other mediums
include wirewrapping (sterling silver and gold-fill, niobium, titanium, etc being better quality than steel, goldtone or silvertone; and less allegenic), leather, vegetarian suede look leather, chain, memory wire (no drape and for me, uncomfortable to wear around my neck!), fishing line (some of these are excellent, such as Fireline and PowerPro. Nylon tends to get brittel and snap with age), elastic (fine if the beads don't have sharp edges to cut it; it also degrades over time) and finally, in jewellery that utilises beadweaving, any number of beading threads such as Nymo.
Gems
used are also important. Be wary of cheap items claiming to contain expensive materials, such as turquoise and coral (which can be dyed howlite), as one example. Look closely at chips - the cheaper, smaller ones can be quite rough with sharp edges, which can ruin that gorgeous silk shirt you love to wear!
Beads
Lampwork beads are either created by artisan/self-representing artist or mass produced by people in China, India and even Indonesia. Artisan beads are almost always annealed which means there is a lesser chance of them breaking and causing damage, (such as cuts) or breaking the thread. The ends of mass produced beads are often rougher and uneven compared to designer artisan beads. Lampwork beads created by self-representing artists are usually much better quality in glass and technical ability.
Other considerations.
Look closely at the photos - request more if you want a better look - and check it is finished nicely at the clasp. If it has been crimped, (alternative for a knot used in beading wires) then the ends need to be tucked in neatly, otherwise they will scratch your skin and make the piece too uncomfortable to wear. Crimp covers can hide unsightly finishes and rough edges.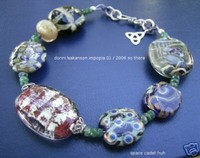 Wire-wrapping
is also important here. If the ends of the wire aren't tucked in neatly, they will catch on your hair or clothing.
Clasps
may also be an issue. Anyone with a pacemaker should never wear a magnetic clasp. Screw clasps tend to lose their threads over time. I personally have found the most durable clasps to be lobster, shephards hook or toggle clasps. I have found gold or silver plated clasps can snap or break, as well as flake; and always prefer quality metals, or brass, bronze, eg. I want my jewellery to last, and be easy to put on. Some clasps can be a bit fiddly or tricky to use, but if I like the item it is attached to a lot, it is a minor discomfort if it is quality.
Safety
. From a design angle, look at what you will be wearing the piece with. Will it catch on clothes, or worse, put runs in that special silk scarf, or be too chunky and heavy for your personal comfort?
Another consideration for handcrafted jewelery - would it pass the "toddler test?" Those with kids will know what I mean here; those who don't might find their special necklace fascinating to a teething bub or yanked by an enthusiasticly curious six month old... !
If there is a heavy pendant on the necklace - check it's length - will it chip your teeth if you bend over?
Bracelets
- one pitfall is the focal sits on top of your wrist area but alas, it is heavy and slides underneath, making the clasp the feature! Look and see if heavier materials are along the length, or nearer the clasp so this is avoided and the piece sits as you want it to.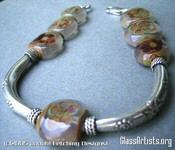 Another bracelet issue to consider is
size
. A bracelet of seed beads might need to be say 20 cm to fit comfortably around your wrist. Something that has largish beads (like old trade beads, faux turquoise chunks, chips, etc) will need to be of a longer length to accomodate the thickness of the beads. Extension chain is a bonus, but if you need it too long, it can slide to the top and detract from the design. Too small, and it could dangle and be annoying. That said, the seller might be willing to adjust to your requirements, especially if it is simple. Adjusting a large size to small isn't as easy, for example.You will need to ask and not assume, and work it out with the seller before you commit to bid.
Don't be backwards in emailing the seller any questions or concerns. Their response can be a good indicator of the pride they take in their craftmanship.Check their feedback too - common sense needs to be applied here. Check any negatives or neutrals, and the higher the feedback as a seller for handcrafted jewellery, you may be assured of a quality item that will last the passage of years.
I hope this has clarified some things to consider to make your Ebay experience as fabulous as it should be! When you support an artsan/jewellery designer/artist's work, you are getting a piece of contemporary history that - depending upon its materials, will have the potential to be passed down suceeding generations, with its own stories about you. And who knows, you might be supporting tomorrow's hottest designer for the stars!
If you liked my review please give me a helpfulness vote. :)
If you think I warrant a "no" then please message me thru ebay and explain to me how you think I could change this review so it is more helpful. I'm kinda intrigued