An Introduction to Pastels:
Pastels have been around a very long time, even used by cavemen with a mixture set in bone. The word pastel is Italian in origin meaning a paste, made up of coloured pigments, chalk and clay and then mixed with a binder, either oil, water or fatty substances such as Gum Arabic and even honey and milk.
Great artists' works like Degas, Gauguin and many others are still in superb condition today because of the purity of pigments used in quality artists pastels.
Pastel is a Drawing and Painting Medium
Powdery Soft Pastels lend themselves to rich painting techniques giving superb velvet like covering onto textured paper and even a little water can be added for a wash look.
Hard pastels and Pastel Pencils for detail, with more clay and binder, produce wonderful colourful drawing tools for sketches and design work. Soft pastels can be applied over hard pastel sketches to build up the picture's depth.
Oil pastels, Conte and Wax pastels have a fatty smoothness that creates more opaque and intense lines and shades. Washes can be created with the addition of a little turpentine.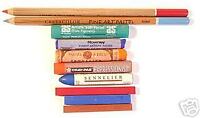 There are Many Great Pastel Brands to choose from:
Sennelier, Art-spectrum, Cretacolor, Conte, Rembrandt, Schminike, Bruynzeel, Derwent, Alphacolor, Winsor&Newton, Lyra, Lukas, Sakura, Maimeri, Faber-Castell, Cray-pas...
Check out eBay Art supplies to buy these super products.
Paper
Because Pastels are mostly pure coloured pigment, it is very important to have acid-free Drawing Paper and Drawing Pads that have a textured "tooth" surface for the pastel to grip to.
Pastels look great on Coloured Paper creating the mood by letting some of the colour show through your masterpiece.
As you proceed on your exciting Pastel journey, you will find wonderful products that make your experience even more enjoyable.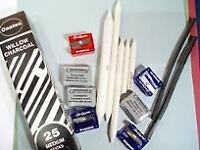 The use of the application of a great variety of strokes, blending, layering, smudging, scribbling and others will enable you to build up your wonderful picture to its completion.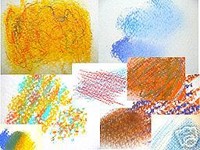 When your Art Piece is finished, protect it with glassine paper, which is wonderful as it doesn't take off the pastel when travelling or in storage.
Always have a matboard between the glass and pastel picture when framing to prevent the pastel sticking to the glass.
Check out eBay for all these Artists products and there is also a Pastel Art Kit with products and instructions to help you begin that journey creating those exciting Masterpieces.
If you found this guide helpful, I would love your vote ...many thanks