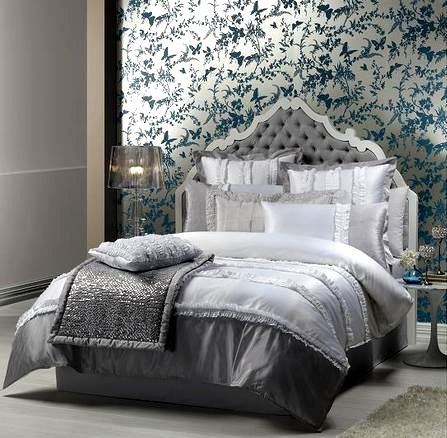 Aura's presence in the bed linen and home accessories market has only grown with time, not just in Australia, but in other parts of the world as well. Inspired mainly by the travels of the brand's founder, Tracie Ellis, Aura incorporates a sense of worldliness in its products. People can buy Aura quilt covers, pillowcases, shams, throws, cushions, and valances.
Buying Aura quilt covers is easy. Buyers can head to brick-and-mortar shops that deal inbedding supplies, or they can log on to websites, such as eBay, and the latter, it appears, gives buyers more options. Irrespective of the medium chosen to buy Aura quilt covers, aspects like size, thread count, and design alternatives require a buyer's attention.
The Need for a Quilt Cover or More
Manufacturers around the world opine that using quilt covers with quilts is a good idea for multiple reasons. For starters, the cover protects the quilt from dirt, dust, spills, which only helps to increase the life of the quilt. Besides, quilt covers are much easier to clean compared to quilts. When a quilt cover fades or starts to tear, only the quilt cover needs replacing, not the entire quilt. Lastly, investing in new quilt covers gives people the ability to spruce up how their bedrooms look without having to do too much.
Aura Quilt Cover Sizes
Aura, like other bedroom linen manufacturers, makes quilt covers in different sizes. From a buyer's perspective, paying attention to size is crucial because a quilt cover should be the same size as a quilt. For example, a queen-sized quilt requires a queen-sized quilt cover. The chart below shows the different quilt cover sizes offered by Aura.
| | |
| --- | --- |
| Size | Measurement (cm) |
| | 180 x 210 |
| Queen | 210 x 210 |
| King | 245 x 210 |
While a number of Aura's quilt cover designs come in double, queen, and king sizes, some designs come only in queen and king sizes. Some even only come in queen size; therefore, this is something that requires buyers' attention as well.
What About Thread Count?
When buying linen for the bedroom, buyers come across the term "thread count" every now and again. Thread count is the number of threads found in 1 square inch of any given fabric, which includes threads running vertically and horizontally. The use of thread count to differentiate between different qualities of quilt covers is quite common, although buyers should know what to look for.
Take into account that muslin, a fabric that is a little coarse, comes with a thread count of around 150. Buyers looking for quilt covers can find alternatives that start at around the 200 thread count mark, which can increase to 450 or even 500. Higher thread count usually translates into finer and smoother fabric, although fabrics with higher thread counts also tend to be more expensive.
Buyers should bear in mind that certain manufacturers cite exceptionally high thread counts of around 1,000, but these are simply misleading. These manufacturers count the number of individual plies that go into making a thread. Consequently, a quilt cover with a normal thread count of 250 that uses four-ply thread is sold as a 1,000 thread count quilt cover, a figure arrived at by multiplying the number of plies with the actual thread count.
Aura quilt covers rely on the conventional method of calculating thread count. They start at the 250 thread count mark and increase to 400.
Aura Quilt Cover Alternatives
The quilt cover alternatives presented by Aura provides buyers with the ability to choose between different fabrics, thread counts, and designs. There are various Aura quilt cover designs from which to choose.
Gathered Emerald
This design comes in double, queen, and king size quilt covers. Made with pure combed cotton percale, it offers a distinct rippled feel, and brings to mind magic and wizardry. This quilt cover comes with a 250 thread count.
Tahla in Scarlet
The design of this queen size quilt cover derives inspiration from the Middle East, and the use of bold colours aims to bringing sensuality to the fore. This pure sateen cotton quilt cover comes with a thread count of 400.
Shahi Ikat
This pure cotton jacquard queen size quilt cover comes with a unique floral print with subtle greys and a sublime gold trim that draws from the desert oasis of Kashgar, along the fabled Silk Road. This quilt cover comes with a 400 thread count.
Maison Bright Yellow
This design comes in double, queen, and king size quilt covers. This quilt cover uses a combination of linen and cotton, and comes with hand-tied fastenings. While the yellow is bright, to say the least, it is soothing at the same time, and this quilt cover is perfect to add some liveliness to the bedroom.
Maison Ruffle in Beetroot
This modern design comes in queen and king size quilt covers. This quilt cover also uses a combination of linen and cotton. A white quilt cover with a striking pink trim, this reversible quilt cover invites action that not everyone can handle.
How to Buy an Aura Quilt Cover on eBay
eBay, home to a number of bedroom furnishing deals, gives buyers scores of options from which to choose when buying Aura quilt covers. Irrespective of the size, colour, or design of Aura quilt covers for which buyers are looking, they can expect to find something when shopping through top-rated sellers on this platform. Certain eBay sellers give buyers the ability to avail of deals with free delivery as well.
Buyers can also look forward to saving some money by searching through the used Aura quilt covers on sale on eBay, and in some instances, buyers can find sparingly used quilt covers that are as good as new. A buyer, though, should pay attention to a used quilt cover's condition before buying it.