Buying an Australian (International) Amazon Kindle - What You Need to Know: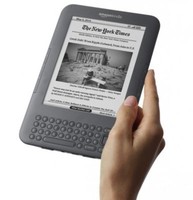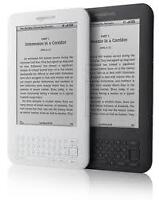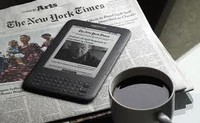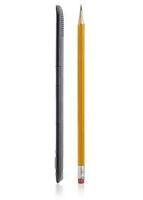 Click here to treat yourself or a loved one to a Kindle Now!
Before we get started, for the benefit of those who are only familiar with paper books, let's briefly explore what an eBook Reader is. In short, it is a portable electronic device, much like a laptop or mobile phone except that it sits somewhere in the middle of the two in terms of size.
They are primarily used to read digital ebooks and periodicals, and as we'll explain later also have some great extra functionality that not everyone would be aware of. The benefits of such a device over traditional paper books are numerous, which explains why there has been such a boom in demand for them over the past few years. As mentioned, they are light weight, they can also hold thousands of books at any one time and they use special e-ink technology to display text in a way that that accurately mimics the look and feel of a real paperback book and allow them to be read in the sun as well, without worrying about glare issues (like with an iPad).
While there are now many eBook Readers out there to choose from, one in particular is known to stand head and shoulders above the rest – the Amazon Kindle. Amazon released the Kindle First Generation on November 19, 2007, for US$399 and it sold out in five and a half hours. The device remained out of stock for five months until late April 2008. It is currently Amazon's bestselling item over the last two years. It's also the most-wished-for, most-gifted, and has the most 5-star reviews of any product on Amazon. After purchasing one for ourselves, it was quickly easy to see why
The device is made by the world's largest and most well known online book store – Amazon. This in itself is reassuring for the consumer – its no cheap, Chinese knock off, it is indeed the real deal. The device is high quality. Equally important, Amazon carry just about the largest (if not the largest) selection of electronic books for consumers to download. At last count, there were almost 700,000 titles to choose from in the US and almost 500,000 titles within Australia.
Click here to treat yourself or a loved one to a Kindle Now!
The Kindles come in 2 sizes – the less popular of the two is the Kindle DX, which is 9.7 inchs and is also heavier and more expensive. By far the most popular size is the 6 inch Kindle 3. This is the latest generation 6 inch device and supersedes the original Kindle and Kindle 2 devices which can now only be purchased second hand as they are no longer manufactured. The latest generation has the following benefits over its predecessors:
• All-New, High-Contrast E Ink Screen – 50% better contrast
• Read in Bright Sunlight – No glare

• New and Improved Fonts – New crisper, darker fonts
• New Sleek Design – 21% smaller body while keeping the same 6" size reading area
• 17% Lighter – Only 244 grams or 8.5 ounces, weighs less than a paperback
• Battery Life of Up to One Month – A single charge lasts up to one month with wireless off
• Double the Storage – Up to 3,500 books
• Built-In Wi-Fi – Shop and download books in less than 60 seconds
• 20% Faster Page Turns – Seamless reading
• Enhanced PDF Reader – With dictionary lookup, notes, and highlights
• New WebKit-Based Browser – Browse the web over Wi-Fi (experimental)
Ok – so why did we write this guide? While there was plenty of information out there on the 'net about the Kindle, we found it was mostly geared toward users in the US. Until recently the device could only used in the US and not in Australia or anywhere else overseas for the matter. Let's clarify that - one could read books on it outside of the US but could not download books to read on it outside of the US. The smart folk at Amazon then decided to build an International Edition which could be used to download books anywhere in the world.
So here it is direct from Amazon – all you need to know about the Australian (International) Amazon Kindle for use in Australia:
We are excited to now ship Kindle to Australia. Customers in Australia will enjoy:
• Books in Under 60 Seconds: Think of a book and you could be reading it in under a minute
• Growing Selection: Over 460,000 English-language books to choose from; plus U.S. and international newspapers and magazines are available for your country. Because publishers give us eBook rights on a country by country basis, available titles for your country will vary from our current U.S selection. We are actively working with publishers to get the rights to all titles for every country and adding this selection every day.
• Low Book Prices: New York Times® Best Sellers and New Releases are $11.99, unless marked otherwise. You'll also find many books for less - over 145,000 titles are priced under $5.99
Important Product Information for Your Country
• Your international shipment is subject to customs duties, import taxes and other fees levied by the destination country.
• Kindle ships with a micro-USB cable for charging your Kindle via a computer USB port
• You can transfer personal documents to your Kindle via USB for free at anytime.
• Kindle books, newspapers, and magazines are currently priced and sold in United States dollars
• Access Wikipedia via Whispernet on the experimental web browser. Access other websites like Google via a Wi-Fi connection.
• Blogs can also be downloaded via a Wi-Fi connection
• Kindle includes a 1-year limited warranty.

We hope this guide has provided you with the information you needed to make an educated decision for yourself as to whether or not to purchase an Australian Amazon Kindle eBook Reader.
Personally, we have had no regrets about our purchase what so ever – we never run out of books to read, we have access to newspapers from around the world within 60 seconds, we can even check our emails on the reader too – truly incredible! Plus, commuting to work each day via train, my back and shoulders have really appreciated the considerably lesser workload.

Want one? We are trusted eBay seller with great feedback and knowledge of this product. Please feel free to come and pay our store a visit. We usually have great deals such as free bonuses with each purchase. If you would like more information about the device such additional functionality and supported file formats, click the link below and send us a message.
If you found this guide useful it would mean a lot to us if you voted yes to the question below. It's yur votes that have made us an eBay top 1000 Reviewer. Many thanks!