BARSONY
Highly collectible Barsony black lady lamps come in many different forms and were once a part of the modern retro household, before losing favour and being relegated to the garage or the attic, where they gathered dust until the retro renaissance gave them a high value to the collector.
Learn more about these fascinating items here.

The more unusual pieces, particularly nodders, have been attracting the highest bids on Ebay, while a recent glut of the more common figure lamps have seen prices fall dramatically.

The most highly prized are the head and figure lamps, where a scantily dressed black lady is detailed in predominantly bright red and white.

If you are considering listing a Barsony lamp and do not have the original shade, list it as is. It can be a mistake to add a shade just for the sake of having one as it will detract from the appearance - and a dedicated collector can spot the difference.
The name, Barsony, these days appears to have become synonymous with any black ceramic item produced during the retro period - or a reproduction of the same, but most have obvious differences that can be discerned.
Barsony figures have a smooth, gentle roundness on all features. Facial features are never prominent, with lips highlighted in red and occasionally subtle colour applied to the eyes. Breasts are always rounded, never pointed, and the same with head shape.
The unique feature of Barsony is the clever use of brightly coloured paint to imply clothing and other floral decorations.
Recently a number of Kalmar black lady products have been mistakenly listed as Barsony and can usually be distinguished by their white base and the mould numbering system, which separates letters and numbers with a full stop e.g. m.x.2 - not the dash used by Barsony. Apart from this it can be diffficult to discern the difference although Barsony products have a brighter detail colour, where Kalmar has a faded look. Kalmar are highly collectable in their own right and deserve to be recognised for what they are.
If the item is stamped Made in Japan or any other country it is NOT a Barsony.
Barsony ceramics was an Australian ceramics manufacturing company operated by George and Jean Barsony from the ealy 1950s to the early 1970s. Their factory was located in Guildford, near Sydney. During peak production the company had many employees at their workshop and ran shifts to meet the demand for their products.

Barsony Ceramics also produced items under the Silver Cloud and Venice labels and it is believed the name, Silver Cloud, was chosen after a horse of the same name that belonged to Jean Barsony.
Barsony produced many forms of slip mould household decor items, which included candlesticks, figurines, lamp bases, ashtrays, wall hangings, bookends, figure vases, bowls etc. Ashtrays were often attached to ornamental figures as utility items as they attracted a lesser tax in this form.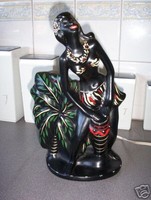 Barsony used prefix markings on their products, for example, F, FL, GL, H, HL, L, U, T, V, followed by a number. The letter marking identified the type of product e.g. H stood for head ( a bust), HL stood for head lamp (a figurine that formed a lamp base), V meant vase, L meant lamp and so on. The number that followed was the mould number and the letter and number were separated by a side dash.
Most Barsony products carry this mark, although there are a very few exceptions that have no markings. Some Barsony figures and lamps were mounted on a square wooden bases, with corks inserted into holes in the ceramic base as a bed for the screws used to attach the base. Some of these items have the markings on the upper side while others can only be seen if the base is unscrewed - although to do so may cause damage to the aging cork.
There have been a number of products listed recently that are purported to be Barsony which, although coming from the same era, are simply close copies. Some have even copied the mould markings of Barsony, making it difficult to differentiate between the real and the fake so it is important to pay attention to consistencies in style.

Although better known for their matt black finishes, Barsony also created in lustre, brown and white finishes.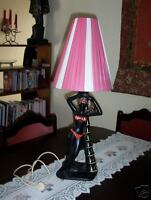 The plastic ribbon shade plastic ribbon shade was definitely the most popular shade, but Barsony also used a variety of other materials; raffia trimmed with thin, velvet ribbon, white ribbon with a gold fleck etc. The original plastic ribbon shades are among the most often found survivors.
The plastic ribbon shades are often referred to as Barsony shades, however, as none were ever marked as such, and given this design was used generically by many pottery and ceramic factories, the name is only used as a reference. This is important to remember when listing these lampshades for sale on Ebay, as I have found out the hard way by having a listing cancelled. It is against Ebay policy to use the wording 'Barsony Style' as this is considered to be key word spamming, even if this is the only way to acurately describe these items. It appears to be quite acceptable though to list any old shade from the 60s, or even later, and call it 'Barsony'.

The offending lamp shade listed as 'Barsony style'
(c) Merlene Fawdry
Thank you for taking the time to read this guide, which has been written to assist Barsony devotees. Because there are a minority who negatively rate other people's guides to promote their own, before you vote for its usefulness please make sure your vote is genuine and you are not voting it as Not Useful just to send it lower down the rating scale.
Thank you
braddieboy