The Australian Cattle Dog - Blue Heeler
The
Australian Cattle Dog
is commonly known as the
Blue Heeler
. This
dog breed
is reactive and responsive, but robust and courageous.
Cattle
Dogs
are strong willed and tough. They are very active
dogs
and need a job to pour their energies into. This is a playful
dog
who has great strength of character. His exercise requirements are very high and needs a great deal of stimulation and play. The
Cattle Dog
was originally bred for cattle herding.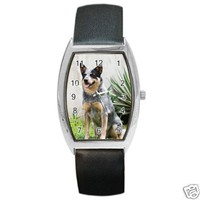 The
Cattle Dog - Blue Heeler
maybe aggressive to strangers and other animals unless properly socialised. He may display status-related aggression to gentle owners and may nip at heels during play. Therefore, this
dog
requires an experienced, strong-willed, considerate owner who has enough time and energy to give this powerful
dog
a job to do and an outlet for his strong drives through play and training.
Cattle Dog - Blue Heeler Characteristics
Loyal, protective, amenable, biddable, alert, courageous.
Size: 43-51cm (17-20in)
Weight: 16-20kg (35-45lb)
Coat: Smooth, straight, hard topcoat with short dense undercoat
Colour: Blue, red speckle
Lifespan: 12 years
Attitude to:-
Owners - affectionate, loyal
Children - tolerant, but not of their friends unless well socialised.
Other Pets - alright if raised with them.
Strangers - suspicious, territorial
Unfamiliar dogs - can be problematic unless well socialised.
Cattle Dog - Blue Heeler Health Concerns
Eye defects, deafness.
If you are looking for a
Cattle Dog - Blue Heeler for sale
, please contact a reputable
Cattle Dog, Blue Heeler breeder
to ensure that the
puppies
are in excellent condition. You may also like to consider a
Blue Heeler rescue dog.
I hope this guide has helped you in finding the right
dog
for you. For further information, please add my store,
Personalised Dog Gifts
to your favourites.