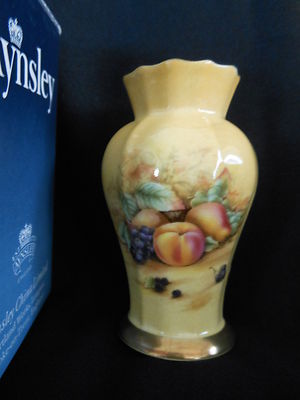 Founded in 1775, and still in production, Aynsley China is an ideal target for collectors because of its high quality and low incidence of crazing and chipping. However, there is limited information on design identification and ageing, so this guide provides much of the information I have been able to accumulate over years of collecting and research.

The only dedicated reference on Aynsley China is a Shire Publishing book by Frank Ashworth, named "Aynsley China" which is usually available on eBay as a "buy it now" item from sellers in the UK, or can be ordered online from Shirebooks.
However, there are still a lot of questions not answered by the book.
What is this design called?
Many Aynsley patterns do not have names, but are generally known by a number. If there is a name, often only the large pieces have the name included in the backstamp, but sometimes no pieces will have the name added. Usually, there will be a design number - generally hand-written near the backstamp. Often there will be a letter added after the number (eg 8013A). You will generally find these letters correspond with the use for the item, such as A for afternoon tea, B for breakfast, C for coffee, D for dinner, etc. Not very scientific, but I'm led to believe that's what the letters are for.

The quickest (and it's free!) method I have found for finding pattern names is to look on the website of Replacements Ltd, a US-based reseller. They catalogue a huge range of patterns and have names added to many. Click on the "China" tab, then on "Aynsley & Sons, John" at the bottom of the first page. This will take you to an index page where you can look up your design number for further information. Check this site for information on other collectables too.
Fruit
Probably the best-known and most popular of the Aynsley designs, the fruit design was brought out to compete (in a lower-budget range) with Royal Worcester's fruit designs. Most of the hand-painted pieces (which are hand-finished over a transfer printed design) were completed by Doris Jones and Nancy Brunt, and their names or signatures are found printed or handwritten on most pieces. Doris Jones and Nancy Brunt worked at Aynsley from 1938-1969 and 1935-1975 respectively. However there were some fruit pieces painted by Micklewright (late 19th century), S. Bednall (1897-1930), Keeling (1900-1938), Joe (JA) Bailey (1937-1974), and Bentley (after WWII). If you find a piece signed by one of these other painters, you have a real treasure. Pieces before the 1930s were entirely handpainted. There are also a few handpainted fruit pieces which have no signature, and these may have been done by apprentices.

Orchard Gold
In the late 1970s, with the development of advanced transfer techniques, Aynsley's production of the fruit design switched away from the expensive handpainting. At this time, the name "Orchard Gold" was instigated, and production continues to this day under that name. These pieces are still the most expensive in the Aynsley range, because the application of the colours requires several firings. However, they are not hand-painted. Many items from this range are available on eBay at any time, and they can also be bought from fine china retailers throughout the world. Check the range on the Aynsley company website.
When was it made?
The Aynsley backstamp has changed several times over the years, and it is difficult to give a precise manufacture date to most pieces. See my guide to dating Aynsley for more information.

If you found this guide helpful, vote by clicking YES below.