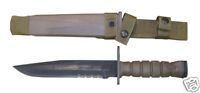 This Guide is based on my understanding and knowledge to the state of Victoria (Australia) and the requirements in owning and possessing 'Bayonets'.
Bayonets enjoy the support of many collector clubs and Societies, these organisation have been instrumental to the formation of the current legislation that allows parties (people) to own and possess bayonets or swords.
The following is a guide to the allowed catagories in owning and possessing bayonets without the need for specific licensing or permits:
Organisation listed under schedule 1 of the control of weapons Regulations 2003 (Victoria), commencing July 1st 2004. As a member of one of these organisations, you can obtain, own and possess bayonets.
General exemptions apply to members of a number of reasons, the following are the main catagories that I feel would interest a would be collector.
Legitimate bayonet collectors

Bayonets retained as an heirloom

Serving or former military officers

Historical re-enactment groups
If your intentions is to retain or buy a bayonet, and your intentions fall under one or more of the above catagories, you will not need to obtain a license or permit. There is no limitation to the number of bayonets that can be owned or possessed, this allows a collector unrestricted access to a variety of bayonets.
You must be mindful to the movement of bayonets. If you are taking a bayonet to display elsewhere, show other collectors, present for sale or assessment or move to a different location - No problems in Victoria. Make sure the bayonet is NOT hidden but well packaged.
It is illegal to carry a bayonet for many reasons. The intention in moving a bayonet must be via the most direct means, this means not to stop over at the shopping centre on the way to a display or expo. You can not permanently leave a bayonet in a vehicle, ensure at all time your intentions are to move the bayonet from one point to other without diverting.
Remember - These allowances in legislation for bayonets could be changed at any time, it is the responsibility of the bayonet owner to ensure you act appropriately not just for your own sake, but the sake of all bayonet collectors.
PLEASE ensure you check your own details to the legalities in owning bayonets. I am only passing on my interpretations to the requirements with Victoria (Australia) and I advise strongly for all collectors to confirm if any licensing or permit are needed.
For Victorian collectors the Victorian Police website can offer assistance.
I was also at the Melbourne Gun show recently and the Victorian Police had a stand to answer questions. Always worth a moment to chat with the boys in blue.
Hope this of assistance.
Regards,
Bayo_madness
PLEASE - If this article has been of assistance or value, please vote 'YES'