BBQ Marinade Injectors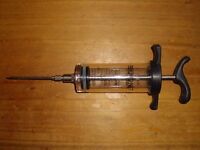 Ever marinated a cut of meat, chicken or turkey, only to find the lack of flavour disappointing? Or been irritated to find that your meat is dry and chewy?

Well - BBQ Meat Marinade injectors put an end to that!

Trouble is, because up until now - these have not been available in Australia, many Aussies are unaware that such tools exist - let alone the dynamic impact that they have on BBQ and Oven cooking.

They are extremely simple and cheap - (basically a large bore syringe with extra heavy gauge, multi-hole needle), but they put an end to lack of flavour and dry meat forever - because you pump flavour and moisture right to the heart of whatever you are cooking!

I am not exaggerating when I say this simple tool - will RADICALLY ALTER YOUR BARBECUE AND OVEN ROASTING RESULTS!

Imagine smoky brandy and butter flavours throughout your top-side roast or red wine, rosemary and garlic pumped to the heart of your leg of lamb, or apple juice, fiery chilli and mustard injected deep into pork shoulder roast!

The possibilities and variations are limited only by your imagination! Your barbecued or roast meat will never taste the same again!

To prepare whatever culinary injection you choose - simply crush and combine your choice of flavour ingredients in a mortar and pestle or glass bowl and add the liquid component and soak for 30 -- 60 minutes.

Alternatively, you may crush the spices or garlic or whatever together, add your choice of liquids and gently warm in the microwave - then just allow to cool before use.

Always strain your marinade (to prevent blocking the needle) and inject into the meat. The microwave method also lends itself ideally to incorporate butter into the solution, allowing the rich buttery flavours to penetrate deep into the meat!

Use stock, or fruit juices such as apple or orange etc, water, beer or any other liquid you like as the carrier of your flavour!

As a bonus - if you decide you would like to make your own hams at home - the injectors can be used to pump curing solution into the meat! These tools are a MUST HAVE item for any serious cook or BBQ-er!