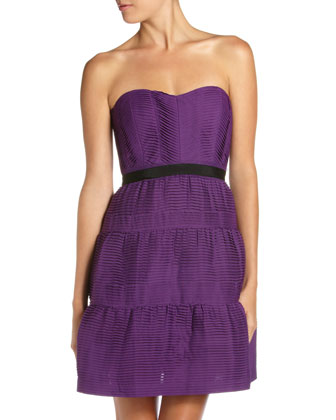 Wearing a dress is probably the best way for any woman to express her femininity and look beautiful. With many dress brands available today, there are a lot of dresses and styles to choose from. The French company BCBG Max Azria, or "BCBG" for short, designs dresses that have a classic look, but still add to the style of any contemporary woman. The company derives its name from the French expression "bon chic, bon genre", which means "good style, good attitude", and refers to a conservative and classy style. BCBG dresses are available from high street clothing stores, and sellers also offer good deals on sites such as eBay. When looking for a BCBG dress, size and style play the most important roles.
BCBG Dress Sizes
Size matters a great deal when it comes to dresses because a dress of the right size can flatter the figure, contributing to the looks of the wearer. BCBG dresses have specific measurements that correspond to a particular size, as the chart below indicates.
| | | | | |
| --- | --- | --- | --- | --- |
| Corresponding AU Size | Bust (cm) | Waist (cm) | Low Hip (cm) | High Hip (cm) |
| | 79 | 61 | 89 | 79 |
| 6 | 81 | 64 | 91 | 81 |
| 8 | 86 | 69 | 97 | 86 |
| 10-12 | 91 | 74 | 102 | 91 |
| 14-16 | 97 | 79 | 107 | 97 |
The bust measurement comes from the fullest part of the bust, across the lower shoulder blades and under the arms. The waist measurement refers to the smallest part of the natural waist. Low hip is 20-25 centimetres below the natural waist, while high hip is 7-10 centimetres below the waist.
BCBG Dress Size Conversions
Different size standards are in use in different countries, so the sizing on the particular dress may vary. The following chart describes the sizes of different countries.
| | | | | | |
| --- | --- | --- | --- | --- | --- |
| AU Size | 2 | 6 | 8 | 10-12 | 14-16 |
| US Size | 0 | 2 | 4 | 6-8 | 10-12 |
| European Size | 32 | 34 | 36 | 38-40 | 42-44 |
| UK Size | 4 | 6 | 8 | 10-12 | 14-16 |
When buying any piece of clothing, one must be sure to check the size. Knowing the country where the dress was manufactured helps in finding the proper size. Of course, trying the dress on, if possible, is always a good idea.
BCBG Dress Styles
The BCBG company categorises its dresses according to the occasion. The three major categories are Wedding, Work Edit, and Social Scene, although there are also multiple categories for each dress style, such as casual, printed, sweater, runway, black dresses, cocktail, evening, and body con. The three major BCBG dress categories also have subcategories to help shoppers choose a dress for any occasion or time of day.
BCBG Wedding Dresses
The BCBG Wedding Dress selection has something for everyone who may be associated with a wedding. Monochrome bridesmaid dresses made of luxurious materials, such as satin and lace, are featured, along with fancy cocktail dresses for the female wedding guests. The bride has a wide selection of dresses to choose from as well. Besides various bridal dresses, there are engagement and rehearsal dresses, as well as honeymoon outfits for relaxing on some distant island in style.
BCBG Work Edit Dresses
The BCBG Work Edit dresses are for women who want to look stylish during their office hours. Three major categories exist within the broader category, and these are Model Off-Duty, Editor at Large, and Boardroom Chic.
The Model Off-Duty line features dresses that look as if they are straight from the runway and suitable for wear by a model. However, as they are for casual wear, they do not look as complicated and bizarre as some runway dresses may do.
Editor at Large dresses are for style-conscious women who like to experiment with patterns and colours. These dresses often feature floral prints and outstanding, daring style elements. The artful touch allows one to distinguish oneself from others and make a statement.
Boardroom Chic dresses are stylish attire suitable for board meetings. These are rather conservative, indicating both professionalism and good taste.
BCBG Social Scene Dresses
The BCBG Social Scene dresses come in various styles, such as Working Lunch, Cocktail Hour, Desk to Dinner, and Red Carpet. The names speak for themselves. Working Lunch dresses are comfortable and somewhat casual, but with a designer's edge. These include sleeveless dresses, A-line dresses, and many trendy wrap dresses, among others. These dresses are perfect for business lunches.
Cocktail Hour dresses are for parties, and thus they are rather festive and often quite short. Most of the cocktail dresses are daring and bare the shoulders.
Desk to Dinner dresses are casual, yet formal enough to dine out in after work. Women can wear them all day long, because they are suitable both for the office and for a trendy restaurant. Simple accessories do the trick of transforming the dress for a specific occasion.
Red Carpet dresses are the most festive ones from this range, as one can walk the red carpet wearing one of these. These dresses are typically sleeveless and full-length , and are usually made of one fabric.
How to Buy BCBG Dresses on eBay
BCBG is a company that manufactures chic dresses, fit for both casual work environments and trendy parties, even weddings and red carpet events. The lines from BCBG have something for everyone, and the three major categories are Social Scene, Wedding, and Work Edit, each one of them with multiple subcategories and versatile styles. If you are looking for a BCBG dress on eBay, start by typing the search terms into the search box at the top of any eBay page. After that, you can sort the results by price or set the condition. To find a dress of the right size, browse the detailed item listings to find specific measurements. Should you have any questions, feel free to contact the seller. Look for top-rated sellers who have acquired a good reputation from previous transactions.