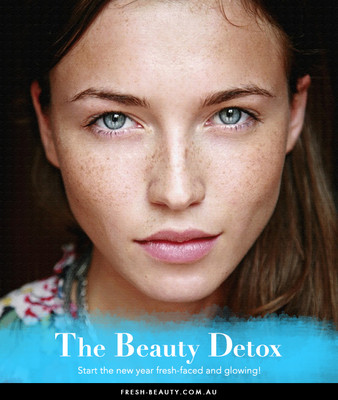 It's been a massive past few months, with Christmas, New Year's and party season festivities erupting in full force. Consequently, your skin has probably developed a sassy new alter ego that is equal parts dry, dull and drab. Am I right? Of course I am!
Our skin cops a massive beating through the festive months, and in particular under the harsh ray's of the Summer sun. So, being a new year and all, it's time to overhaul your skincare routine entirely by introducing a few glow-getting additions to your bathroom counter. Wave goodbye to a lacklustre visage and body for good and say hello to gorgeously radiant skin from head-to-toe.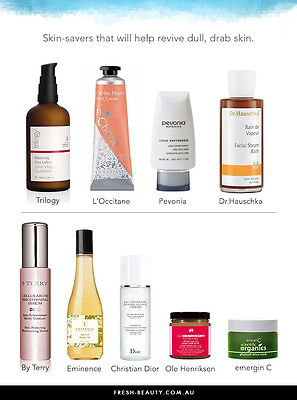 FACE
Christian Dior Instant Cleansing Water - Whisk away dirt and oil at the end of the day with this impeccably lightweight and gentle cleansing water from Dior. You'll uncover clean and luminous skin instantly. Simple apply and wipe off – no need for water!
By Terry Cellularose Brightening Serum - If you really want to repair the effects of party season and take your radiance factor to the next level, then look no further than this luxuriously silky face serum. Skin peeling flower acids help stimulate cell renewal which reduces fine lines, evens out the skin tone and reveals a more translucent, clearer complexion. Plus the floral scent is simply amazing!
Dr. Hauschka Facial Steam Bath - If there's one thing your skin probably needs right now, it's a thorough detox and a complete complexion refresher. Give your mug a helping hand with this invigorating formula, which encourages the skin's detoxification process through moisture and warmth which opens up the pores and loosens blackheads.
EmerginC Scientific Organics Phytocell Detox Mask - Soothe parched, dehydrated skin with a replenishing, deep-cleaning face mask. French green clay draws out impurities and toxins while kombucha, grape stem cells, algae extract and glycerin helps revitalise, protect and hydrate the skin for a brighter-than-ever boost.
Trilogy Balancing Face Lotion - Along with decongestants that dehydrate the skin, dry air from outdoors plus any alcoholic beverages you've consumed recently will have left your skin especially parched. Nourish and repair your visage with this replenishing face lotion, fortified with rosehip oil, tomato seed and acai berry seed oils for a healthy glow.
BODY
Ole Henriksen African Red Tea Exotic Body Scrub - Bumpy, dry patches got you down? The answer lies within this little pot of magic. The sweet, purifying body scrub is formulated with raw organic Paraguayan sugar that's enriched with African red tea and vitamin C for skin as soft as a baby's bottom. Use a loofah sponge to slough away dead skin and get prompt better blood circulation.

Eminence Apricot Body Oil - Follow up your exfoliating scrub routine with this super hydrating and heavenly scented body oil. Slather yourself head-to-toe in the vitamin and nutrient-rich formula to get smoother, younger-looking skin in a flash.
HANDS
L'Occitane Fleur Cherie Hand Cream - Our hands are often the most overlooked body party, and yet they age the fastest. Make it your goal this year to pay extra attention to them with this creamy hand lotion, which pays homage to the orange blossom and neroli (great for anti-aging and evening out the skin) and smells beautifully floral. Your paws will be gloriously soft in no time.
FEET
Pevonia Botanica Silky Foot Peel - Another neglected area is the feet and yet if you've been prodding about in heels or going bare foot on the beach for the past few months, you'll want to get your footsies back into shape quicksmart. This hard-working, renewing formula contains granular exfoliation that effectively removes dead skin cells and relieves dryness as well as Salicylic Acid & Pumice powder to prevent callous build-up so you can continue wearing your open-toed kicks with pride.
Use some or all of these products in conjunction with one another and you'll soon reveal your best skin yet!