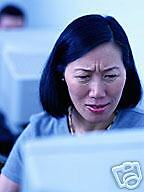 IS THAT MY CHILD?
Can you imagine roaming about eBay and suddenly find an auction with your child in it?
Or searching the internet for something and then find a photo of your child?
IT CAN HAPPEN.
I have seen this happen right here on eBay and I can not encourage people enough to NOT use REAL photographs of their children on auctions.
It is not a SAFE thing to do.
Parents, we need to protect our children and not put them on display.
Do you realize when you put your child in your auction, you are also sending out your address to where your child lives to the winning bidder?
It sounds scary and ya know what ... IT IS!
I see so many parents with ADORABLE children that they LOVE to show off in that cute little outfit they are selling. Can see how PROUD they are and it is fun for the child BUT PLEASE think about what I am saying. You do not realize how many people are not only looking at your child, but are copying that photograph for their own use. Or even printing it out!
SERIOUSLY
It is quite dangerous to post photos around of your child.
If you want to show off your child to family and friends, then PLEASE store those photos in a PRIVATE photo storage in the web and only let your family and friends have the password.
We must PROTECT our children.