Will suit BMW early series 3, 5, 7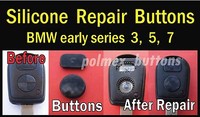 Designed and Made in Australia
Will suit almost all BMW's remote models from 1996 to 2004. Will suit E31's, E34's, E36's, E38's, E39', E46'S, Z3's, Z8, X3, X5 and more as long as you remote looks the same .
If Buttons Pad in your remote is worn and remote still works all you have to do is to replace WORN Pad
You do not have to buy new remote form dealers and You do not have to re program your existing remote.
All pads and buttons are press fit replacements with no gluing needed.

All replacement instructions are included in our polmex-buttons store . Printed, step by step instruction will be included with your purchase.
We are offering you a CHOICE of buying our Repair Silicone Pads for the fraction of the cost of a new key and programming.
Our Pads/Buttons are made from German, medical grade LSR Silicone and are MADE to LAST.
LSR Silicone does not degrade over period of time and will outlast your remote and your car. You can be sure it is Silicone (not cheap rubber or plastic) button as on touch with hot object it does not melt.
Our pads are Truly Australian made from the point of invention through design, toolmaking and manufacturing process. You can be sure of our quality of our product.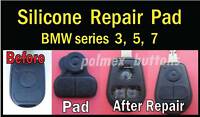 Replacing procedure is very easy to follow (for full step by step instructions please visit our polmex-buttons store ):