How to make a lifecast?
Making a lifecast sculpture of your new baby's tiny hands & feet or of yourself is quite easy. The process is simply:
Measure and mix the moulding powder with water (you do not need special equipment ie Bamix, electric mixer etc just mix by hand with a spoon )

The colour indicator of the moulding powder (now a gel) will let you know when it is time to stop mixing and to dip in the bodypart. No need for specialised containers you can use a small plastic bag or reuse containers you have around the house eg butter tubs, yoghurt containers or chinese takaway containers

The moulding gel will start to set around the immersed bodypart and will start to harden to a rubbery jelly consistency (usually 30 seconds)

Once the gel has hardened, slowly and carefully remove the bodypart. Where the bodypart was, will now be an empty cavity, this is your mould

Mix and fill the cavity with the casting plaster/stone and wait for it to set (usually 1 hour)

Peel the moulding gel from the now set sculpture

Ta-dah your finished sculpture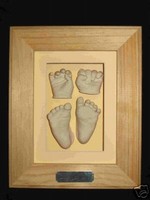 Holding still and removing the bodypart is usually where things can go wrong with young children. I find the age groups newborn to three months old easiest with babies. They will usually sleep through the whole casting process. In saying this, keep in mind if bub has had a big day or is restless it is best to wait for a better time. Babies between the ages of three months to 2yrs are harder to cast because they like to touch and taste EVERYTHING!! Try bribing them with a lollie.
Airbubbles are another common problem with achieving a perfect lifecast if you have used an electric mixer. They can be avoided by resuberging the bodypart twice or three times before holding still and waiting for the moulding gel to set. Better still just mix the gel by hand to avoid air bubbles altogether, the mix does not have to be smooth lumps are ok and will not affect the mould
Happy Casting
About the author: Allison Tyson (ebay shop 'www-bellyoflove-com') is a professional lifecaster and belly caster, running and managing her online business Belly of Love