BSA Motorcycles 2nd
This is one of many illustrated classic motorcycle guides I've created for the community. I hope you enjoy it. If you wish to find out more about the classic BSA motorcycle art featured in this guide please click here.
For many years BSA was the giant of the British motor cycle industry and for a time also the biggest motorcycle manufacturer on earth. Beginning life in 1862 as Birmingham Small Arms, the company diversified into making bicycles in the 1880s and went on to offer their first powered two-wheeler in 1903. This guide details six classic models produced by BSA during the 1960s, from the modest single-cylinder C15 to the powerful three-cylindered A75 Rocket III. Included also is the one and only DBD34 Gold Star, a machine widely regarded as the ultimate British single and the most famous of all BSA models.
BSA C15 Star
The C15 motorbike, first introduced in September 1958 was, for many motorcyclists, their first taste of a "real bike". At only 280lb (127kg), the "Ceefer" offered an amazing power to weight ration; its punchy 249cc OHV engine produced 15bhp, revved freely up to its maximum 7,000rpm and yet behaved calmly at low speeds with an easy tick over. Top speed was 72mph.
BSA DBD34 Gold Star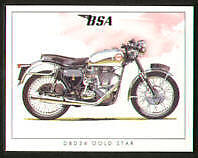 The best known of all BSA motorbikes, the Gold Star was the chosen mount for any aspiring competition rider during the 1950s and early 1960s. The top of the range Clubmans models normally featured clip-on handlebars, swept-back exhaust, an Amal 1.5-in (38mm) Grand Prix carburettor and an RRT2 close ratio gearbox.
BSA A50 Star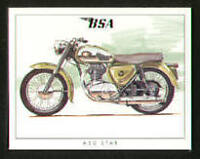 As a replacement for the highly successful A7/A10 BSA models, the unit construction A50/A65 series arrived in 1962, representing a neat and tidy design with many improvements over the earlier twins.
BSA A65 Lightning Clubmans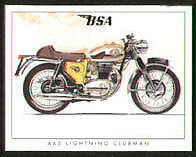 The BSA Lightning Clubmans motor bike was introduced in 1964 as a special sporting version of the A65 twin. Capable of around 110mph (177kph) it was a fine machine, comparable to the equivalent Triumph or Norton models although it never achieved the same acclaim.
BSA A65SS Spitfire MK4
With the arrival of the Spitfire motor cycle in 1965, BSA truly entered the sport-twin fray. A development of the twin-carb A65L. Lightning, this single-minded beast featured vibrant red paintwork, alloy wheel rims, close-ratio gears, high-compression pistons and substantially less weight.
BSA A75 Rocket 3
The A75 Rocket III was launched in Britain in 1969. It featured three-cylinders, which had never before been offered on a mass produced motorcycle and radical styling with ray-gun silencers and slab-sided bodywork.
Thank you for reading my guide and I hope you found it interesting!