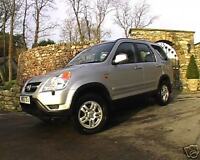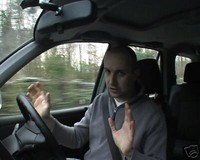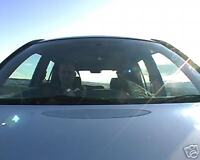 HONDA CRV (1997 - PRESENT) (stills taken from video road test)
VIEW OUR FREE TRAILERS IN OUR EBAY SHOP
MY VERDICT:
For:
Lots of interior space
Dynamic 4-wheel drive system works well
Feels safe in slippery conditions
Holds its value well
Very reliable
Against:
Noisy at cruising speeds
Dull interior
Vague steering
Firm ride
Petrol engine is dull
The hard interior plastics mark easily
For many years you only got one choice of engine with the CRV - the 2.0 petrol, and that would have been fine if Honda had given us a decent one. 148bhp and 142 lb/ft torque looks not too bad on paper but when married to the CRV's heavy body and horsepower sapping 4-wheel drive it is left wanting somewhat, and to add insult to injury its not as silky smooth and refined as you'd expect from Honda. In reality this means that 80nph on the motorway gets a bit wearing and you won't be beating any diesel Golfs away from the lights either. On the plus side the 4-wheel drive system is very confidence inspiring when the roads get slippy (but don't go proper off-roading as you WILL get stuck). The interior is very spacious as well and the elevated driving position gives you a great view of the road. So, if you prefer practicality and space over an exciting driving experience then you are likely to happy with it - and of course, it will never go wrong....It is Honda after all.
WHICH ONE TO GO FOR:
Not a complicated question this one as there is one body style and was only one engine for a long time (2.0 litre petrol). The arrival of the diesel has knocked the residual values of the petrol versions a little and for good reason - the diesel is a much better bet and suits the car alot more. Buy a diesel if your budget allows
RELIABILITY AND COMMON FAULTS:
Honda are always in the top three manufacturers when it comes to reliability so there should be very little to worry about.
The only recall of any note is an ignition switch which may fail on post 2002 cars - check this recall has been carried out where appropriate.
SAFETY:
Scored well in crash tests with Euro NCAP saying that the CRV provides a stable safety space for its occupants. Scores very good 4 out of five stars for occupant safety and an excellent 3 out of 4 stars for pedestrian safety so its a safe car both inside and out.
MODEL HISTORY:
Introduced in 1997 as a 'sports utility vehicle', with the 2.0 petrol only. Face-lifted model introduced in 2001 with dynamic 4-wheel drive. Notable improvements were made in noise, refinement, and MPG but still only available in 2.0 petrol. 2004 saw another milder face-lift with better general specs. In 2005 Honda finally started producing a 2.2 CDTi diesel engine.
HOW TO AVOID BUYING A LEMON BY USING OUR BUYERGUIDE BELOW......
An old wise man with a strange hat once told me "time spend on reconnaissance is time seldom wasted" - which when translated into buying a used car means "a little preparation can save you a lot of money and frustration". Seriously, if you are spending thousands of pounds its worth following a few simple points to help you avoid being dissapointed with your purchase......so i hope you find this buyerguide useful.
Before seeing the car:
If it is a private sale make sure you view the car at the sellers premises - this will help determine if the seller is genuine
Always ask the seller to make sure the car is cold when you come to view it - warm engines can hide a multitude of sins
How to check the mechanics:
Before the car is warmed up check for a film of oil in the radiator - the presence of oil would signify internal engine leaks or a blown head gasket
Make sure the oil on the dipstick is smooth and has no bits in it or milky scum - again this could mean internal engine leaks
On starting from cold make sure the engine does not turn over sluggishly - this could mean a worn starter and or starter motor.
Check for oil leaks around the engine and on the ground where the car has been stood - any leaks could indicate expensive gasket replacement
Body and interior:
Worn drivers seat, pedal rubbers, and a shiney steering wheel all indicate a high mileage car - check these appear consistent with the indicated mileage
Evidence of scratches or tampering around the speedometer is a dead giveaway that the car has been 'clocked' and the mileage is not genuine
Check that the tyres have 1.8mm legal tread depth and the exhaust is silent when you cover the end with a cloth whilst the car is running - both can be price negotiating points of replacements are needed
Check that everything works such as switches, heater, a/c, windows, mirrors, stereo, interior and exterior lights - fixing any of these things can be a real pain
On older cars check for rust on the sills and floorpan (prod carefully with a screwdriver) - unless you are friendly with a welder rot can be expensive and messy to fix.
Check all body panels are consistent in colour and fit - if they are not it is likely that the car has been in an accident and has been repaired poorly
Road testing the car:
With the handbrake firmly on try to set off in 1st gear. The car should stall instantly - if it does not it is likely that the clutch needs replacing
After driving for a short while floor the throttle - a could of blue smoke out of the exhaust indicates worn bores or valve guides both of which are expensive to fix
The car should accelerate smoothly accross the rev range - flat spots or hesitation may signify fuel injection and /or computer problems which are notoriously hard to diagnose and fix
The car should pull away smoothly from a standing start - if it judders this may indicate oil contamination of the clutch plate and a new clutch will be needed
take the car to at least 70mph. The car should drive straight and not pull to one side. If there is significant vibration this may indicate any one of a number of hard to diagnose problems. Do not let the seller fob you off with "its just the wheels that need balancing".
When the car is stopped with the engine running turn the steering wheel from full lock to full lock - rough operation or hissing indicates the power steering is faulty
Finally, trust your instincts about the car and the seller and do not let your heart rule your head - if you are not happy just walk away!!
I hope you found this information useful. For a more comprehensive appraisal of the Honda CVR you can download our full video road test. Want to see how easy the seats fold down? how much boot space there is? what the interior is like? how much leg room there is? what its really like to drive and live with in the real world?..... then just click on the link below.