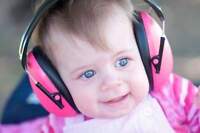 Where to buy baby earmuffs in Perth. This question is often asked as it can be difficult to find baby earmuffs in Perth as well as the rest of Australia. Large baby outlets stores and shops like Bunnings do not stock earmuffs for infants. Luckily they are available at our online Ebay store Aussie Infants. We stock a number of colours and do fast shipping from Perth Western Australia. If you need the earmuffs straight away and live in Perth you can pick them up directly from us in Kelmscott.
Our ebay store can be found at http://stores.ebay.com.au/Aussie-Infants
Earmuffs are perfect to protect your babies hearing
Hearing is more sensitive for a baby than for an adult. Adults are able to tolerate much louder music and sounds from machinery than what a baby can. Lynne Werner, a UW professor of speech and hearing science, points out, "adults usually hear in a narrow band of sound, while babies…don't have the selective attention of adults and they don't pay attention all of the time. Instead they always seem to be listening broadband or to all frequencies simultaneously. Due to this babies are easily overwhelmed by an over stimulation of sound or noise.
As responisible parents we want do what we can to protect our child's hearing. But this shouldn't stop us from engaging in the activities we love or doing our every day activities. Babies may be sensitive to music, lawn mowers, vacuum cleaners, car racing, concerts and aeroplanes. The best way to do this is through the use of specially designed baby earmuffs. Ear plugs are not recommended as babies have tender ear canals and there are dangers of wax being forced down them. They are also a choking hazard if your baby pulls them out.
Earmuffs are also useful for children diagnosed with Autism or Auditory Sensitivity and can help manage stress and anxiety when they enter loud environments.They also reduce the impact of loud noises such as fire drills
When buying baby earmuffs you need to ensure they are of the highest quality and meet with the strict Australian Standards for hearing protection. One such type of high quality earmuffs are produced by Baby Banz. They come in a wide variety of colours including black, silver, blue, pink and camoflauge. They meet all of the Australian Standards and have thick soft cushions for maximum comfort. The standard size earmuffs can be worn by children of all ages but are recomended for children 6 months and older. A new range of mini earmuffs are now available also. They can be worn by newborns as young as 2 months old up to the age of 3. They are available in pink and blue.
If you found our guide helpful please click YES on was this guide helpful below. Thanks for reading.