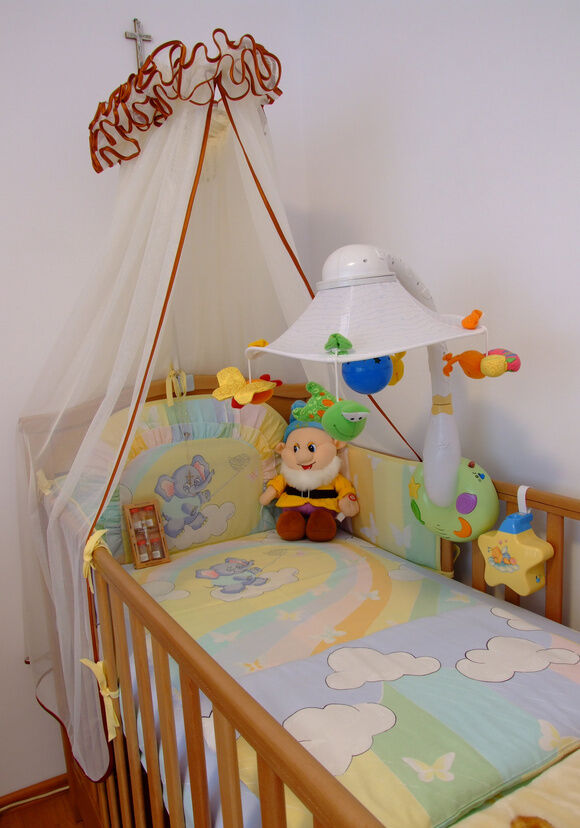 One of the most important parts of a baby cot is the mattress. Not only does this product need to be firm for ultimate safety, but it also needs to be the right size for the cot. In addition, there are several materials it can be made from, and it is important to consider the advantages and disadvantages of each option before making a buying decision.
Baby Mattress Materials
The following section offers a breakdown of the options for baby mattress materials.
Foam
One of the most popular materials for cot mattresses is foam because it's inexpensive and lightweight. In addition, the PVC cover that usually protects a foam baby mattress is easy to wipe clean. However, that same cover can be uncomfortable in warm weather, which is the main downside of foam mattresses.
Spring Interior
This type of baby mattress features rows of coiled springs connected to each other by a spiral wire. This arrangement provides extra support and comfort for the baby. Of course, the springs are covered by soft foam, too. Parents can expect to pay a little more for a spring mattress than they would for a foam mattress.
Natural Fibre
Anyone looking for a natural alternative to synthetic mattress materials might prefer the coconut fibre mattress. The fibre is usually coated with latex and then covered with cotton. The good news is that this type of mattress is not only natural and comfortable, but also long lasting. However, it can be hard to find in stores, and when it is available, it can be pricey.
Mattress Size
It's important to choose a mattress that fits the cot perfectly. This may require some measuring because there are a few different cot sizes available. The rule of thumb is that the space between the mattress and the baby cot should not fit any more than two fingers. If there is more space than that, the mattress is too small for the cot, which makes it a safety hazard.
As an example of some common measurements, some mattresses are about 69 cm in width and 130 cm in length. For maximum comfort, the depth of the mattress should be about 8 to 10 cm.
Extra Features
Some baby mattresses have extra perks that make them more comfortable. For example, many mattresses have vent holes throughout the material. Ventilation can help keep smells at bay, which is a convenient feature to have when it comes to babies.
It is also possible to get a hypoallergenic cot mattress. This is usually best for babies who are at risk of having asthma or allergies. This type of mattress can be more expensive and harder to find than the typical product, but it may be a necessity for families that are sensitive to allergens.
Conclusion
It is important to pay attention to both safety and comfort when buying a baby mattress. This is why parents searching for the right mattress on eBay or at any other shop should consider the firmness, size, and the material inside before making a buying decision.