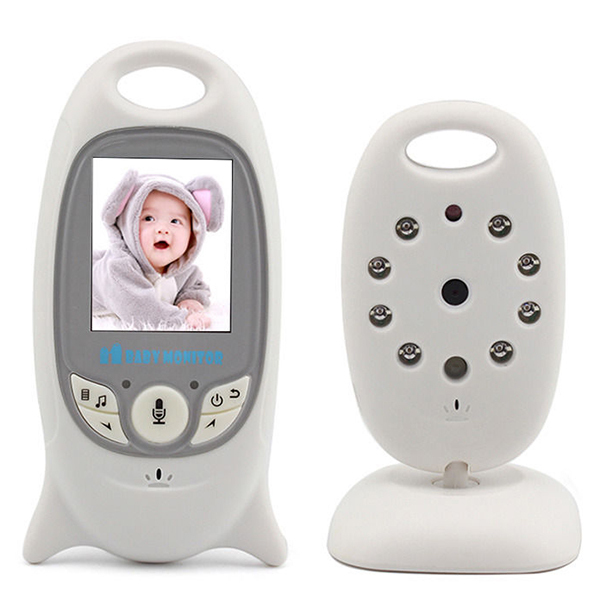 Welcoming a new baby into the household often means buying additional equipment. A baby monitor for the house is an important device that allows parents to identify when their child is in distress. Depending on the monitor features, parents can hear or even see what is happening in the nursery room without having to go there and risk waking their child.
Types of Baby Monitors
The most basic type of baby monitor is an audio system. This device allows parents to hear their babies so they know if they are crying in another room. This type of system is inexpensive and simple to use.
A slightly more complex system is a video monitor. The video monitor provides parents with auditory as well as visual contact with their babies. With this type of monitor, parents know if the infants are crying, sleeping or playing with their toys in the cot. Some video monitors have night vision so parents can even see the baby in the dark. While many parents appreciate being able to see their baby on camera, this type of monitor is more expensive than the basic kind.
Another type of baby monitor comes with a motion sensor pad. This monitor offers general assurance since it only alerts parents if the baby is not breathing. Baby gear such as antiroll pillows also help protect infants from air flow blockage. An alarm will sound if the sensor pad does not detect any movement from the baby. This type of monitor can also work as an audio baby monitor, since it transmits sounds in the same way as a basic monitor. Like the video monitor, a motion sensor device is more expensive than a regular audio monitor.
What to Look for in the Parent and Baby Unit
A typical baby monitor includes at least one parent unit and a baby unit. At minimum, the parent unit should feature volume control. Some units also have a display that lights up when it detects sound. This feature is important in situations where the parent is in a loud area and cannot hear the baby on the monitor.
Another nice feature on the parent unit is a belt clip so parents can easily transport it around the home. A good feature to look for on the baby unit is a night light, allowing the monitor to serve more than one purpose in the baby's room.
Batteries vs. Cords
Some monitors rely on batteries, which leads to some pros and cons. One advantage is that this type of monitor can be used when there are no outlets available, such as outside or even on camping trips. The downside is that it is necessary to occasionally exchange old batteries for new ones. Baby monitors that use batteries should always have a battery indicator light to make it clear that the batteries are still working.
Other monitors need to be plugged into an electrical outlet. The benefit of this is that there is no need to exchange old batteries. However, it also means the monitor can only be used inside, or at least within one or two metres from an outlet. Parents who opt for this type of monitor should choose the one with the longest cord possible.
Of course, some baby monitors can be used with both batteries and a cord. This offers the best of both worlds, so parents who desire indoor and outdoor usage should purchase a monitor with a dual purpose.
Conclusion
Baby monitors are available from online sites like eBay as well as in brick and mortar shop locations. It is important to consider all details, such as desired features and price, before making a final purchase. Online reviews can assist parents to find the best quality baby monitor on the market. With the assistance of a dependable baby monitor, parents can relax knowing that they are providing their children with continual care and comfort.